I can't believe it has been 10 years since I visited Beijing China! The trip seems like it was only a few years ago. This trip was filled with excitement, a bit of craziness and total awe at all of the things we saw and did.  The memory that sticks out the most from this visit to Beijing China is my experience with a camel in Rural China. Let's just say it was quite the experience and you can see the photos on our Bite, Spit or Split in Half post.
We spent a little over a week exploring Beijing and the surrounding areas.  I would absolutely love to go back to Beijing now and see the changes over the past 10 years. We were there way before the Olympic games so the updates and changes would be all new to us.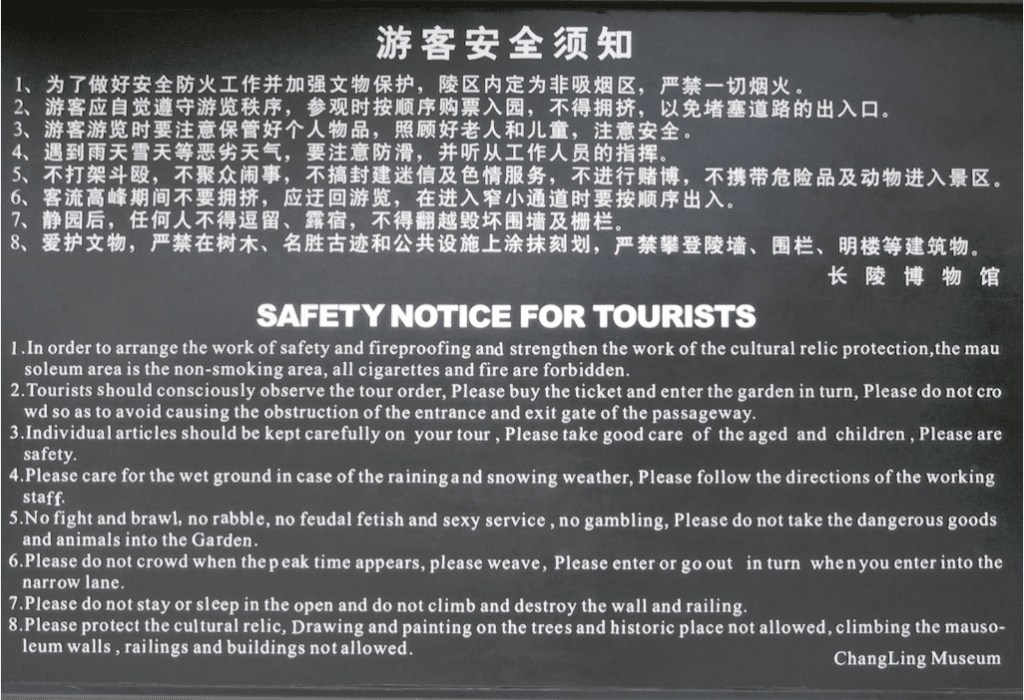 I particularly like rule #5
This photo was taken during one of the scariest car rides I have ever been in. The cab driver is actually watching the road through my Dad's video camera. We finally had to convince my Dad to put it away because we were so scared. My Mom and I were alternating praying and taking pictures. I was really glad when we reached out destination.
One of the things I really appreciated in Beijing and surrounding areas was the star rated toilets! It was really nice knowing that they were rated and checked often. Though I have to tell you some of them were just holes in the ground. That took a bit to get used to.
The toilet at the Great Wall of China was a bit of a hike……
I was not brave enough to try any food on a stick while we were in Beijing. Does any one know what this is?
I was fascinated with the carvings and statues while we were in Beijing. The intricate artwork was truly amazing.
One thing the guide books don't mention at the Great Wall of China is the steps and uneven pathway. I had never thought to think about how old the Great Wall is and that it was hand made until we started the trek up it. Oh my goodness this was a workout! We were so happy to reach the top we happily paid for a cold Diet Coke and enjoyed the view.
I would love to go back to Beijing and bring John with me. He has never traveled to Asia and I think he would really enjoy it.  Looking through our pictures from this visit to Beijing really made me want to get on a plane and head back to China.