0 Flares
Tweet
Email to a friend
0 Flares
×
Nutrisysem Journey -Week 21  Results
This week's results are a few days late. I was in NYC on Friday morning and did not have the opportunity to step on a scale or really stop moving. I am really hoping when I step on the scale this upcoming Friday that I have lost a couple of pounds. Between the heat/humidity of NYC and the running around I worked my butt off. One of the great things about  the Nutrisystem program is I have really felt empowered to try new things and put myself out there. This past week I had the opportunity to work out with the Rockettes. Yes you read that right the Rockettes. Prior to this journey I would have been a bit scared to put my not so skinny body in a workout room with the uber skinny and in shape Rockettes but not now!!! I marched my not so skinny body over to Radio City Music Hall and I did it! I even did a kick line with the Rockettes. I will fully admit my legs did not go Eye High as they are known for but they did get off the ground.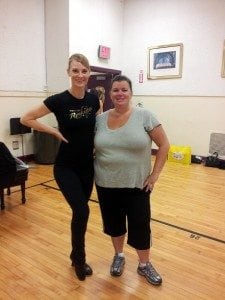 This photo was taken after our workout. It was so great meeting the lovely Rockettes and getting to work out with them.
While I was in NYC I also had the opportunity to go to lunch with a few other members of the Nutrisystem Nation. Would you believe we had lunch at Bubba Gumps. I know you are thinking isn't that restaurant filled with fried, greasy, fat filled entrees……The answer is yes and no. The restaurant does have quite a few fried entrees but they also have a fantastic selection of salads and diet friendly options. Our Nutrisystem coordinator wanted to show us that even though you are going to a restaurant known for fried food you can find healthy options. I had a beautiful pear and berry salad.
The salad was fantastic. It tasted fresh and was really filling. I did not feel like I was missing out by not eating anything fried.
I look forward to stepping on the scale this upcoming Friday and I am really hopeful that I am going to get closer to 20 pounds lost!
Results
Tammilee – -??  / total lost – 17.5 pounds
John  - -?? / total lost – 32.3 pounds
Goals Week 22
Our goals are the same as last week. I am really trying to be consistent and make this a lifestyle not just a diet.
- Go out and walk at least 3-4 times this week
-increase the amount of water we are  drinking
-Make great salads with lots of spinach, veggies and fruit.
Want to lose weight and get healthy on Nutrisystem? Join today by calling (1-888-853-4689) or by visiting http://www.nutrisystem.com/nsblog
Disclaimer: I have been selected to participate in the Nutrisystem Nation Blogger program. Nutrisystem will provide me with their meals at no charge for my review. I am not being compensated for my participation.
0 Flares
Tweet
Email to a friend
0 Flares
×