My dear and amazing husband loves Chicken and Dumplings! When I told him, I was going to make Crock Pot Chicken and Dumplings he was a bit worried and not sure how they were going to turn out! Well, I am oh so happy to say he loved them! Went back for seconds and told me how amazing they were!
Thank goodness! I was going to have to question his taste buds if he didn't like this recipe. Ok just kidding, I appreciate his thoughts on my recipes and am thankful to have willing taste testers on good days and oh so bad days.
This Crock Pot Chicken and Dumplings Recipe is super easy to make and turns out amazing! Your house will smell wonderful!!!
This is the perfect recipe for a cool Fall evening! Well, any evening you want to make your taste buds very happy 🙂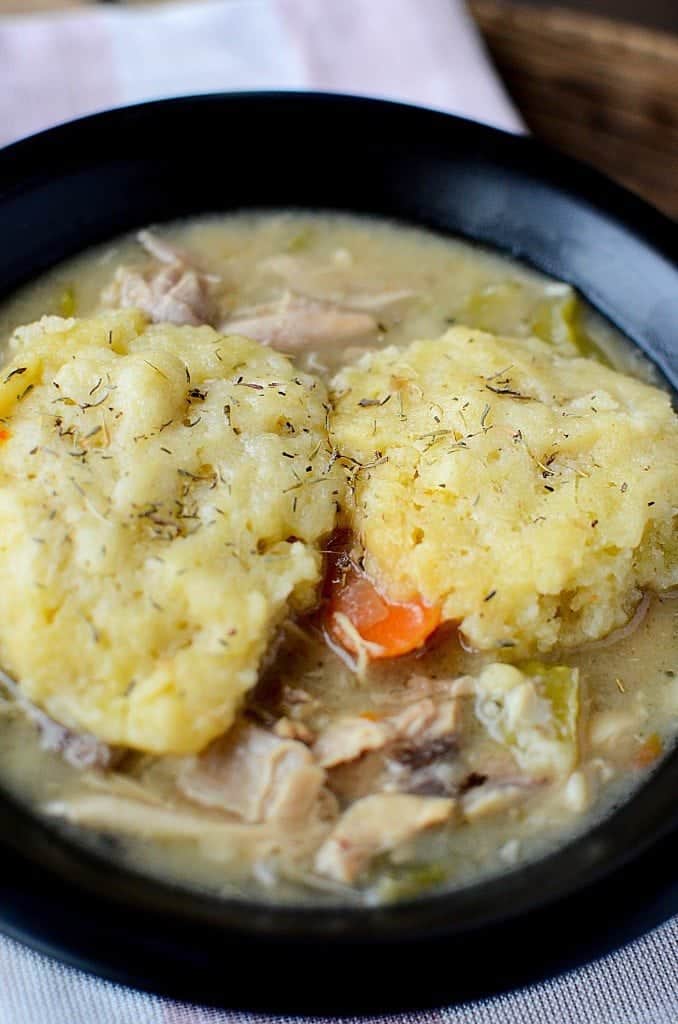 Crock Pot Chicken and Dumplings
Ingredients
4                             Chicken thighs, bone in
4                              Chicken legs, bone in
1 Can                     Cream of Chicken Soup
2 C                          Chicken Broth
2 ribs                     Celery
3                              Potatoes, peeled and chopped into bite size pieces
½                             Onion, medium
1 pkg                     Bisquick mix
2 Tbsp.                 Butter
Seasonings:
Garlic
Salt
Pepper
Sage
Directions
1. Season the chicken on both sides with salt, pepper and sage
2. Combine the potatoes, celery, onion, and carrots in the slow cooker and then rest the chicken on top. Add 1 cup of chicken broth and cook on low for 5 hours.
3. After 5 hours, remove the chicken and cool till you can handle touching it. Separate the skin, cartilage and bone from the meat and set aside.
4. Combine the can of soup and the remaining one cup of broth together until smooth and add it to the slow cooker along with the reserved chicken and mix well.
5. Prepare the Bisquick mix according to the package directions. After prepared, separate the dough into 5 portions and drop into the slow cooker gently, so they stay on top.
6. Mix the butter and sage together and gently brush the mixture over the biscuits.
7. Replace the lid and cook for another 1.5 – 2 hours or until the biscuits are cooked.
Enjoy!
We use either the Hamilton Beach Set 'n Forget Programmable Slow Cooker, 6-Quart
or Crock-Pot 5-Quart Slow Cooker
for all of our crock pot recipes
Do you love recipes? Check out our copy cat recipes, dessert recipes, and our Crock Pot Recipes.

Follow Tammilee Tips's board Tammilee Tips Recipes on Pinterest.