This week while gutting my office and completely re-doing my cookbooks I found a cookbook that brought back so many family memories! The cookbook was written around 1967 by the cookbook committee from the Augustana Lutheran Church in Grand Forks, North Dakota. My Dad's Mom was part of this committee and many of her recipes are included in this book.  The copy I have was my Mom's Mom's copy. Well isn't that a mouthful to say!
As I was reading the cookbook I found newspaper clippings from 1967, a receipt for a tree my Grandfather had purchased in Xenia, Ohio and best of all hand written notes from my Grandmother. She put down if the recipe was good and she put down when she was not a fan of them. Reading the cookbook brought back so many memories of cooking with my Grandmother. She had a tiny kitchen but dang could she cook.  I recently inherited one of her cast iron pans that I treasure. It is old, worn and I know has been part of many family meals.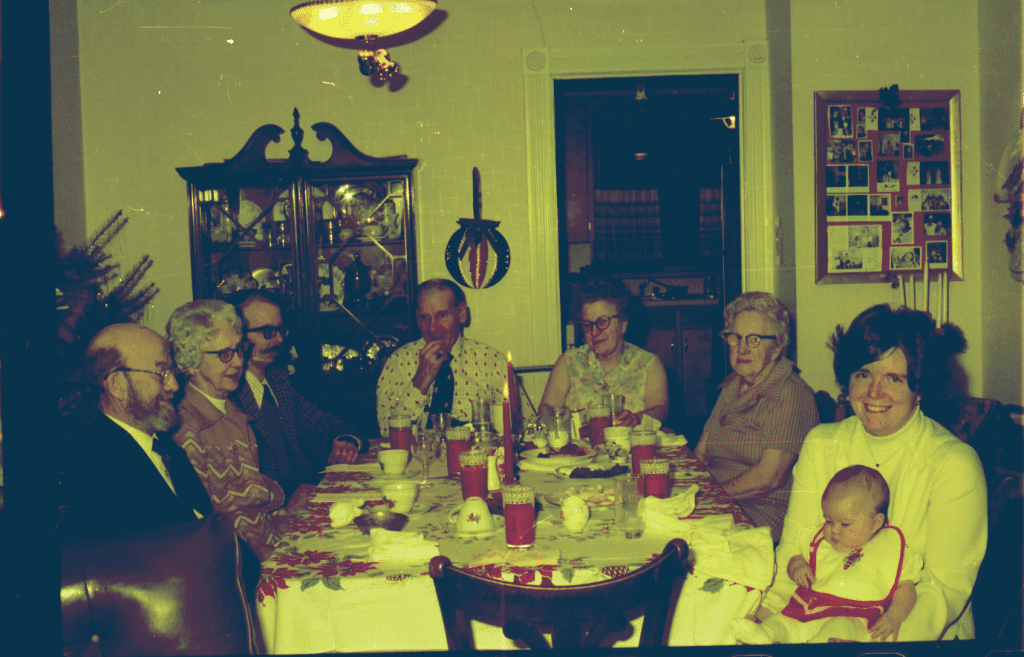 When I look at this family picture from 1976/77 I wonder how many of the recipes from this cookbook were made. This photo was taken at Christmas time with my Dad's parents and other assorted relatives. My Mom is in the lower right corner holding me. Yes, that is me with the chubby cheeks and cute Christmas bib.
Today I am so excited to share with you the first of many recipes from this cookbook! These Almond Joy Bars are delicious and oh so easy to make! Over the next weeks and months I will be highlighting more recipes from the cookbook. So many of them bring back memories of holidays growing up and family traditions. I am hoping I can get my Mom over to Spokane so she can spend a few days baking and cooking with me. I am sure she has a few tips and tricks up her sleeves with some of the recipes. Until then I really hope you enjoy these Almond Joy Bars!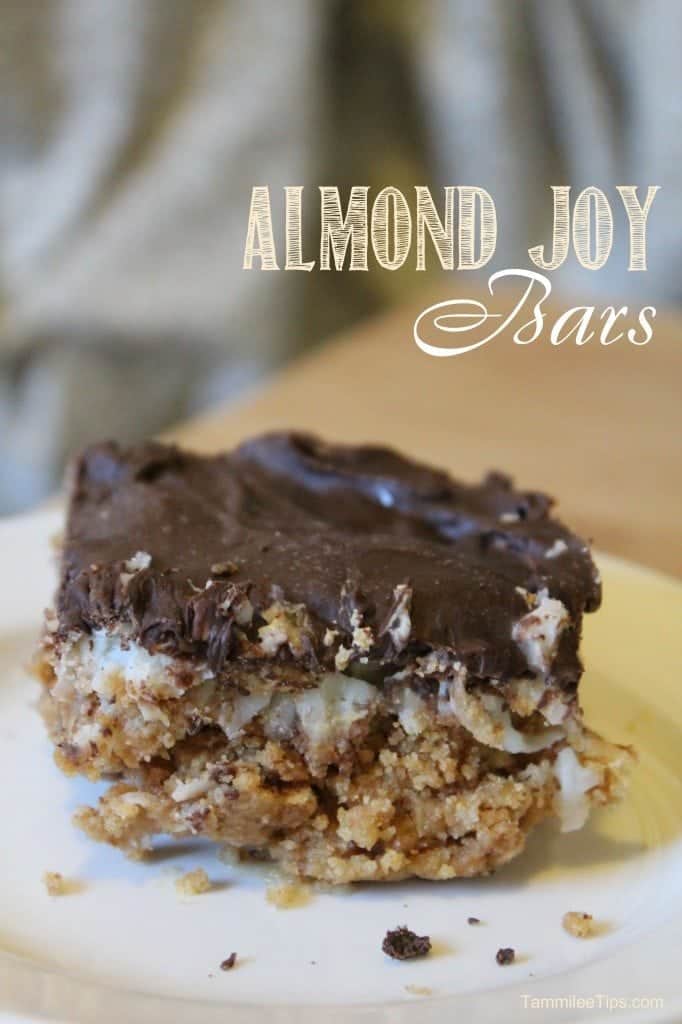 Almond Joy Bars
Ingredients
2 cups crushed graham crackers
1/2 cup butter
1/4 cup powdered sugar
1 large can sweetened condensed milk
2 cups coconut
Chocolate
Directions
Pre-heat oven to 350 degrees
Mix Crushed Graham Crackers, butter and powdered sugar together.
Bake for 10 minutes
Combine sweetened condensed milk and coconut
Spread over 1st layer and bake 15 minutes at 350 degrees
Melt chocolate and spread over for 3rd layer

I hope you enjoy these luscious amazing Almond Joy Bars! They have become one of my new favorite treats! I can't wait to make them for our next family get together and share the recipe with the family.
Do you love recipes? Check out our copy cat recipes, dessert recipes, and our Crock Pot Recipes.

Almond Joy Bars and a treasured family cookbook
Ingredients
2 cups crushed graham crackers
1/2 cup butter
1/4 cup powdered sugar
1 large can sweetened condensed milk
2 cups coconut
Chocolate
Instructions
Mix Crushed Graham Crackers, butter and powdered sugar together.
Bake for 10 minutes
Combine sweetened condensed milk and coconut
Spread over 1st layer and bake 15 minutes at 350 degrees
Melt chocolate and spread over for 3rd layer
https://www.tammileetips.com/almond-joy-bars-treasured-family-cookbook/