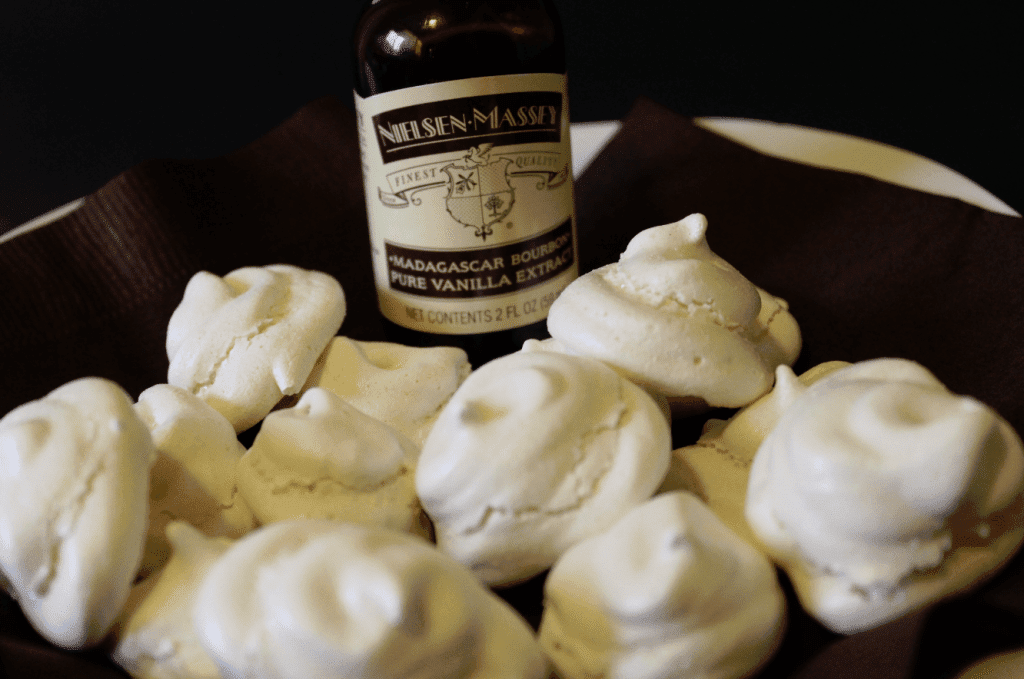 Amazing Meringue with Nielsen-Massey Vanilla
This week I made a recipe I have wanted to make for years but was worried for some reason that they would not turn out. I finally tackled making meringue. For some reason I thought meringue was going to be incredibly hard to make. Wow, I was so wrong! I wish I would have tackled this recipe years ago. The meringue was really easy to make and tasted fantastic. I used a recipe I found on the Nielsen-Massey website. The original recipe included the Nielsen Massey coffee flavoring. I went with the regular Nielsen Massey Bourbon Pure Vanilla Extract this time. I can't wait to make them with the Nielsen-Massey Peppermint Extract for the holidays. I may even try them with the Nielsen-Massey Chocolate Extract for gifts.
Meringue Recipe
Ingredients
1 cup sugar
4 egg whites – Room Temperature
2 teaspoons Nielsen-Massey Vanilla
1/8 teaspoon cream of tartar
Directions
1. Process the sugar in a food processor until very fine. Pre-heat the oven to 225 degrees. Line a baking sheet with parchment paper
2. Whip the egg whites in a nonplastic bowl using an electric mixer on medium-high speed. Whip in Nielsen-Massey Vanilla and Cream of Tartar. Add the sugar 1 tablespoon at a time, beating after each addition. Beat until the mixture is glossy and holds a stiff peak.
3. Pipe the meringues using a pastry bag onto the prepared baking sheet. Bake for 1 hour or until the meringues are dry. Turn off the oven and allow the meringues to cool in the oven, away from drafts, for several hours or overnight. Store in an airtight container.
Makes 2 to 3 dozen.