Nothing says Happy Valentine's Day quite like a ……. Bacon Hearts
If your loved ones are huge bacon fans this is a quick and fun way to make them a Valentine's Day treat. My Husband started laughing when he saw the Bacon Hearts on his plate. I told him I had a special Valentine's Day treat for him and I am pretty sure Bacon Hearts were not something he would of thought of for Valentine's Day. It was so much fun to see him take a double take at his plate and start laughing.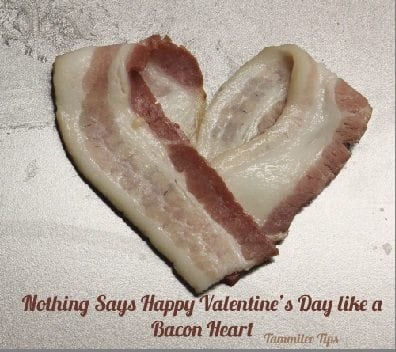 I cooked the bacon in the oven so it would retain its heart shape after cooking. I placed the cookie sheet of bacon in a cold oven and then turned it on to 350 degrees. I cooked it for 20 minutes in the oven.
You can also place the bacon on a rack on top of the cookie sheets to allow the grease to fall away from the bacon.
We have a huge list of bacon recipes available on our I Heart Bacon post! This post includes amazing Bacon Recipes including Bacon Pot Pie, Cheesy Bacon Potato Skins, and so many more amazing bacon recipes!
We get our bacon from Zaycon Foods. We buy it once or twice a year and freeze it. We have saved a ton of money buying it from Zaycon and freezing it.