Blissdom 2012 Recap – Part One
I am going to attempt to put into words what this past weekend at Blissdom meant for me. I went into Blissdom not really knowing what to expect. I was excited to meet online friends that I talk with daily and hopefully meet other bloggers in different niches. I accomplished all of this and so much more. This past weekend I really found myself reflecting on me, my blog and my goals.
Being able to meet friends that I talk with online daily and spend time with them was beyond amazing. Here is one of my favorite pictures hanging out with the girls at the Centrum Lunch
Pictured above from left to right (Michele from Money Saving Michele, Laura from Another Cent Saved, Allison from Klippin Krazy Koupons, Me, and Kim from We Use Coupons)
These ladies are beyond amazing! They will be life long friends that I can't wait to see again soon!
While at Blissdom I had the opportunity to work with Centrum Nutrition Possible. I must say thank you again to all of you who helped support me and shared our Centrum giveaway a few weeks ago. I feel so amazingly blessed to have such wonderful amazing readers! The Centrum team was amazing. They made me feel so welcomed from day 1. I was able to meet and talk with the amazing Cynthia Sass when I visited the Centrum booth. Cynthia was incredibly friendly and we had a great conversation about travel and food.  I really look forward to reading her website and trying many of her vegetarian recipes.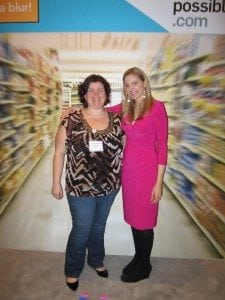 The Centrum team was there to help everyone take the Nutrition Possible assessment and talk about the product. I have to say the picture of the supplement aisle is so spot on. I feel like when I am in the supplement aisle it is all a blur of packaging and way to many products. I loved being able to take the Nutrition Possible assessment and have personalized recommendations based on my answers.
On Saturday Centrum Nutrition Possible hosted a truly amazing lunch for all of the Blissdom Attendees. The lunch was healthy and yummy at the same time. Check out the amazing food that was prepared for us
Starter- Salad with Bibb Lettuce, black eyed peas, roasted corn, cheddar cheese, tomatoes, avocados with a white vinaigrette dressing
(I could eat this every day!)
Entree- Pecan crusted chicken with peach vinaigrette, kansas city wild rice pilaf and chef's choice of seasonal veggies
Dessert – The most amazing raspberry sorbet ever!
After lunch we were treated to a private concert from Chris Mann. Chris is currently a contestant on The Voice and a truly phenomenal singer. He has performed at Blissdom multiple times over the past 5 years.  He is incredibly funny and truly amazing to listen to. He had everyone laughing at some of his jokes and memories of past Blissdoms.
I was lucky enough to be on stage with him at the end of the event.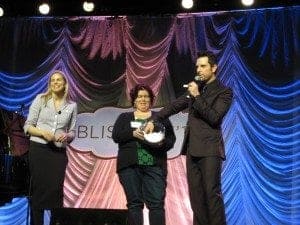 The Centrum team surprised me and called me up on stage with Cynthia Sass and Chris Mann to announce winners of prizes during the lunch. I was incredibly excited and nervous at the same time. It is not everyday that you are on stage in front of 500+ people.   I am going to be honest and let you all know that I was incredibly focused on not dropping the fish bowl at any time while on stage. I had a tight grip on the fish bowl and was incredibly focused on making sure it stayed up right and did not crash to the ground.   It was a lot of fun being on stage with them and surprising attendees with prizes.
I truly can't thank the Centrum team enough for making this weekend beyond amazing. Every time I visited the Centrum booth they were beyond friendly and helpful. The Centrum booth was an oasis of calm in a pretty frantic conference hall. They had couches set up and made sure everyone was relaxed and having fun. The Centrum team really made this event amazing. I hope to work with them again in the future and continue to share amazing things with all of you.
Over the next few days and weeks I will be sharing more about what I learned at Blissdom. I am so energized and excited to share with everyone what I learned.