Blissdom Recap – Part 2 – Meeting Dave Ramsey
Wow! Blissdom started off with a bang for us. We checked into the hotel and immediately headed to the Financial Peace Plaza to meet Dave Ramsey. I was not really sure what to expect when we got there. I am happy to say it was truly an amazing moment. We walked into the main doors and immediately were engulfed in hugs by many of my favorite people. We had the opportunity to tour the complex and meet Dave Ramsey. The tour was really insightful and thought provoking. Along the walls they have art that has been sent in by readers. The art is made out of credit cards that readers have paid off. Here are a few of my favorite pieces of art.
I love that if you look closely at the shark the artist spelled out Platinum in the teeth.
The amazing staff at Dave Ramsey really made us feel comfortable and welcome at the Financial Peace Plaza. They even had a sign welcoming us.
It was so inspiring to see the quotes and art on the walls highlighting being financially smart and taking control of your finances. We had the opportunity to watch Dave Ramsey while he was on air. While we were there he took calls from all around the world. He was really inspiring and uplifting to listen to.
I must say that after meeting Dave Ramsey and getting to listen to his radio show I really look forward to reading his books. I was really impressed with how dedicated his staff was to helping all of us live with financial peace. I will be sharing with all of you what I learn as I read his books and bring more information to the blog about achieving financial peace.
 Here is a photo of John and I meeting Dave Ramsey. He was kind enough to sign our book and take a few moments to talk with us.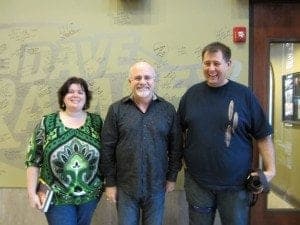 Do any of you follow the Dave Ramsey financial peace process? What have you learned from going through the program?