30 Day Blogging Challenge Day 5 – 5 Things that make me happy!
#1 -John
John makes me happy every single day. I feel so lucky and blessed to have met someone who truly is my best friend. Someone who gets me and puts up with me.  Thank goodness John likes to travel and trying new foods and exploring new places.
#2 Melebelly
Melebelly makes me smile and laugh daily. She is incredibly spoiled and knows it.
3. Tammilee Tips
The blog makes me very happy. Everyday I get to work on something that I love. I get to interact with people all around the country and share my passion for coupons and savings.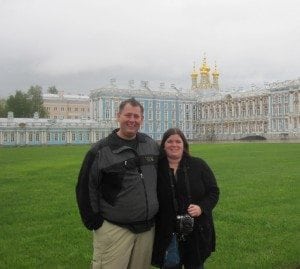 4. Travel
I love traveling! I enjoy trying new foods, meeting fun people and getting out and exploring new areas. I am happy to travel here in Washington or abroad depending on what we can afford and how much time we have.  The photo above is John and I at Katherine's Palace outisde of St. Petersburg Russia last year.
5. Today
I am happy today! I have a Husband I absolutely love and adore. I work at a job that I am passionate about.
Today I am smiling, happy and so excited to see what the future holds.