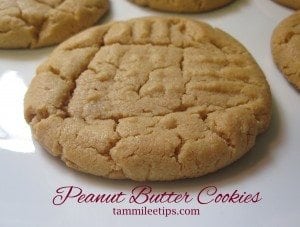 June 12th is National Peanut Butter Cookie Day!
I figured that we had to celebrate with yummy Peanut Butter Cookies! I had to make these while John was at work otherwise they would not last long enough to take a picture of them. John is a huge peanut butter fan.  I am pretty sure John would eat peanut butter all day if he had the chance. That or Nutella but that is a whole other story.
Here is the recipe for the yummy Peanut Butter Cookies I made.
Ingredients
1/2 cup sugar
1/2 cup packed brown sugar
1/2 cup butter, room temperature
1/2 cup Peanunt Butter (I used a heaping half cup for my recipe)
1 egg
1 1/4 cup flour
3/4 teaspoon baking soda
1/2 teaspoon baking powder
1/4 teaspoon salt
Directions
Preheat oven to 375 degrees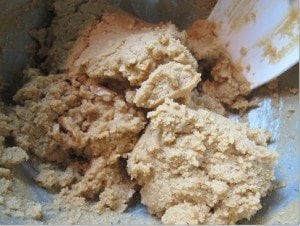 Beat the egg until creamy (about 2 minutes), add in the sugars, beat for an additional 2 minutes.
Mix in the peanut butter and the egg
Mix together the dry ingredients – flour, baking soda, baking powder and salt>
Stir the dry ingredients into the sugar butter mixture
 Shape dough into balls, place about 3 inches apart on un-greased cookie sheet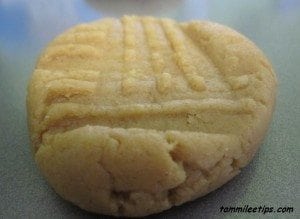 flatten with a criss cross pattern with fork
Bake until light brown, approx 9-10 minutes
Cool on baking sheets for a minute, transfer to rack to cool completely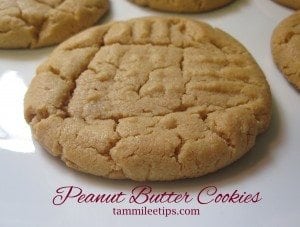 makes about 2 dozen cookies
Recipe adapted from Simply Recipes
Check out a few of my blogging friends favorite peanut butter recipes
Another Cent Saved  has a list of amazing peanut butter recipes.
Money Saving Michele makes unbelievable peanut butter fudge! I can't wait to try this recipe
Just Married with Coupons has a recipe for a Banana PB and J Smoothie.
Our Crazy Boys has a recipe for Blended Peanut Butter Mocha's
Here are a few other Peanut Butter recipes from our blog – Chocolate Peanut Butter Heart Cookies and Chocolate Peanut Butter Balls
What are your favorite peanut butter recipes?