Do you ever see an ad in a magazine and drool over the picture?
I have been trying to come up with a reason to try Cool Whip Frosting for a few weeks! This weekend I came up with the perfect reason……
I finally have all of our holiday decorations packed up and put away!
Woohoo! The tree is packed, the ornaments secured and the living room reclaimed!
It is time to celebrate with cupcakes! Because honestly nothing says celebration like yummy delicious cupcakes!
Check out the amazing cupcakes I made with Cool Whip Frosting! Oh my so good!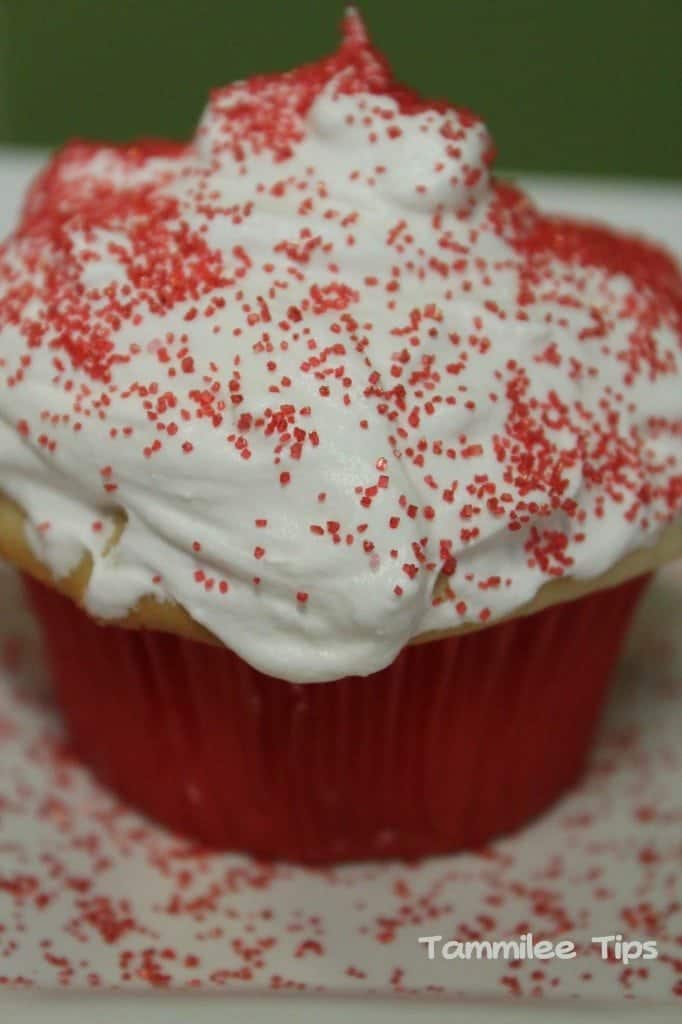 Just looking at this cupcake makes me want to make more! They are so delicious and a truly amazing treat!
John and I headed to our local Walmart to pick up Cool Whip Frosting and a few other groceries that we needed. It was 20 degrees when we reached Walmart. We ended up having quite a bit of fun while shopping. We found the Cool Whip Frosting in the freezer section. Our store had vanilla and chocolate flavors available. We picked up both since I could not make up my mind which one sounded better. I can't wait to try the Strawberry and Cream Cheese flavors next time.
After picking up the Cool Whip frosting I was on a mission to find cute red heart sprinkles for the cupcakes. I figured we would start in the Valentine's Day section. I did not find any sprinkles but John did have me laughing and giggling the entire time we were in the section. I turned around to see John posing with this heart box.
The rest of the shopping trip was spent trying not to giggle the whole time and picking up our remaining groceries. I decided to make the cupcakes the next day since it was already super late when we left Walmart.
So imagine my surprise when I opened the fridge and noticed that my dear husband could not wait for the cupcakes to be ready and had to dive into the Cool Whip frosting with a spoon.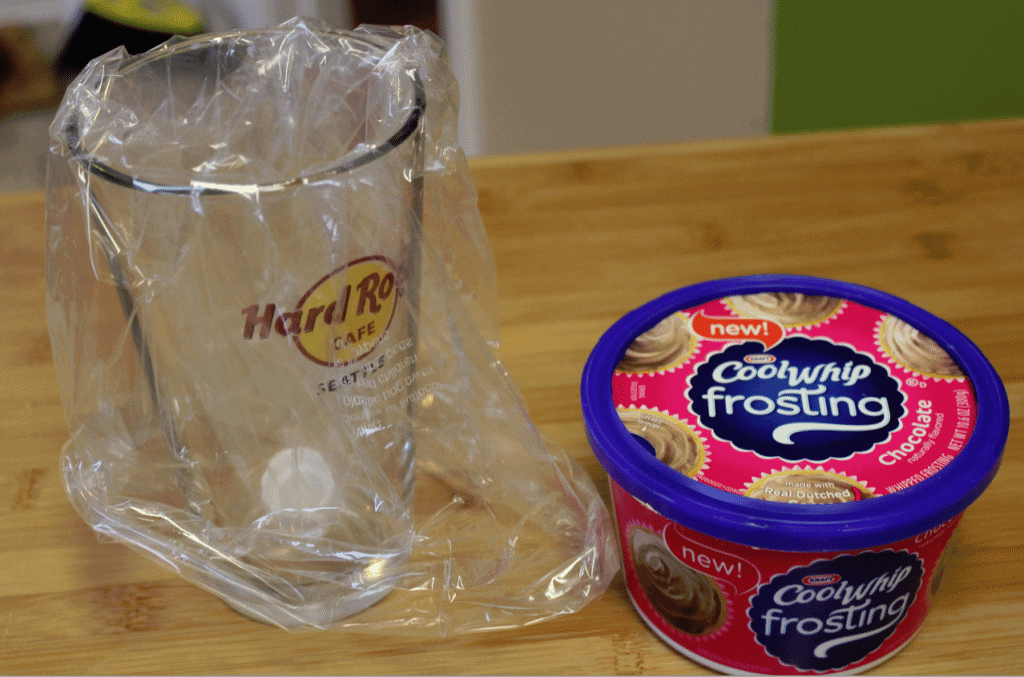 I use a glass to help fill my icing bags. I also use a plastic sandwich bag instead of icing bags to save on cost. I place my icing tip and then place it in a glass and pull the bag open over the glass. It is so easy to fill with icing and I do not have to worry about making a mess.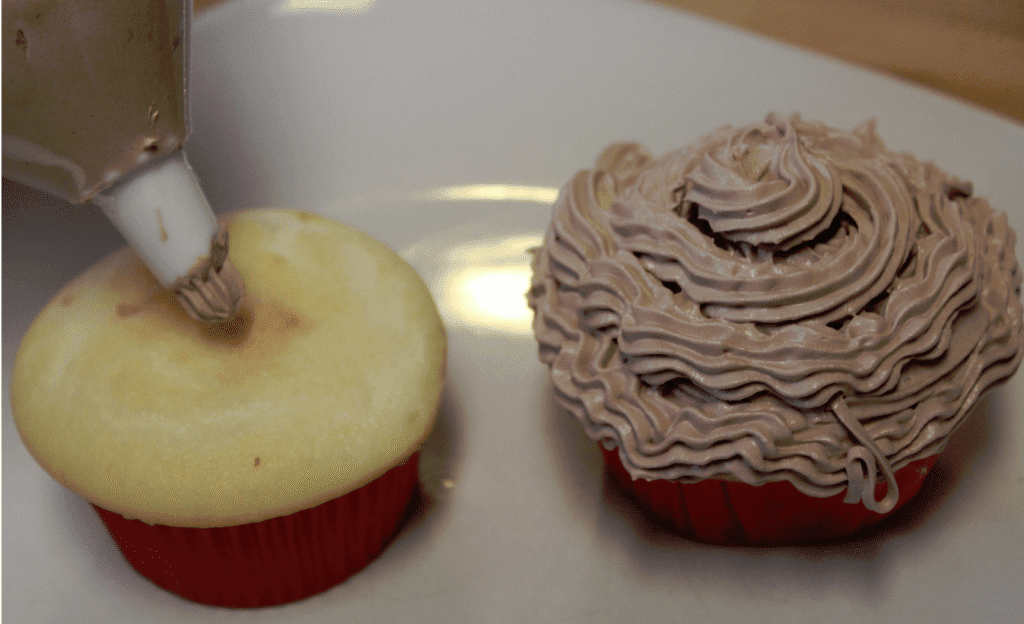 I was really impressed with how nicely the Cool Whip frosting piped onto the cupcakes. It was smooth and easy to use! You could easily use a spoon or a knife to cover the tops of your cupcake.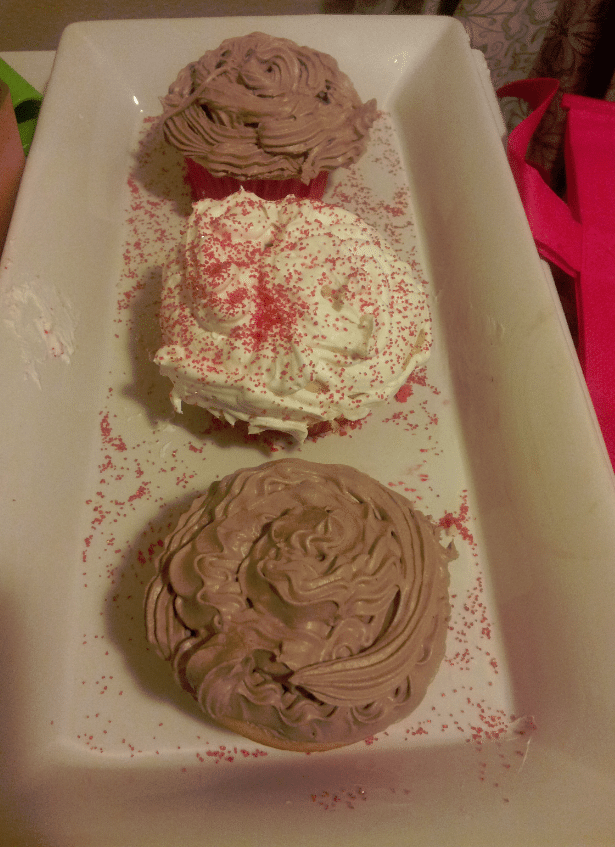 Here are my finished Cool Whip Frosting Cupcake creations! They were the perfect treat to celebrate having the Christmas Tree taken down and the living room cleaned up!
Coupon printing help resource. MAC users, please use browser other than Chrome.
You can find Cool Whip Frosting on Facebook!
Keep an eye out on the hashtag #coolwhipfrosting to see all of the amazing creations made with Cool Whip frosting. There are great recipes available on Kraft Recipes
I am a member of the Collective Bias® Social Fabric® Community. This content has been compensated as part of a social shopper insights study for Collective Bias® and Kraft Cool Whip. #CoolWhipFrosting #cbias #SocialFabric"