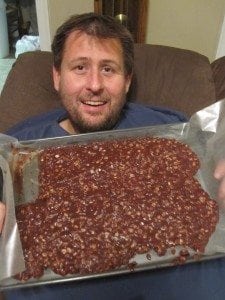 Chocolate Nutella No Bake Cookies Recipe
John is a huge fan of Nutella! He asked for No Bake Cookies tonight and I decided to experiment. Instead of using peanut butter I used Nutella and they turned out amazing. Here is the recipe that I used.
Ingredients
2 cups sugar
4 tablespoons cocoa
1 stick butter
1/2 cup milk
1 cup Nutella
1 tablespoon vanilla
3 cups oatmeal
waxed paper
Directions
In a heavy saucepan bring to a boil the sugar, cocoa, butter and milk
Let boil for 1 minute and then add Nutella, vanilla and oatmeal
On a sheet of waxed paper, drop the mixture by the teaspoonful
mixture will cool and harden
I spread my no bake mixture across the cookie sheet. I am going to attempt to cut them into squares when it has cooled.
I am hoping it works.