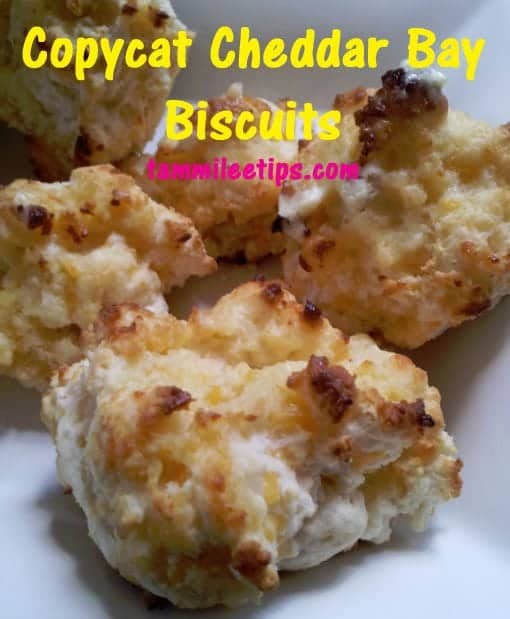 Copy Cat Cheddar Bay Biscuits
These biscuits are so easy to make and taste amazing! I served them at a dinner party and the plate was empty before I served the main dish.
Ingredients
2 cups Bisquick
2/3 cup skim milk
1/2 cup Cheddar Cheese
1/2 cup margarine/butter substitute ~ Melted
1/4 teaspoon garlic powder
Directions
1. Preheat oven to 450 degrees
2. Mix Bisquick, milk and cheese until a soft dough forms
3. Drop by the spoonful onto an ungreased baking sheet
4. Bake for 8-10 minutes until golden brown
5. Mix margarine/butter substitute and garlic powder
6. Brush butter/garlic mixture over the warm biscuits before removing from cookie sheet
Do you love recipes? Check out our copy cat recipes, dessert recipes, and our Crock Pot Recipes.
Copy Cat Cheddar Bay Biscuits
Ingredients
2 cups Bisquick
2/3 cup skim milk
1/2 cup Cheddar Cheese
1/2 cup margarine/butter substitute ~ Melted
1/4 teaspoon garlic powder
Instructions
Preheat oven to 450 degrees
Mix Bisquick, milk and cheese until a soft dough forms
Drop by the spoonful onto an ungreased baking sheet
Bake for 8-10 minutes until golden brown
Mix margarine/butter substitute and garlic powder
Brush butter/garlic mixture over the warm biscuits before removing from cookie sheet
https://www.tammileetips.com/copy-cat-cheddar-bay-biscuits/