A huge thank you to Albertsons for sponsoring today's recipe Crock Pot Bacon Cheeseburger Dip and for having an amazing Stock Up Sale this week! I was able to stock up on so many pantry supplies that we use all the time! If you have been following the blog for a bit you know that I love using Ro-Tel in recipes. The first time I found Ro-Tel was at Albertson's Stock Up Sale a few years ago. Now it is a staple in my pantry that I use all the time.  I was able to stock up on a ton of Ro-Tel this week at the Albertsons Stock Up Sale! Ro-Tel is on sale for a killer price so I picked up 20 cans of it! The first recipe I decided to make is this seriously yummy cheesy Crock Pot  Bacon Cheeseburger Dip!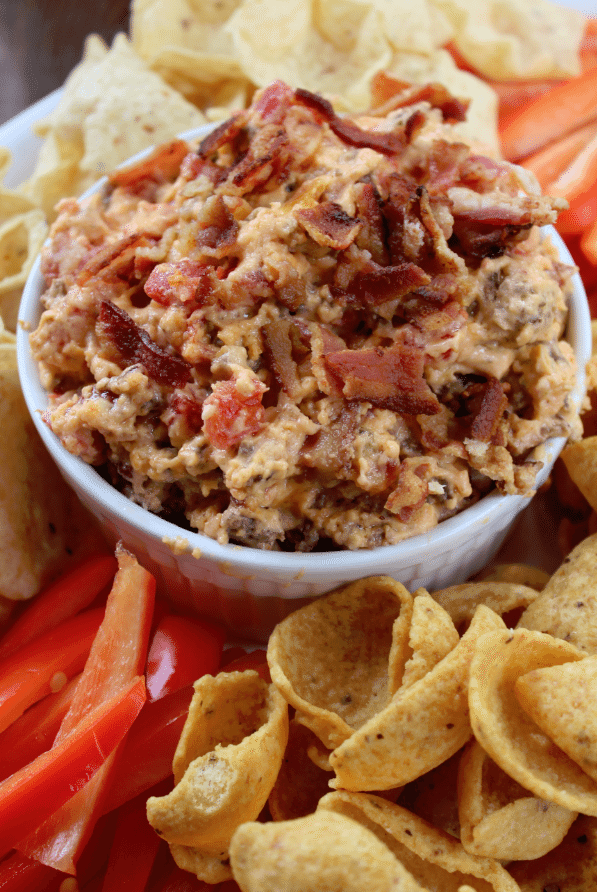 With football season in full swing this dip is the perfect appetizer or snack during the game. You can serve it in the crock pot or in a serving bowl. I have to say it did not last long enough for it to cool down in the serving dish. This dip is seriously yummy cheesy goodness!
Check out all of these great recipes made with Ro-Tel!
Tex Mex Velveeta Shells and Cheese
Can you tell I have a undying love for Crock Pot Recipes 🙂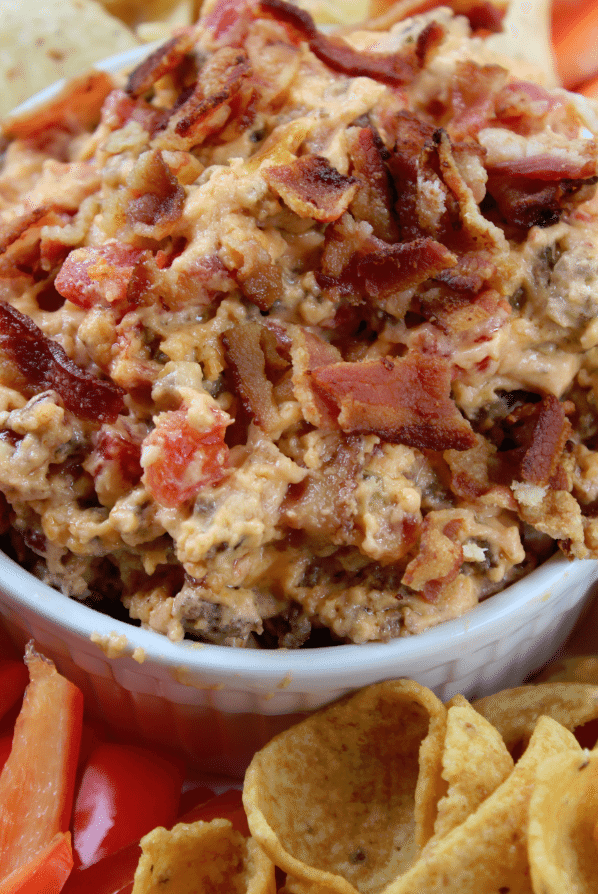 Crock Pot Bacon Cheeseburger Dip
Ingredients
8 slices of Bacon
1/2 pound ground beef
1 package cream cheese, cubed
1 package shredded American Cheese blend, 8oz
1 can Rotel Diced Tomatoes and Green Chilis
2 medium red bell peppers, cut into strips
Your favorite chips
Directions
1. Cook bacon over medium heat until crisp, drain on paper towels, crumble bacon, reserve 2 tbsp for garnish
2. Cook beef over medium heat for 5-7 minutes, stirring occasionally until cooked, drain and return to pan
3. Reduce heat to low, stir in cream cheese, shredded cheese, Ro-Tel and crumbled bacon until well mixed and cheese starts to melt
4. Pour into crock pot, cover and cook on low for 2-3 hours, check every hour to make sure sides are not too hot
5. Sprinkle with reserved bacon for garnish, keep on low
6. Serve with bell pepper strips and bagel chips
Do you love recipes? Check out our copy cat recipes, dessert recipes, and our Crock Pot Recipes.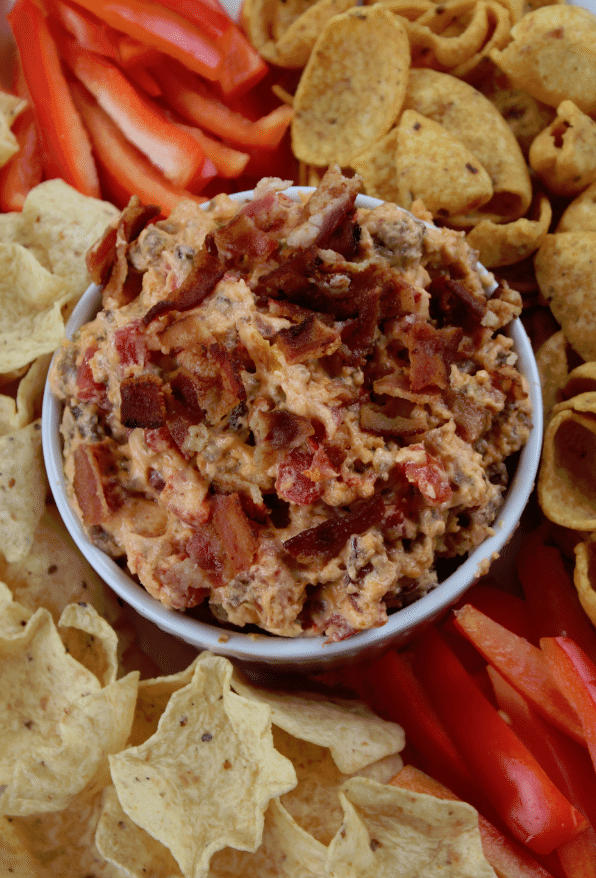 Crock Pot Bacon Cheeseburger Dip
Ingredients
8 slices of Bacon
1/2 pound ground beef
1 package cream cheese, cubed
1 package shredded American Cheese blend, 8oz
1 can Rotel Diced Tomatoes and Green Chilis
2 tbsp chopped fresh parsley
2 medium red bell peppers, cut into strips
Your favorite chips for dipping
Instructions
Cook bacon over medium heat until crisp, drain on paper towels, crumble bacon, reserve 2 tbsp for garnish
Cook beef over medium heat for 5-7 minutes, stirring occasionally until cooked, drain and return to pan
Reduce heat to low, stir in cream cheese, shredded cheese, Ro-Tel and crumbled bacon until well mixed and cheese starts to melt
Pour into crock pot, cover and cook on low for 2-3 hours, check every hour to make sure sides are not too hot
Sprinkle with reserved bacon for garnish
Serve with bell pepper strips and your favorite chips
https://www.tammileetips.com/crock-pot-bacon-cheeseburger-dip/
Recipe adapted from Pillsbury Holiday Appetizers and Mini Desserts 2007