First I have to say thank you to eMeals for sponsoring today's post through Markerly. I am so excited to share with everyone the amazing Crock Pot Tomato Sauce we made and the eMeals service.
AND…..eMeals is giving our readers 35% off of your eMeals subscription! Woohoo! All you have to do is use code: cyber35
I have been a fan of eMeals for a while. I first heard of eMeals almost 2 years ago while I was at a conference for bloggers. After talking with eMeals I was so impressed with their goals and reasons for setting up eMeals. Their goal is to save all of us time, energy and money! I have to say I like anyone who can help me save time and money.
The great thing about eMeals is you can totally customize the plan to you! eMeals is not a cookie cutter everyone gets the same program end of story thing. Instead you have the opportunity to pick the plan that works specifically for your family. I chose the Slow Cooker Clean Eating Family Plan. I had the option of picking a plan for just 2 people but honestly I LOVE left overs. Being able to freeze extra food for a rainy day works great for me.
I had so many choices when it came to picking an eMeals plan. They have classic meals, clean eating, paleo, slow cooker, low carb, low fat, natural and organic, simple gourmet, gluten free and so many more.
If you pick a meal plan and decide you want to eat low carb or low fat for the next few months you can easily change your plan. It truly is easy peasy!
The first recipe I made from my Slow Cooker Clean Eating Family Plan was Crock Pot Fresh Tomato Sauce over Penne Pasta! Hello Yum!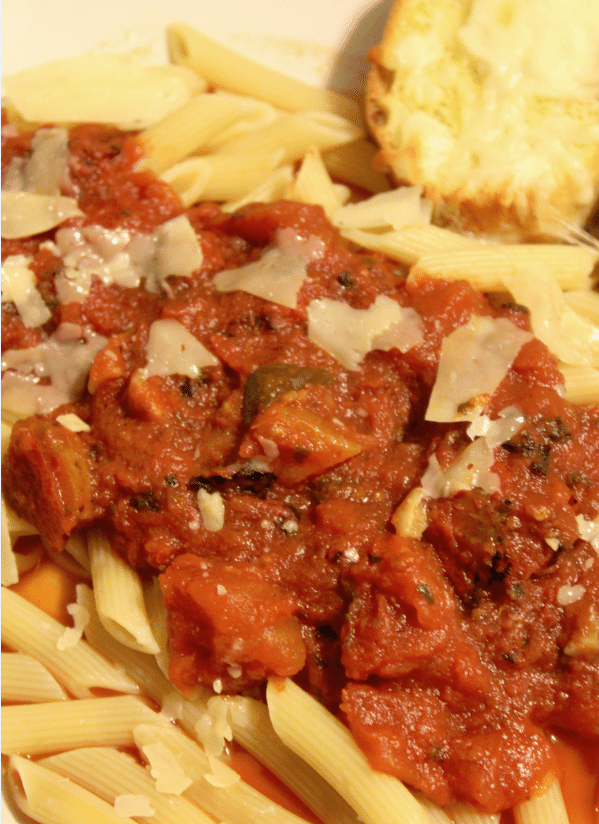 This Crock Pot Fresh Tomato Sauce is so easy to make and tastes amazing
Ingredients
1 tbsp olive oil
2 cups chopped onions
8 cloves garlic, minced
5 pounds plum tomatoes, stemmed and quartered
1 bay leaf
2 tbsp chopped fresh thyme leaves
1 1/2 tsp salt
1 tsp pepper
2 cups chicken broth
1 cup fresh basil, chopped
1 pound uncooked penne pasta
2 tbsp fresh parsley, chopped
1/4 cup grated fresh paremesan cheese
Directions
Heat oil in a large skillet over medium heat, add onions and garlic, cook 6 minutes or until crisp-tender
Transfer onion mixture to a 5-7 quart slow cooker
Add tomatoes, bay leaf, thyme, salt, pepper and broth
Cover and cook on low for 8 hours
Stir basil into tomato sauce
Cook pasta according to package directions
Serve tomato sauce over pasta, sprinkle with parsley and cheese
One of the really cool things about eMeals is they give you additional recipes you can make from the first recipe. For this recipe it has you hold onto 3 cups of tomato sauce so you can make a Slow Cooker Cozy Tomato Bisque. I am going to make this recipe up tomorrow and will let you know how it turns out.
eMeals on average saves their customers $1000 in food purchases! They make sure that you are not buying tons of food and only using a teaspoon of the entire package. Instead they create a menu that utilizes all of the ingredients listed and maximizes your spending. Each week you not only get a menu plan you also get a shopping list and coupons to help you save. The shopping list shows exactly what you need to buy for that weeks meals. No more stressing over what to make, worrying that you are buying a container of something and only using a little bit, and best of all the menu plan is emailed to you weekly.
Check out this great Paleo Roast Turkey Recipe for Thanksgiving.
Financial Planning celebrity and TV show host, Dave Ramsey, supports eMeals and how it helps families save around $1,000/year.  Check out this video of Dave Ramsey talking about eMeals