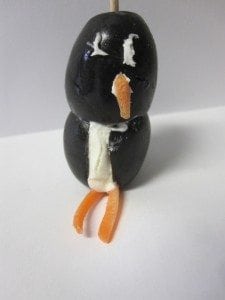 Olive Penquins
I saw these on Pinterest and had to try and make them. I have to say it was super easy and I had so much fun making it.
Ingredients
Black Olives
Cream Cheese
Carrots
Directions
I sliced an olive open and stuffed it with cream cheese.
The 2nd olive I cut the bottom off of it to make it sit better on the other olive.
I used a toothpick to hold them together.
The feet and nose were made with carrots.
I tabbed a bit of cream cheese on to make eyes.