When you see celebrities on TV do you ever wonder if their personalities match their characters?
Do you wonder if they are as funny in person as they are on TV?
These are a few of the questions I had going into our interview with Julie Bowen who plays Dipper in Disney Planes Fire and Rescue.
You may know Julie Bowen from her role on Modern Family.
I am incredibly happy to say that Julie is as funny on screen as she is in real life. In fact she might be better in real life because she is honestly a ball of energy. She emanates fun and laughter from her entire being.
From the moment we walked into the restaurant to meet her she was bubbly, vivacious and exactly what I had hoped she would be.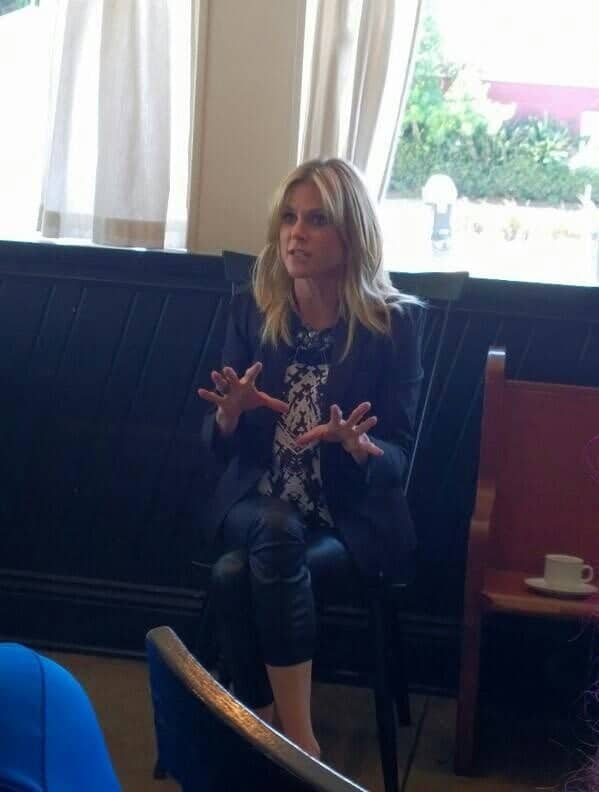 Check out our exclusive interview with Julie Bowen about Disney Planes Fire and Rescue!
Q. Is this your first time playing an animated character?
For a movie, yes.  I did like a couple little quickie things.   Because they don't watch, they've never seen Modern Family.  Plus they don't really want…you know, kids the world is about them.  And according to my therapist, that's totally normal, for awhile.  So I'm like really?  Everything is about them!
And they don't want to see me as, uh, on a screen that much.  But they like the voice thing.  So when I got an opportunity to do this, I saw how much mileage I got off Scooby-Doo.  I couldn't believe how much mileage I got from them.  They were like worshipping me.  So this, like I mean I'm genuinely excited to show off to my children.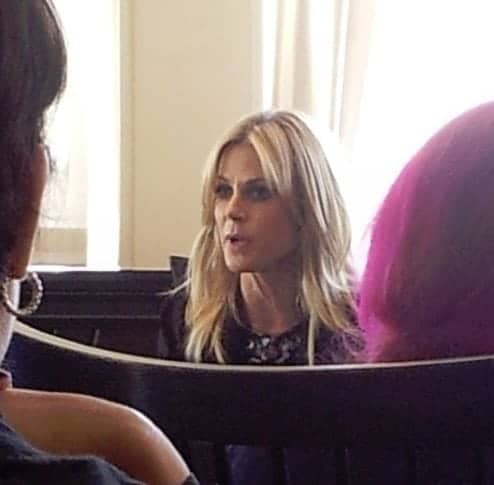 Q    :    How was it to do animated versus Modern Family?
Oh.  Oh.  So different.  So different.  I am not a trained voice actor.  I'm keenly aware of my weaknesses, and that may be because there's something that obscure or high, there's no like, no, I think we might have seen your boob there.  You know what I mean?  It's just your voice, and if you aren't getting across clearly, the humor, the message, the- the real sentiment, you can't deny it.  You can't go like, yeah, but she looks really big in that shot.
Or your hair looks nice, so maybe no one will notice.  So I was keenly aware of it.  Luckily they are perfectionists and they are so pro that they very quickly figured out that the best way to work with me was just let me go.  And then some poor editor had to sit somewhere going, oh my god.  I mean I was leaping around, swearing.  The original Dipper had quite a mouth on her.  But that- but to get to the like sassiness of the way that she thinks, I kind of needed to spout some garbage.
Q. Do you watch the film first and then voice it?
They draw- it- it's kind of like what you would imagine as far as there's like a, there's a rough sketch copy.  Like pencil drawing and then sometimes it's more,  it's more than that.  It's the pencil drawing against the backdrop because I guess the backdrops are more static, or those are painted in total, and then they…I'm not exactly sure how that happens.  But what I see is just mostly some loose drawings in the very beginning.
Moving around and kind of marking the major things.  Then I come back like six months later and they're drawn more.  And the cool thing is, six months or eight months later, they've taken all that spouting that I did in the booth, and running around and sweating, and they incorporate it into the character.  And now they've started to draw her- her movement and her mouth and everything to fit that.  And that was very cool to see.  Somebody had to work very hard.
but then it was not until I saw this in the final film, but the last things I've seen have been, to my eye look finished.  I'm sure a professional will have tweaking to do or something.
Q .  Are you ever with other actors in the booth or always by yourself?
No.  I was always by myself which is, I don't know 'cause I don't- I've done…  Like when I did Scooby-Doo it was in a room with a bunch of people.  But, but those are serialized.  You know, it's weekly or however they do it.  So they've got a much faster production piece.  I don't think you can afford to bring one person in at a time.  No, I was completely alone.  But luckily Dane Cook, I mean all theirs was done.  It was completely done.  So I could hear him, I could hear Ed Harris, I could hear everybody else.
Overall our interview with Julie Bowen was beyond FANTASTIC!
I was already a fan from watching her in Modern Family and now after seeing her in Planes Fire and Rescue and meeting her in person I am an even bigger fan.
She is humble, honest, open and so friendly! She spent time at the end of the interview chatting with all of us about life and kids. She had a car waiting to whisk her off to a day time television show and had to be reminded that she needed to go. She was so fun to chat with!
You can check out PLANES: FIRE & RESCUE ONLINE on Facebook, Twitter and YouTube!
Make sure and follow #FireAndRescueEvent to see all of our coverage for the movie! Trust me there is a lot more to come in the weeks leading up to Disney Planes Fire and Rescue hitting the theaters on July 18th!
Disney flew me to LA for the Maleficent/Disney Planes Fire and Rescue Event. All flight and hotel accommodations were covered.