Are you an Elvis Fan? Are you a cupcake fan? If you answered yes than you are going to love these Elvis Cupcakes aka Banana Cupcakes with Peanut Butter Frosting!
John's Mom is a huge Elvis fan! I mean huge fan! She has Elvis memorabilia in her house and is always listening to Elvis. Since her birthday was this week I thought I would make her a special treat and created Elvis Cupcakes.
She was so shocked when I told her they were Elvis Cupcakes she was not sure what to say!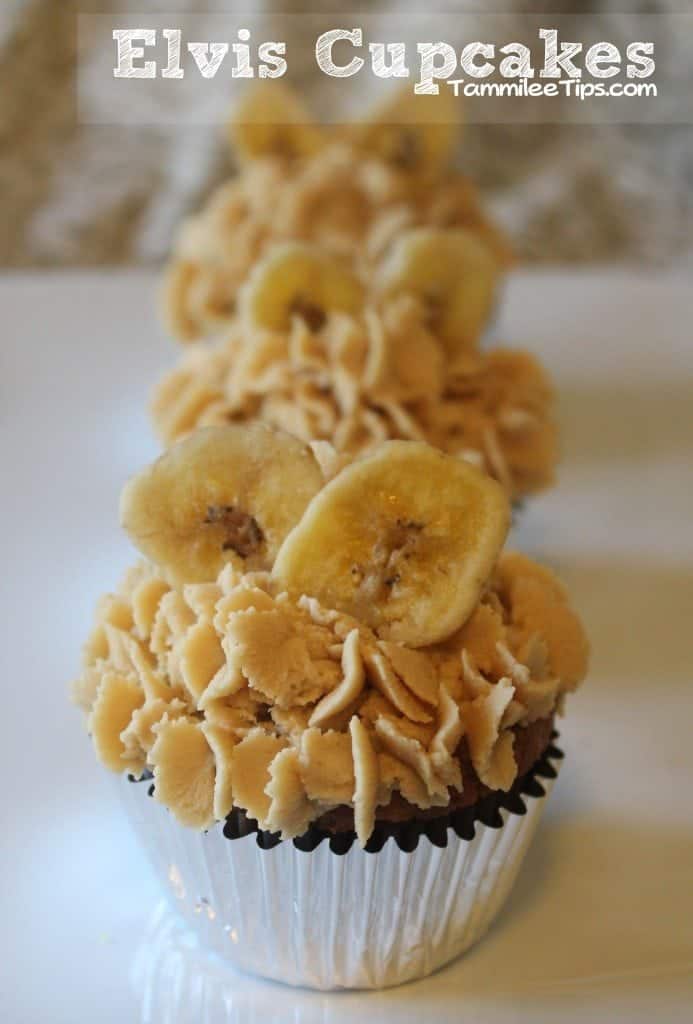 Elvis Cupcakes aka Banana Cupcakes with Peanut Butter Frosting!
Banana Cupcakes
Ingredients
1 1/4 cup all purpose flour
1 tsp baking soda
pinch salt
1 cup sugar, granulated
1/2 cup canola oil
2 eggs
1 cup mashed banana (I used frozen bananas and it worked great)
1 tsp vanilaa
Directions
pre-heat oven to 350 degrees
1. combine dry ingredients, flour, baking soda, and salt in a small bowl and whisk together
2. Combine sugar, oil and egg until smooth, add banana and vanilla beating well, add flour mixture and beat until smooth
3. Scoop batter into cupcake liners in a muffin tin
4. Bake for 24 to 28 minutes
5. Let cool
Peanut Butter Frosting (I made 2 sets of this frosting since I was just a bit short in frosting the cupcakes with 1 serving)
Ingredients
2 cups confectioners sugar
1/2 cup unsalted butter, room temperature
pinch salt
1/2 cup creamy peanut butter
2 tbsp milk
Directions
1. Using an electric mixer beat together confectioners sugar, butter and salt until creamy
2. Add in peanut butter, milk and beat until creamy and smooth
These Elvis Cupcakes were amazing! The house smelled like fresh baked banana bread and peanut butter. I will definitely be making these Elvis Cupcakes again really soon.
Do you love recipes? Check out our copy cat recipes, dessert recipes, and our Crock Pot Recipes.
Recipe adapted from
150 Best Cupcake Recipes