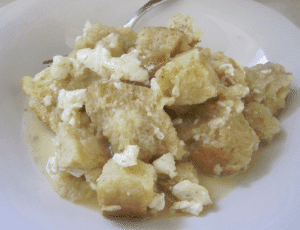 French Toast Casserole Recipe
A couple of days ago I shared with you our new favorite Cinnamon Syrup recipe. I used the Cinnamon Syrup on this French Toast Casserole and it was amazing. I served this while my parents were visiting and it was a great treat. It was so nice having it pre-made in the fridge. All I had to do was stick it in the oven and breakfast was ready. This would make a great treat for a holiday morning breakfast or if you have guests over. It made a large serving and we were unable to finish even half of the breakfast with 4 of us.
Ingredients
1 loaf french bread, cubed
1 8-oz package of cream cheese, cubed
6 eggs
2 1/2 cups milk
3/4 cups sugar
6 tablespoons melted butter
2 teaspoons vanilla
1 tsp Cinnamon
Directions
1. In a greased 9X13 glass dish, place bread cubes.
2. In a mixing bowl blend eggs, milk, sugar, butter, vanilla, cinnamon, and cubed cream cheese
Beat until cream cheese breaks down into small bits
3. Pour over bread, let sit in the refrigerator overnight.
4. Bake in 325 degree oven for 35 minutes or until set in the center like bread pudding.
Serves 6-8 people
Thanks to Ellena from Latah Creek Winery for sharing this amazing recipe with us!