One of my good friends is a Funfetti Cake freak! She would gladly enjoy Funfetti Cake every day if she could get away with it. I thought it would be fun to make an adaptation of Funfetti Cake that was easier to eat. I searched through Pinterest and the Web and found a recipe for Funfetti Cake Batter Bars. These were a lot of fun to make and turned out great. I think next time I will add in extra funfetti sprinkles to make them even brighter and colorful.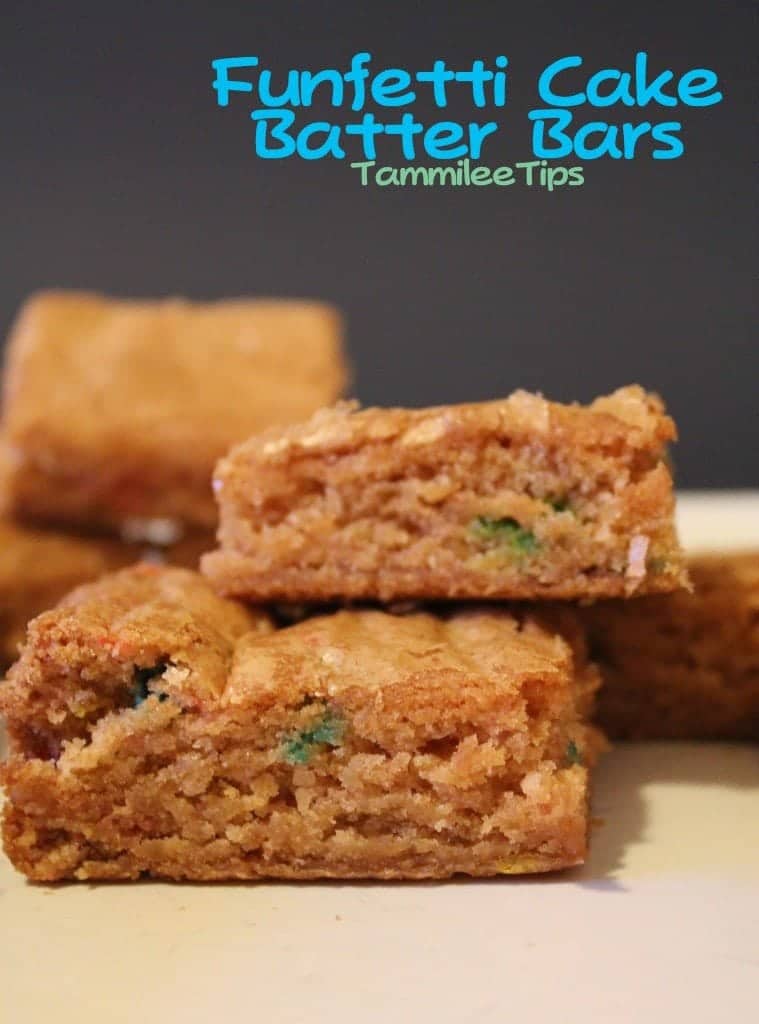 Funfetti Cake Batter Bars
Ingredients
1 1/4 cup funfetti cake mix
3/4 cup flour (I used whole wheat flour)
1/4 teaspoon baking soda
3/4 cup butter, melted
2 eggs
2 teaspoons vanilla
1/2 cup sugar
1/2 cup brown sugar
5 tablespoons sprinkles of your choice
Directions
1. Preheat oven to 350 degrees
2. Spray an 8×8 inch pan
3. Cream sugar, butter, vanilla and eggs together. I used our KitchenAid Stand Mixer
to mix everything easily
4. Gradually add in flour, cake mix, and baking soda until just mixed
5. Add in sprinkles
6. Spread evenly into 8X8 pan
7. Bake for 30-35 minutes until top is lightly brown
Cool completely before cutting
I was able to pick up Funfetti Cake Mix on sale with a coupon to help lower the cost of this recipe. Check out all of the printable coupons available right now to help save on your next grocery trip!
Thank you to Lilac City Momma for sharing this recipe!
Do you love recipes? Check out our copy cat recipes, dessert recipes, and our Crock Pot Recipes.