I participated in a campaign on behalf of Mom Central Consulting for the Certified Angus Beef® brand. I received product samples to facilitate my review and a promotional item as a thank you for participating
I am all about comfort food!
There is just something so perfect about a big pot of Beef Stew cooking on the stove top on a cold winter day.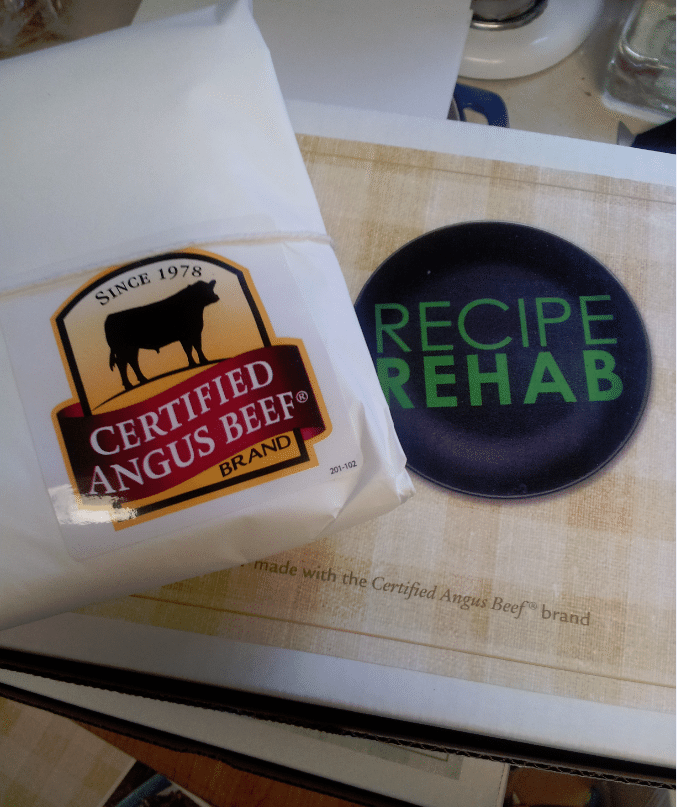 I had the chance to try out two recipes that will be showcased on CBS Recipe Rehab. Both of the recipes use Certified Angus Beef® brand products and are amazing!
I made both Beef Stew with Barley  and Hearty Beef Stew this week to see which one my family would like the most.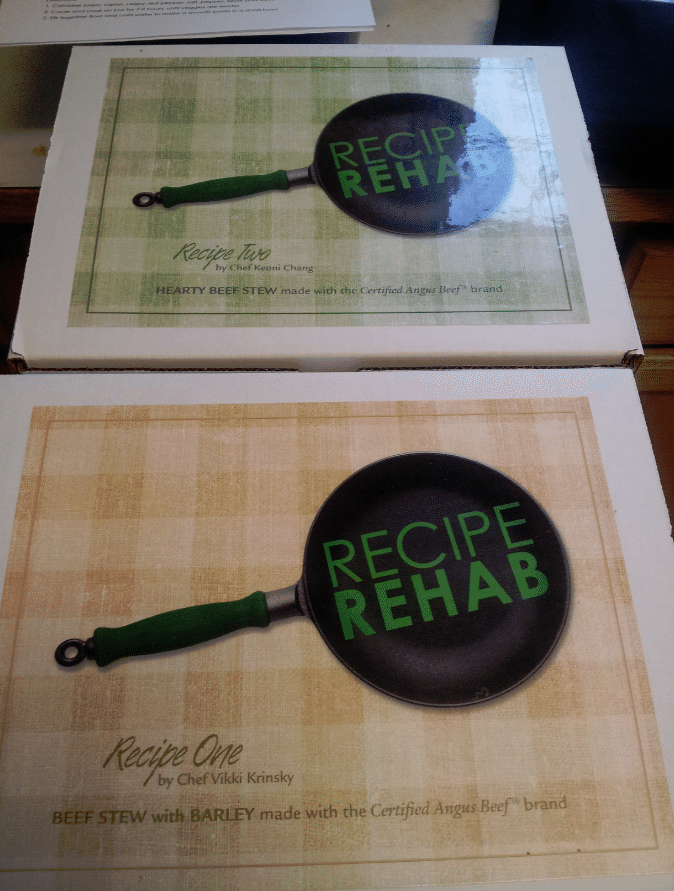 Each recipe came with it's own Recipe Rehab kit.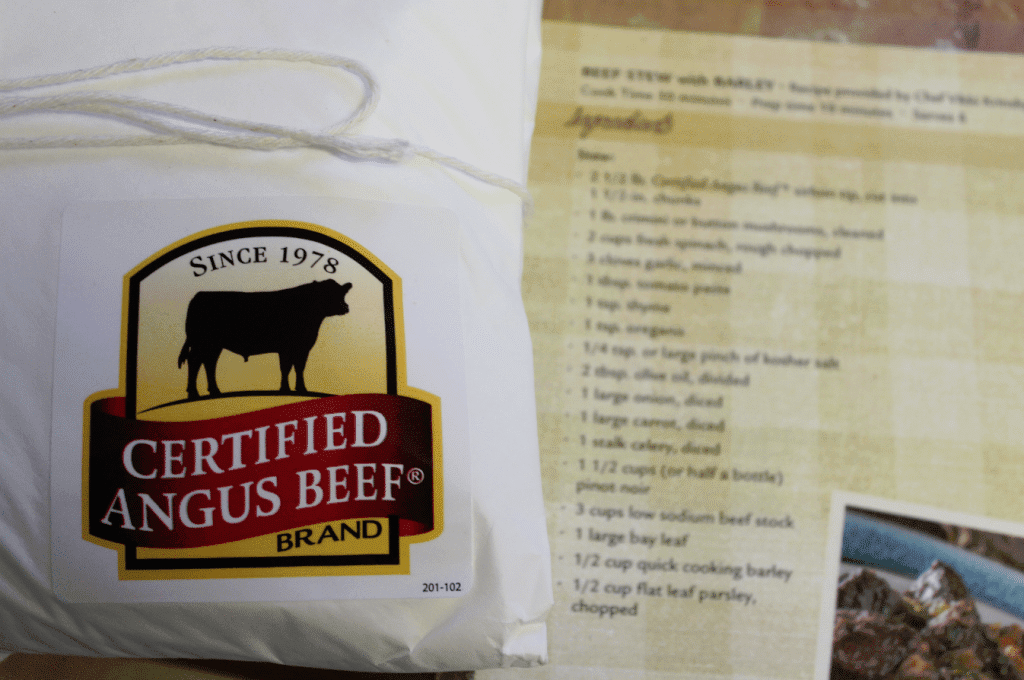 These stews are packed with veggies and Certified Angus Beef® brand beef!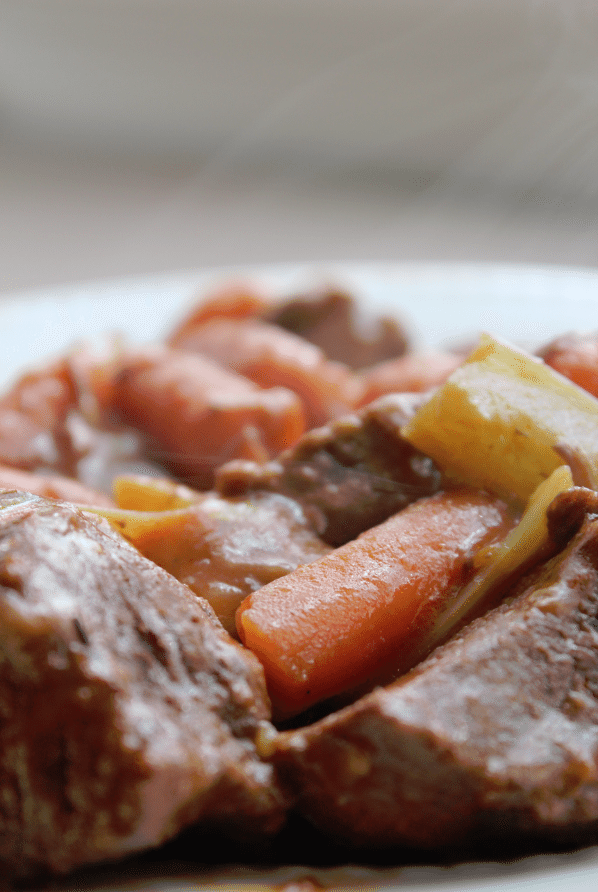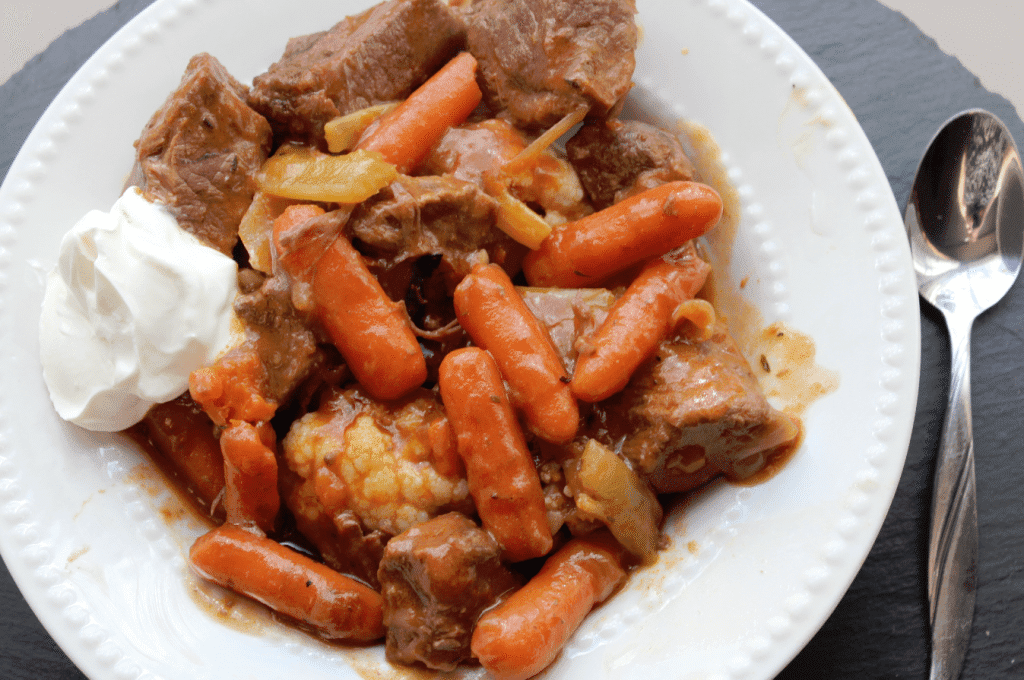 Check out this Hearty Beef Stew…oh my!
This stew takes a little bit of prep but is so worth it. One tip I would suggest is having all of your ingredients measured out and ready when you start cooking this stew.
I was dicing, chopping, and stirring at the same time and really needed 2-4 more arms to get it all done.
Hearty Beef Stew
Ingredients
2½ pounds Certified Angus Beef ® sirloin tip, trimmed of excess fat, cut in ¾ – 1-in. cubes, and patted dry on paper towels
⅓ cup all purpose flour
5 cups no-salt-added beef broth
Canola oil spray
1 pound yellow onions, diced in ¾-in. pieces
1 pound baby carrots
6 ounces fresh shiitake mushrooms, stems removed and quartered
1 cup dry white wine (sauvignon blanc or pinot grigio)
6 celery stalks, cut into ¾-in. pieces
6 cloves garlic, minced
3 ounces tomato paste
2 teaspoons fresh thyme leaves, minced (or 1 tsp. dried)
2 bay leaves
1 teaspoon ground black pepper
1 teaspoon fresh lemon juice
1 pound cauliflower, cut into florets
8 ounces fat free sour cream
8 pinchs fleur de sel
Instructions
In 2-quart mixing bowl, whisk flour and beef broth together until any lumps are gone.
Spray pot or Dutch oven (6-quart) with oil and place on medium-high heat. When pot is heated, brown beef in three batches, adding more spray for each batch. Do not overcrowd pot; its bottom should be visible.
Spray nonstick sauté pan with oil and heat on medium high. Add onions and cook, stirring occasionally, until brown and soft. Remove from pan and reserve; repeat with carrots, cooking until browned.
Once beef is browned, add mushrooms to Dutch oven and cook for 1 minute. Add wine; cook until reduced by half, about 3 minutes.
Return browned beef to Dutch oven; add caramelized onions and carrots, as well as celery, garlic, tomato paste, thyme leaves, bay leaves and ground pepper. Stir in flour and beef stock mixture.
Bring pot to a simmer, then reduce to low heat and cook for 45 minutes, or up to 2 hours if time permits. (The longer the stew simmers, the more tender the beef will become.) While stew is simmering, occasionally check it and skim any excess fat from the top.
Bring 4 quarts water to a simmer in large pot. Place cauliflower florets in simmering water and cook 8 minutes or until tender. Drain and keep cauliflower warm.
Remove stew from heat and stir in lemon juice. Divide cauliflower equally among 8 bowls, then ladle stew over cauliflower. Garnish each bowl with a dollop of sour cream and sprinkle with small pinch of fleur de sel.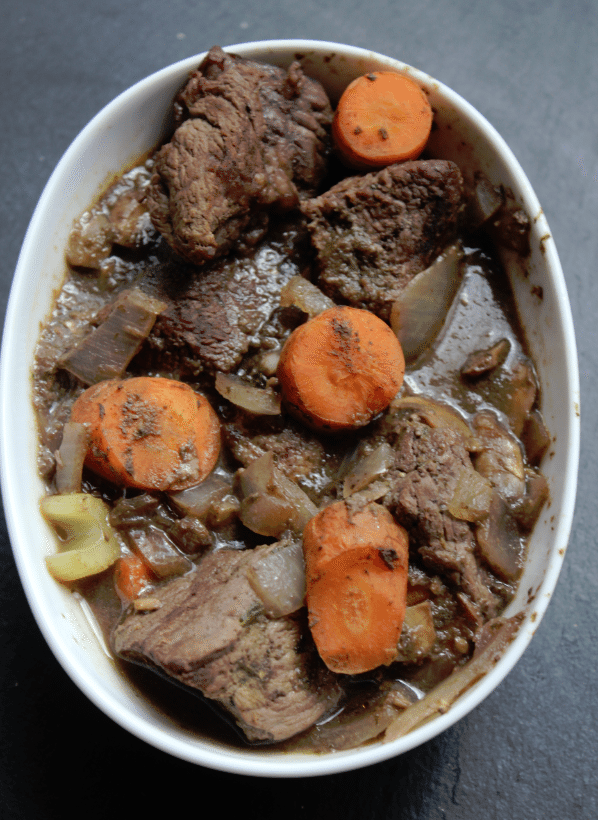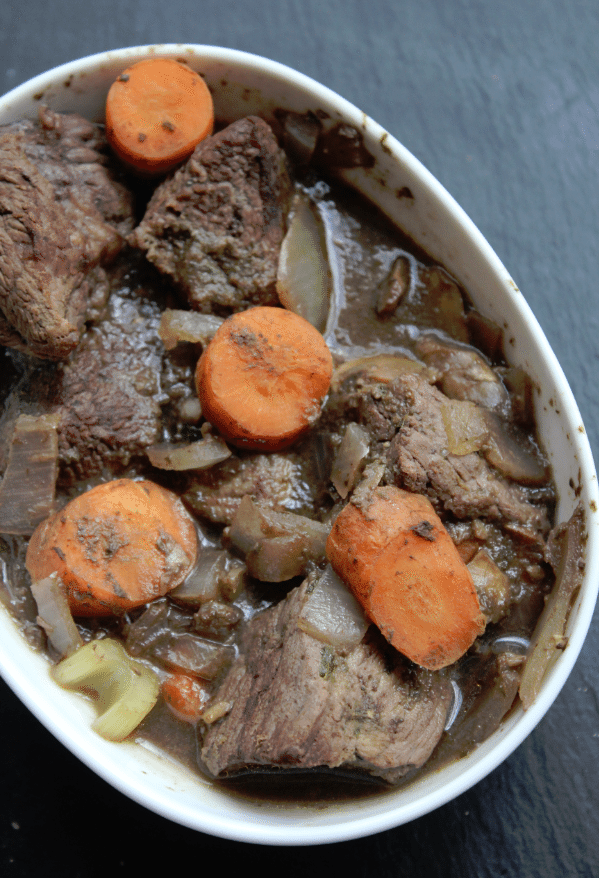 Beef Stew with Barley was fantastic though I do have to make a confession….
Have you ever gone to the store oh 3 times to get something and forgotten that item each time?
That is what happened to me with the barley I was supposed to use in this recipe. I drove to the store three different times to get the barley and managed to come home without it each time.
I found more than enough other groceries but for some sad reason barley never made it into my cart so this is our version of Beef Stew with Barley minus the barley 🙂
Beef Stew with Barley
Ingredients
2½ pounds Certified Angus Beef ® sirloin tip, cut into 1½-in. chunks
1 pound crimini or button mushrooms, cleaned
2 cups fresh spinach, rough chopped
3 cloves garlic, minced
1 tablespoon tomato paste
1 teaspoon thyme
1 teaspoon oregano
¼ teaspoon or large pinch of kosher salt
2 tablespoons olive oil, divided
1 large onion, diced
1 large carrot, diced
1 stalk celery, diced
1½ cups (or half a bottle) pinot noir
3 cups low sodium beef stock
1 large bay leaf
½ cup quick cooking barley
½ cup flat leaf parsley, chopped
Instructions
Preheat oven to 450°F.
Add mushrooms, spinach, garlic, tomato paste, thyme and oregano to food processor. Pulse lightly until vegetables are roughly diced and mixture comes together.
Pat cubed meat with a paper towel to absorb excess moisture; this helps beef brown when seared. Season beef with salt. In large Dutch oven or pot on medium-high heat, add one tbsp. olive oil. Working in batches so as not to crowd the pot, brown beef a few minutes on each side. With slotted spoon, remove browned beef and reserve.
Add remaining olive oil to Dutch oven, and then the diced onion, carrots and celery. Sauté for 5 minutes. Turn heat down to medium and add mushroom mixture, mixing well with wooden spoon. Place meat back in pan; then add the wine and stock (liquid should cover meat and vegetables). Add bay leaf, cover pot and place in lower part of the oven. Cook for 40 minutes.
While beef is stewing, add barley and 2 cups water to a medium pot. Bring barley and water to a boil; lower heat and simmer 10 minutes or until tender. Strain any excess liquid.
After 40 minutes, remove pot from oven and stir cooked barley into stew. Return pot to oven so stew can continue to cook 10 more minutes, or if time permits, up to an hour. The longer stew cooks, the more tender the beef will become.
Serve stew in a shallow bowl and garnish with freshly chopped parsley.
So filling and perfect for a cold winters night. Did I mention how good it smelled cooking for a few hours on the stove…oh my!
Did you know….
When you see Certified Angus Beef® brand logo, beef has met 10 standards for premium quality, including abundant marbling.
Marbling is the little white flecks within the red meat. These melt during cooking, basting beef from the inside out for mouthwatering flavor and juiciness.
When you serve your family the Certified Angus Beef® brand, you are serving them the best. The brand is a cut above USDA Prime, Choice and Select grades.
To find a lean cut of beef look for "round" or "loin" in the name. Examples – strip loin, tenderloin and round roast
Calorie for calorie, beef is a nutrient powerhouse
Beef is a great source of "B" vitamins to promote growth and help maintain health
Certified Angus Beef® brand is the world's first brand of beef, established in 1978.
Be sure to watch award-­‐winning Recipe Rehab on CBS Saturday morning, February 15, for the official winner