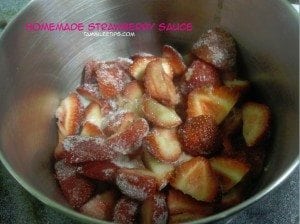 Homemade Strawberry Sauce
Have you ever looked in your fridge and realized you have a ton of strawberries and you need to use them quick? I had this happen to me recently and decided that I wanted to make Homemade Strawberry Sauce. I am not sure why I have never made this sauce before. The sauce was super easy to make and tasted great. I am thinking about packaging it in really cute bottles for friends this summer. We poured the sauce on cheesecake, ice cream, waffles and a spoon and it was fantastic!
Homemade Strawberry Sauce
Ingredients
1 pint strawberries
1/3 cup sugar
1 tsp vanilla extract
Directions
1. Wash Strawberries and remove stems.
I used this super cool Strawberry trick to prep our strawberries.
2. Combine Strawberries, sugar and vanilla in a sauce pan and bring to a simmer
3. Cook for about 5 minutes breaking up strawberries as you stir the mixture
4. After 5 minutes remove from heat and allow the mixture to cool.
5. Transfer to blender and mix until you have the texture you like.
6. Transfer to container and store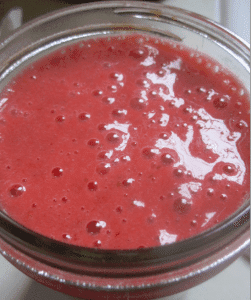 I bet you are wondering what to do with your yummy Strawberry Sauce… Check out this recipe for Melt in Your Mouth Cheesecake. This Strawberry Sauce tasted amazing over the top of the cheesecake.
If you still have a ton of Strawberries check out this great Make Your Own Strawberry Foot Balm.