I love picking blueberries in the summer. I thought it would be fun to show how to freeze blueberries so you can enjoy them year round.
We stock upon blueberries while they are in season and then freeze them so we can enjoy them whenever we want to without worrying that the price is ridiculously high for blueberries out of season.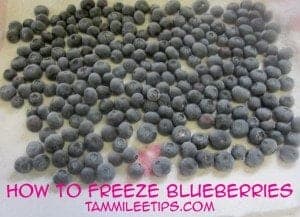 How to Freeze Blueberries
I love freezing produce in the summer so I have tons to pick from when it is snowing. I love blueberries and add them to almost anything I can. I have been stocking up on them at Costco and freezing them for the winter.
Steps to freezing blueberries
1. Gently wash blueberries
2. Spread blueberries on a lined cookie sheet or tray
I use paper towels to line my tray so the paper towels absorb any juice
3. Place in freeze until frozen.
4. place in a dated bag for future use.
Check out our Produce 101 series for tips on buying the best blueberries and how to store them.
Are you wondering what to do with all of the blueberries you have frozen? Check out all of these great recipes
–Fruit Parfait
– Baked Banana Blueberry Oatmeal
–Blueberry Streusel Muffin
–