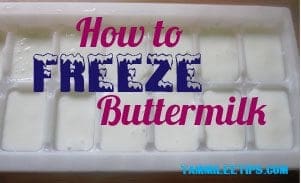 How to Freeze Buttermilk
I love using buttermilk with recipes but always find that I have about half the container left over. I hate to throw out the buttermilk especially when it is not cheap and I have never seen a coupon for buttermilk. I started saving my leftover buttermilk by freezing it. Each well of an ice tray holds 2 tablespoons of buttermilk. The buttermilk freezes great and I can just pull out exactly how many tablespoons I need for a recipe.
What you will need
a ice cube tray
buttermilk
Directions.
Measure out how many tablespoons it takes to fill your ice cube tray. Ours takes 2 tablespoons of Buttermilk
Fill the trays and place in the freezer until frozen
Transfer to a freezer bag and label with date.