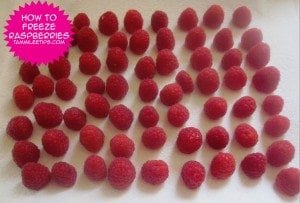 How to Freeze Raspberries
I found a great deal on raspberries at Costco. They were the lowest price that I have seen in a long time. I picked up 5 packages of raspberries to stock up for the winter. I love stocking up on fresh product during the summer to help save money during the winter. Freezing raspberries is a great way to save money on produce and have a fantastic treat available.
How to freeze Raspberries.
1. Gently clean the raspberries with water.
I like to place them in a colander and let the water gently spray over them while I move them around.
2. Arrange the raspberries on a tray or cookie sheet lined with waxed paper or paper towels.
I like using paper towels when I freeze fruit. The paper towel absorbs any juices that may leak during freezing.
3. Once the raspberries are frozen place them in a dated ziploc bag.