My Husband was nice enough to tell me that I looked like a raccoon on our Panama Canal cruise. We spent a lovely morning floating in the pool while cruising along the Mexican Coast. Since having Lasik surgery my eyes are super sensitive to the sun. I have to wear sun glasses every time I am outside or I get a headache that can turn into a horrible migraine. John and I spent a truly amazing few hours bobbing around in the pool relaxing as the water moved back and forth with the waves. It was a great morning and I did not even think of the time passing by.
After about 3.5 hours we decided to head to our room and shower and get ready for lunch. When we got into the room I mentioned to John that we had been out in the sun for a bit. I took off my sunglasses and John started laughing. I was a bit scared to turn around but I of course had to and yep I looked like a bright red raccoon. Over the next few hours my face started to get a bit more red until I had a Rudolph nose and bright white eyes. I was wearing really large cute sunglasses when we were in the pool and now I have really nice lovely huge white circles around my eyes.
Here is a lovely photo that John took to show off my lovely raccoon eyes.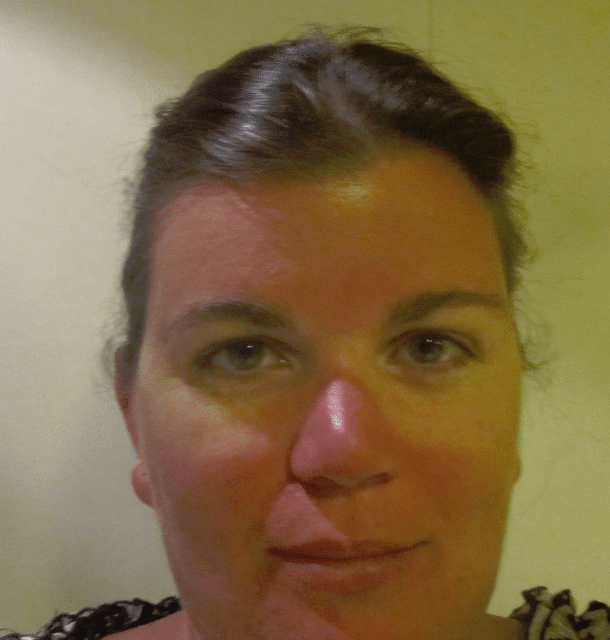 The moral of this story is to always remember sunscreen and to be aware of how much time you spend in the pool. It is so nice and relaxing while taking a dip but the after effects of looking like a raccoon are not that much fun.