My amazing Husband loves Key Lime and coconut. When I gave him a piece of these Key Lime Coconut Bars I am pretty sure he was transported to a happy place. He went back for seconds instantly and told me this may be his favorite dessert I have ever made. I take that as really high praise considering the Chocolate Peanut Butter Brownies, Nutella CheeseCake and Crock Pot Apple Crisp I have made recently.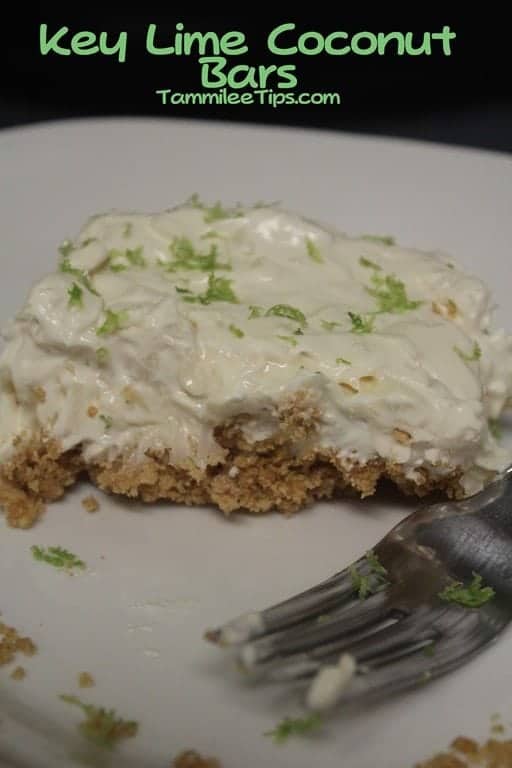 These Key Lime Coconut Bars are so dang easy to make. The only thing you heat up is the butter in the microwave. I think these will be perfect for this summer when I don't want to turn the oven or stove top on.
Key Lime Coconut Bars
Ingredients
1 cup graham cracker crumbs
1/4 cup butter, melted
14 ounce can of sweetened condensed milk
1/3 cup Key Lime Juice
1/2 tsp lime zest
3 1/2 cups non-dairy whipped topping, I used Cool Whip
1 1/2 cups flaked coconut
Directions
1. Combine graham cracker crumbs and melted butter, press into a 9inch square dish
2. Combine condensed milk, key lime juice, and lime zest in a large bowl
3. Fold in whipped topping and coconut, blend well
4. Spread mixture over graham crackers, chill in fridge for a few hours
5. Enjoy
Do you love recipes? Check out our copy cat recipes, dessert recipes, and our Crock Pot Recipes.