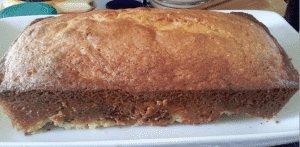 Fresh Lemon Pound Cake
Ingredients
1 3/4 sticks unsalted butter, softened
1 3/4 cups sugar
grated zest of 3 lemons
3 whole eggs plus 3 egg yolks
2 1/4 cups unbleached all purpose flour
1/4 teaspoon baking soda
1/2 cup buttermilk
Directions
1. preheat oven to 350 degrees. Great 3 small loaf pans, line with parchment paper and grease the paper
**really important step I missed. My loaf stuck to the bottom of the pan.
2. In a mixing bow, cream the butters, sugar and lemon zest until fluffy. Add the whole eggs and egg yolks in 2 or 3 additions. Scraping the side of the bowl well and mixing completely after each addition. Sift the flour and baking soda over the bowl, pour into the buttermilk, and fold together by hand. Divide the batter among the loaf pans.
3. Bake for about 45 minutes or until a toothpick inserted in the center comes out clean.
Let the cakes stand in their pans for about 5 minutes. Turn them onto a wire rack, peel off the paper and let cool completely before slicing.
I completely forgot to put the parchment paper on the bottom of my baking pan and my pound cake showed it. I lost the bottom half of the loaf when I went to remove it from the pan. It still tasted great but it did not look as pretty as it could have.
Recipe adapted from Desserts from the Famous Loveless Cafe