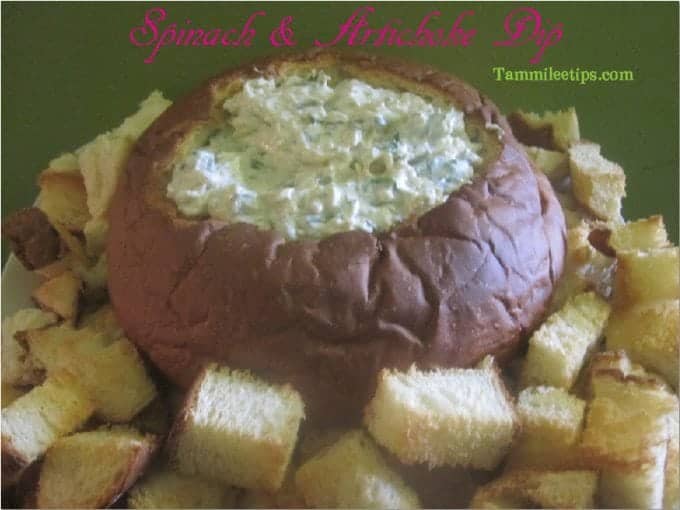 Islander Spinach & Artichoke Dip
I made this dip for a barbecue this past weekend and it went over extremely well. I am pretty sure this is my new go to recipe for any event we attend this summer. It was so easy to make and tasted amazing.
Islander Artichoke & Spinach Dip
Ingredients
2 loaves King's Hawaiian Original Sweet Round Bread
1 cup mayonnaise
1 cup sour cream
1 pck 1 oz Ranch Style Dip Mix
1 can (13-15 oz) Artichoke Hearts, Drained and chopped
1 package (10 oz frozen chopped spinach)
**I used fresh spinach and cut it with kitchen shears. It was a bit more work but tasted great**
1 can (8oz) Sliced Water chestnuts, drained and chopped
** I left these out since I did not have any at the house**
1 cup grated parmesan cheese – Optional
Directions
1. Preheat oven to 350 degrees
2. Carefully hollow 1 loaf, leaving 1 inch on sides and bottom
3. Cube removed bread and additional loaf
4. Place bowl and cubes on baking sheet, and bake for 10 minutes or until golden brown
5. Blend mayonnaise, sour cream and ranch dip together in a large bowl
6. Add artichoke hearts, spinach and water chestnuts, mix well
7. Cover and refrigerate until well chilled
8. Transfer to bread bowl and serve with toasted bread crumbs
To serve hot – Stir in 1 cup grated Parmesan Cheese, microwave on high for 4-5 minutes or until hot, stirring occasionally.
Transfer dip to bread bowl.
A few notes
I only took a half a loaf of bread cubes with me and we ran out. I would definitely suggest taking an entire loaf of cubes along with the middle section.