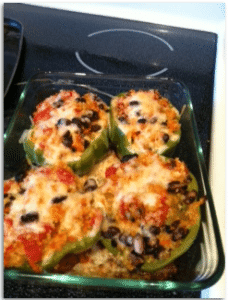 Today's Make It Monday recipe comes from reader Christa. She said these tasted great for dinner and left overs for lunch the next day
Quinoa Stuffed Bell Peppers
adapted from Vegetarian Times
Ingredients:
2 tablespoon olive oil
1 medium onion, finely chopped
2 ribs celery, finely chopped
1 8-oz. pkg. mushrooms, stems removed and saved for another use and caps sliced very thin
1/2 of a poblano pepper, diced
1 tablespoon ground cumin
2 cloves garlic, minced
1 – 15 oz. cans diced tomatoes, drained, liquid reserved
1 – 15 oz. can black beans, rinsed and drained
3/4 cup quinoa
1 1/2 cups grated carrot
1 1/2 cups grated Pepper Jack cheese, divided
4 large red bell peppers, halved lengthwise, ribs removed
Directions:
Heat oil in saucepan over medium heat. Add onion, celery, and poblano pepper and cook 5 minutes, or until soft. Add cumin and garlic, and sauté 1 minute. Stir in mushrooms and drained tomatoes. Cook 5 minutes, or until most of liquid has evaporated.
Stir in quinoa, carrots, and 1 3/4 cups water. Cover, and bring to a boil. Reduce heat to medium-low, and simmer 20 minutes, or until quinoa is tender. Combine quinoa and carrots with black beans, 1 cup of cheese, and the onion mixture from the first step, . Season with salt and pepper, if desired.
Preheat oven to 350°F. Pour liquid from tomatoes in bottom of baking dish.
Fill each bell pepper half with heaping 3/4-cup quinoa mixture, and place in baking dish. Cover with foil, and bake 40 minutes. Uncover, and sprinkle each pepper with 1 tablespoon of remaining cheese. Bake 15 minutes more, or until tops of stuffed peppers are browned. Let stand 5 minutes. Transfer stuffed peppers to serving plates, and drizzle each with pan juices before serving.