Maple Bacon Sticky Buns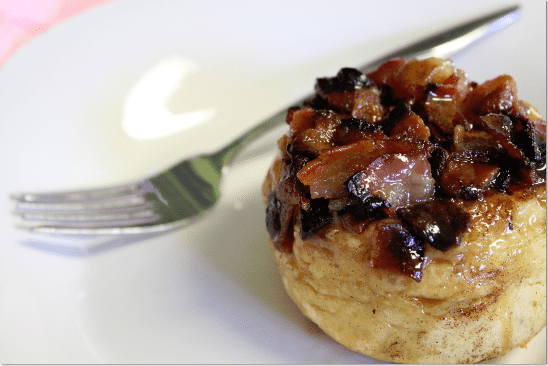 These may be the easiest sticky buns I have ever made. I found the recipe in Woman's Day Magazine and figured I would give it a try. I must say it is super easy and went over really well. I did manage to set off the fire alarm and surprise John with it going off while making the bacon. oops. I guess that is probably not how he wanted to be woken up. It was all worth it when he tried the Maple Bacon Sticky Buns. I will definitely make these again when we have house guests.
Maple Bacon Sticky Buns Recipe
Ingredients
6 slices of bacon
1/4 cup maple syrup
1/4 cup light brown sugar
1 package refrigerator biscuits ( we used Pillsbury Grands)
Directions
Heat oven to 350 degrees
Cut cooked bacon into pieces
In a medium bowl combine 1/4 cup maple syrup and 1/4 cup brown sugar
Stir in the bacon and divide among 8 muffin cups
Place 8 refrigerated biscuits on a sheet of wax paper and sprinkle with ground cinnamon
Place biscuits, cinnamon side up over the bacon mixture gently pressing to fit
Bake until the biscuits are golden brown, about 18-20 minutes
Remove from the oven and immediately invert onto baking sheet.
Let cool for 5 minutes before serving
Do you love recipes? Check out our copy cat recipes, dessert recipes, and our Crock Pot Recipes.