Today I am excited to share with your our Mediterranean Bacon Egg Scramble Recipe!  This shop is part of a social shopper marketing insight campaign with Pollinate Media Group™ and Farmland but all my opinions are my own. #pmedia #porkinapinch  http://cmp.ly/3/8vNxcO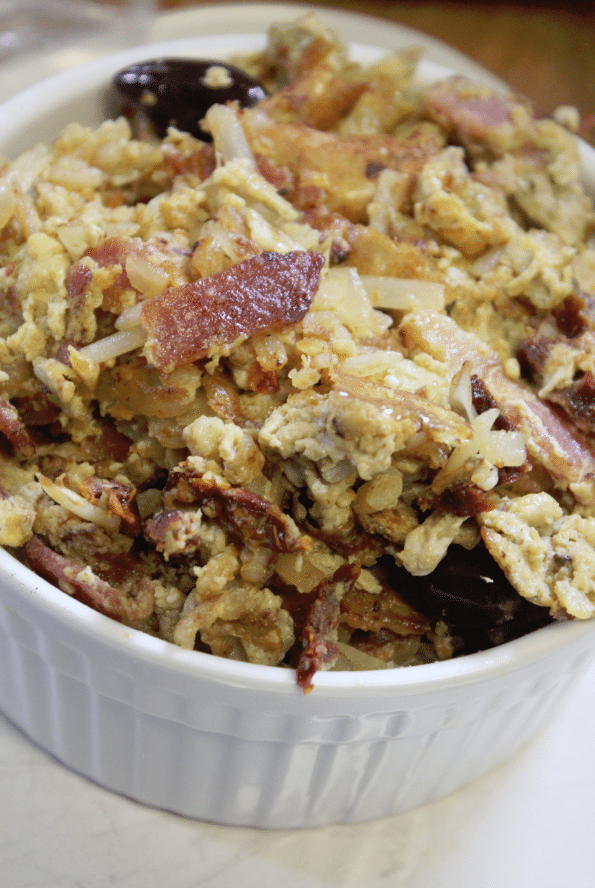 When I found out we would be cooking with Farmland Bacon I racked my brain to come up with a fun new recipe. If you have read the blog before you know that I tend to instantly veer towards Mediterranean flavored dishes when coming up with new recipes. My dear, amazing and lovely Husband John is hooked on Mediterranean food. We took a Mediterranean cruise for our honeymoon almost 5 years ago and ever since then all he talks about is the food. Any chance I get to make a dish with Mediterranean influences I jump at it.
I thought it would be fun to change up the normal egg scramble I make for breakfast and give it a Mediterranean twist. I was really hoping the recipe would work and thankfully it did. This was one of those recipes that I dove headfirst in the deep end and just hoped in the end that I would be treading water. John kept mentioning that it was smelling great while I was cooking it and I kept hoping that it would taste as great as it smelled.
 I started the recipe with Farmland Bacon. It is really nicely cut and oh so thick.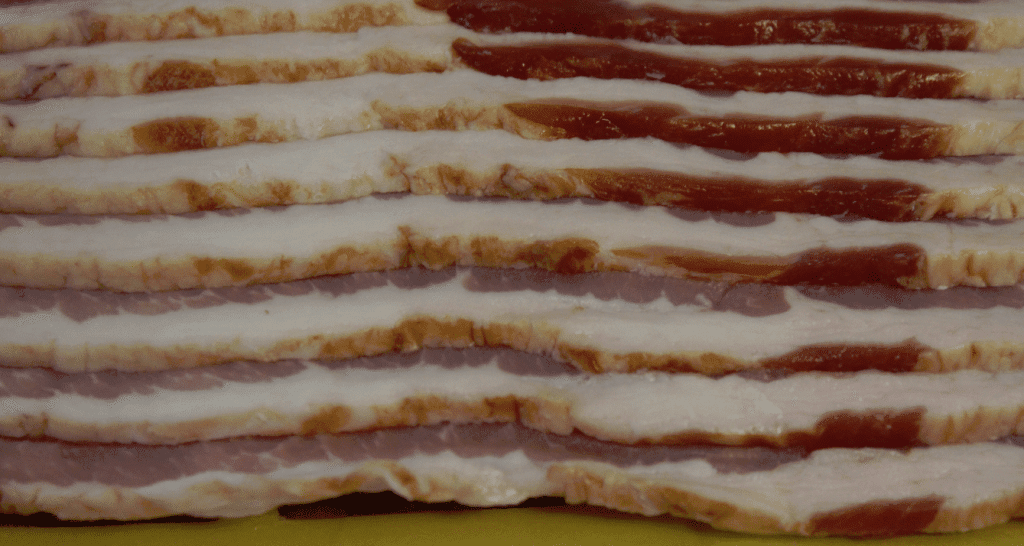 Check out how thickly cut this bacon is! Oh my that sounded like a cheesy pick up line…hey want to see my thick cut bacon…hmm that was not quite what I was going for but seriously check out the thick cut bacon. 🙂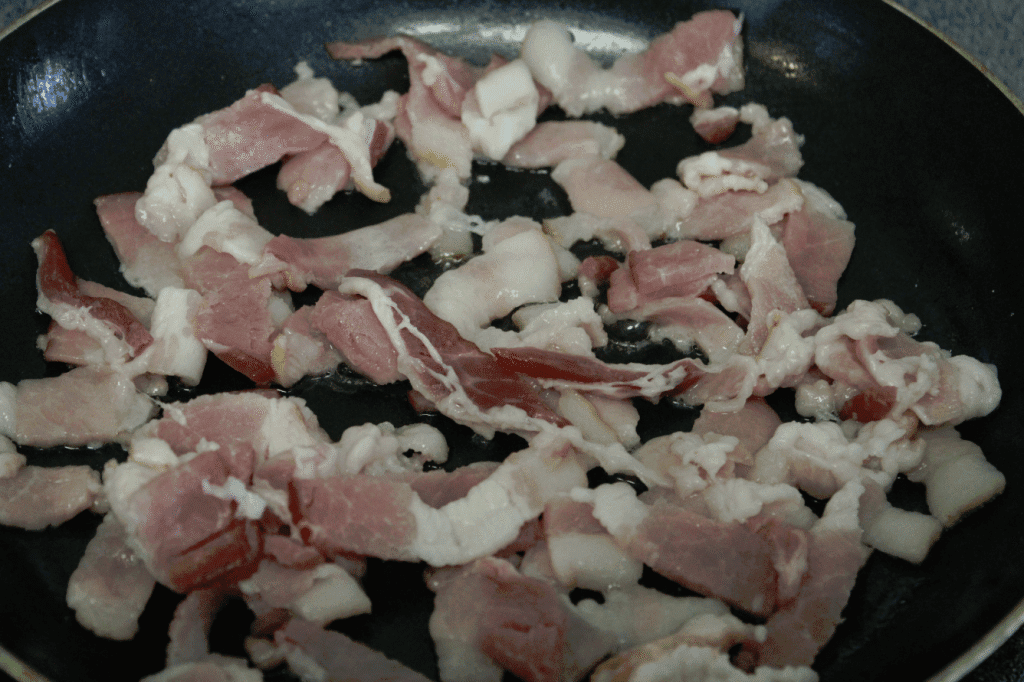 Are you ready for another semi-cheesy pick up line about bacon???? Check out how nicely my bacon sizzles! 🙂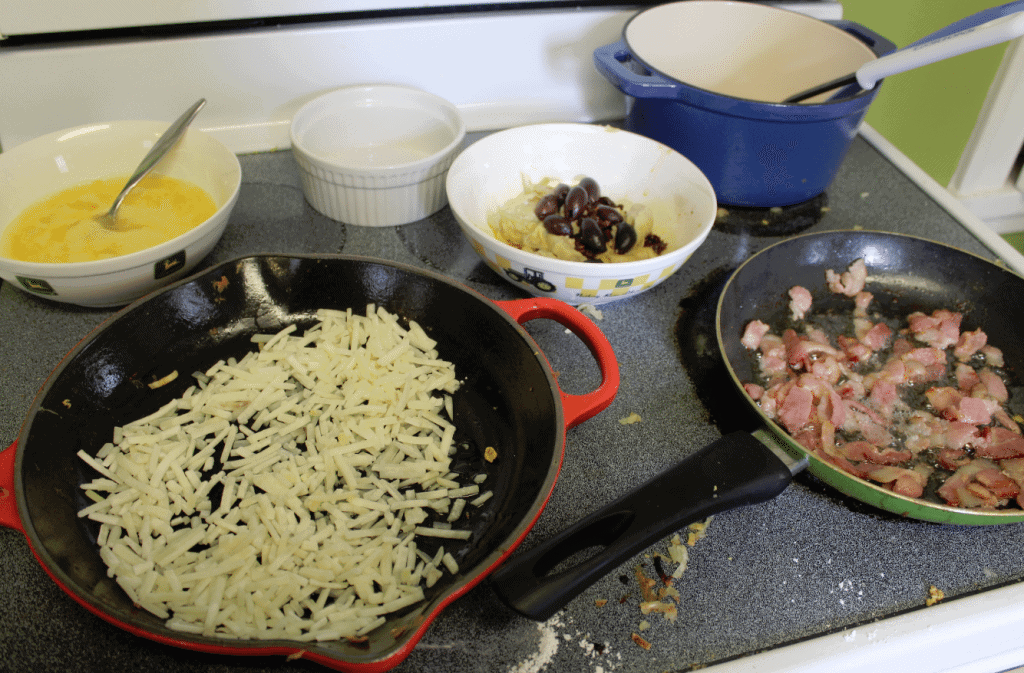 For this dish I seemed to be on a mission to use every pot and pan on my stove. I cooked the bacon in one pan, the potatoes in another pan, filled a bowl with the eggs, and another bowl with the kalamata olives, sun dried tomatoes, and artichoke hearts i was adding to the dish.
Have I mentioned lately that I am a crazy messy cook and tend to use every dish in my house causing my dishwasher to more than earn its space in the kitchen.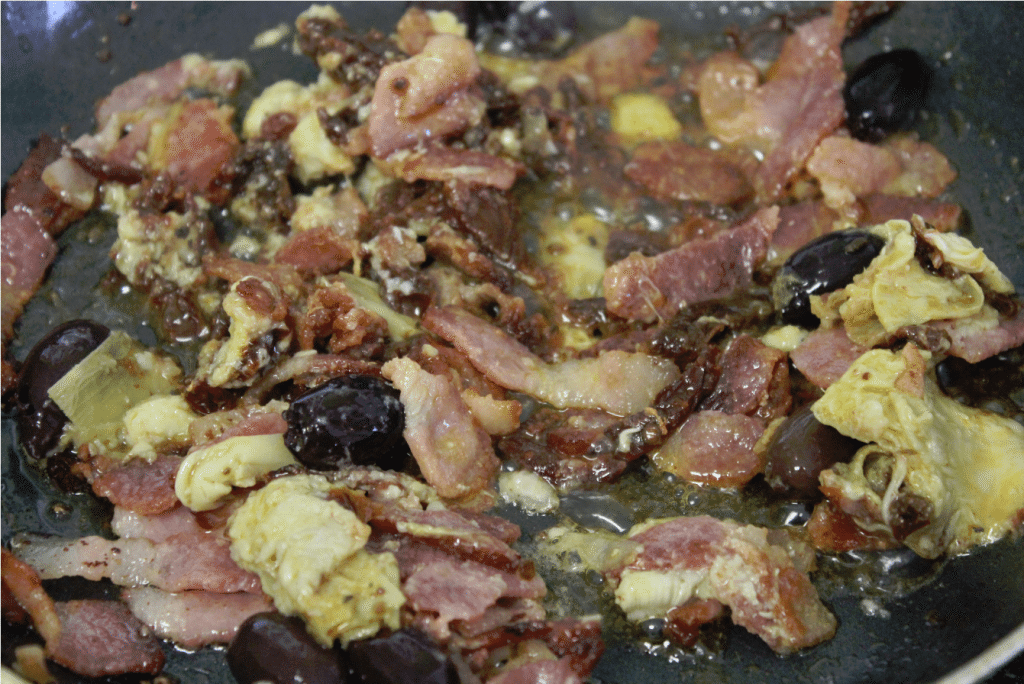 As soon as the bacon was getting crispy I poured off just a bit of the bacon fat and added in the sun dried tomatoes, kalamata olives, and artichoke hearts. I cooked the veggies along with the bacon for a few minutes until everything was hot and tender.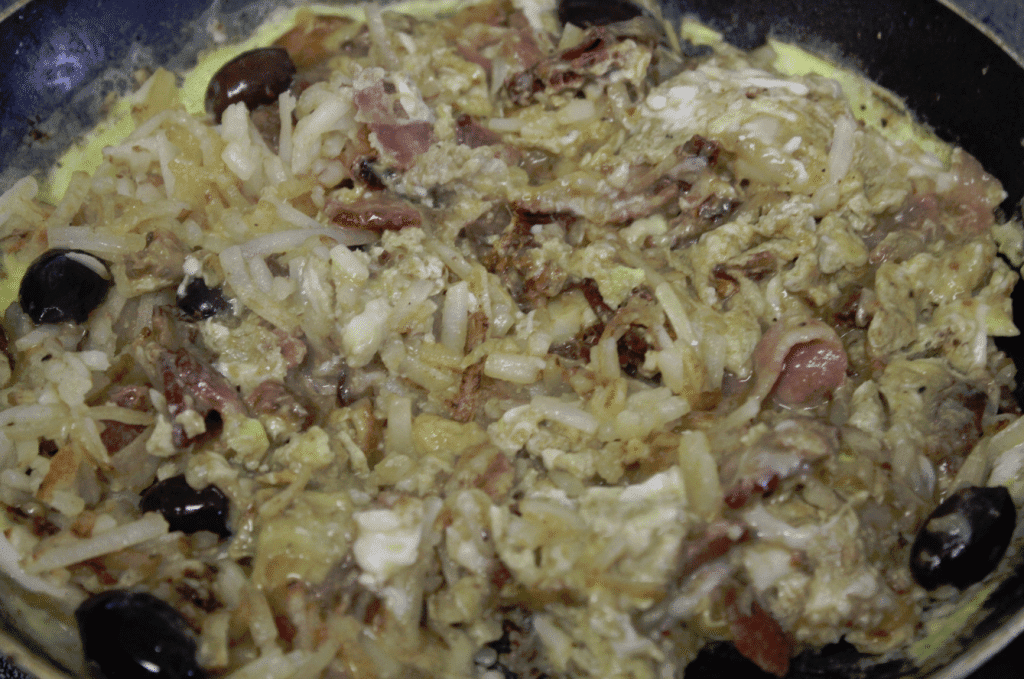 I then poured in the eggs and cooked potatoes into the mix. I used a spatula to break up the mixture and make sure it was scrambled instead of forming into a quiche like substance.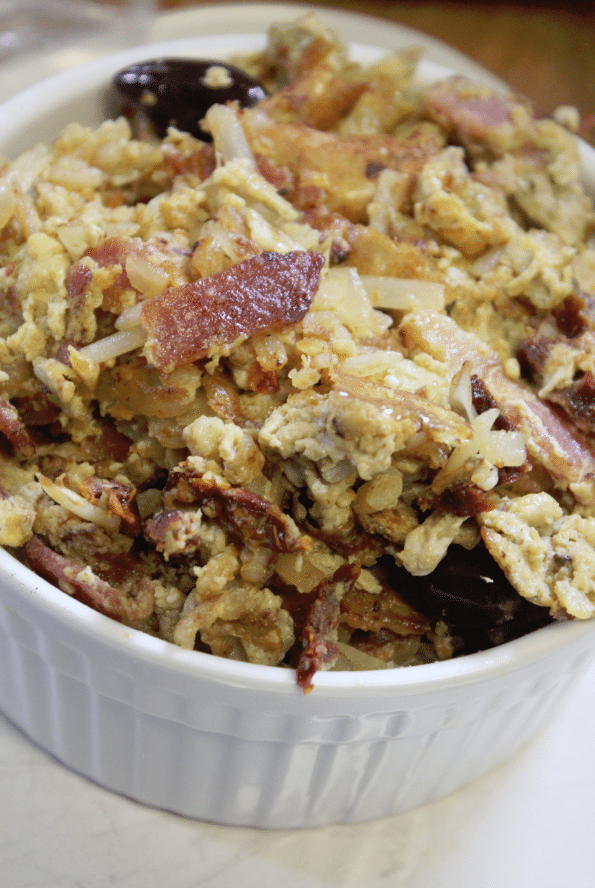 When the eggs were done I dished everything into ramekins and placed them on a plate. Be careful with the ramekins they hold in a lot of heat and can be hot to the touch.
When I handed John his Mediterranean Bacon Egg Scramble he dove right in. He kept telling me how great it was and that I could add this recipe to my breakfast rotation.
Mediterranean Bacon Egg Scramble Recipe 
Ingredients
4 slices Farmland Bacon
4 Eggs, scrambled
2 tbsp Sun dried tomatoes
2 tbsp Kalamata Olives
2 tbsp artichoke hearts
1 1/2 cups of hashbrowns
This is enough ingredients for 1 heaping ramekin. You could easily double and triple this recipe to serve more.
Directions
1. Cut Farmland Bacon into pieces, approx 1 inch
2. Cook bacon in a skillet until just about crispy, also cook the hashbrown until they are crispy in a separate pan
3. Pour off a large portion of bacon fat
4. Add in the sun dried tomatoes, kalamata olives, and artichoke hearts to the bacon pan.
5. Cook the bacon/tomato mix until everything is hot and the veggies are tender.
6. Pour in the eggs and hashbrowns to the bacon mix
7. Use a spatula to break up the eggs while they are cooking
8. Enjoy
I have to send out a huge thank you to Farmland Products for sponsoring this post through Pollinate Media. I am so excited to add this recipe to our breakfast rotation.  Make sure you check out Farmland's website! They have a ton of great 35 minute recipes!
You can also find out more about Farmland on the Farmland Facebook Page and Farmland Twitter feed. You can find Farmland Pork Products at Grocery Outlet here in Washington! If you are outside of Washington check for Farmland Pork at Country Mart, Highland Park, Buehler's Fresh, ACME Fresh Market, United SuperMarkets, Bashas, AJ's Fine Foods and Food City.
Do you love recipes? Check out our copy cat recipes, dessert recipes, and our Crock Pot Recipes.

Mediterranean Bacon Egg Scramble Recipe
Ingredients
4 slices Farmland Bacon
4 Eggs, scrambled
2 tbsp Sun dried tomatoes
2 tbsp Kalamata Olives
2 tbsp artichoke hearts
1 1/2 cups of hashbrowns
Instructions
Cut Farmland Bacon into pieces, approx 1 inch
Cook bacon in a skillet until just about crispy, also cook the hash brown until they are crispy in a separate pan
Pour off a large portion of bacon fat
Add in the sun dried tomatoes, kalamata olives, and artichoke hearts to the bacon pan.
Cook the bacon/tomato mix until everything is hot and the veggies are tender.
Pour in the eggs and hash browns to the bacon mix
Use a spatula to break up the eggs while they are cooking
https://www.tammileetips.com/mediterranean-bacon-egg-scramble-recipe/