Oh my goodness! This Chocolate Raspberry Brownie Ice Cream Sandwich Recipe is beyond amazing!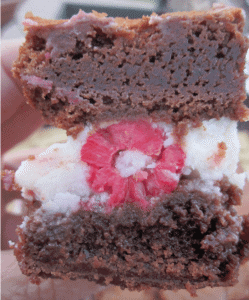 Chocolate Raspberry Brownie Ice Cream Sandwich Recipe
Fair warning these brownie ice cream sandwiches are amazing! I made them while my parents were in town visiting and they went over great. Everyone loved the combination of coconut, chocolate, raspberries mixed together. I used a packaged brownie mix to make these ice cream sandwiches.
Ingredients
12 oz raspberries
2 tbsp sugar
3/4 cup cream of coconut (not coconut milk)
1 1/2 cups Heavy Cream
2 package brownie mix and ingredients needed to make brownies.
Directions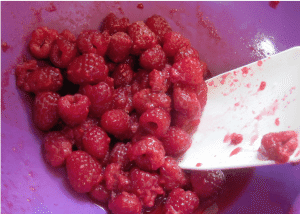 1. In a large bowl toss the berries with 2 tbsp sugar.
Let sit, tossing occasionally for at least 30 minutes.
2. Bake brownies according to directions on the box.
Place nonstick foil over the pan leaving a 3 inch overhang on both sides.
3. Let brownies cool completely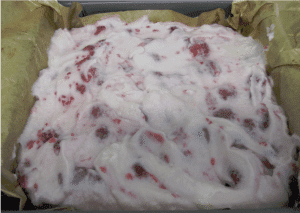 4. Using an electric mixer, beat the cream of coconut and cream in a large bowl until stiff peaks form.
gently fold the raspberries and their juices into the mix.
Spoon the cream berry mixture over 1 pan of brownies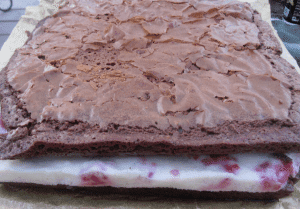 5. Use the foil overhand to life the remaining brownie layer out of the pan and place it on a cookie sheet.
Invert the brownie over the top of the cream berry mixture in the first pan.
6. Cover and freeze for at least 6 hours or up to 2 days.
7. Use the foil overhang to lift and transfer the brownie sandwiches to a cutting board. Let sit for 5 minutes and cut into bars.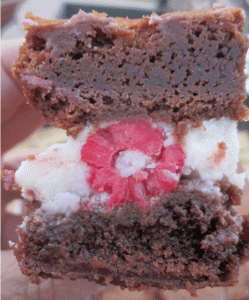 I adapted this recipe from the July issue of Woman's Day Magazine.