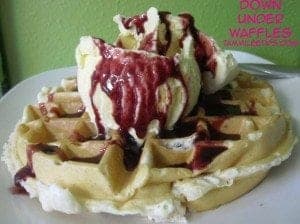 National Waffle Day! Time to celebrate with Down Under Waffles
Down Under Waffles? I know you are wondering what recipe I am sharing that is called down under waffles. Well it is a family recipe of sorts. We recently had some family friends stay with us from Tasmania, Australia. While they were here we found out that Chris's favorite breakfast is waffles with vanilla ice cream on top. We decided to name these waffles Down Under Waffles. I have to say when he told me he wanted ice cream on his waffle I thought he was a bit crazy but they are really good. We put vanilla ice cream and a berry sauce on top of the waffles. It tastes like a breakfast version of a waffle cone. I am getting hungry just thinking about making them.
We made these for John's nephews while they were staying with us and they were shocked. They were so surprised when they walked upstairs and I handed them a waffle with ice cream on top of it for breakfast. I wish I would have taken a photo of their faces when they saw breakfast.
I hope you enjoy National Waffle Day!