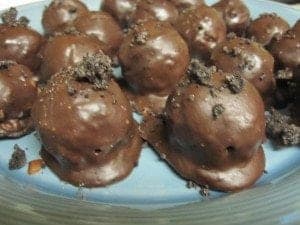 Oreo Cookie Truffles
I made these and they are so good. I would suggest making them a bit smaller than the ones I made. They are really rich and decadent.
Ingredients
1 package 8oz Philadelphia Cream Cheese- Softened
1 package 1lb 2oz Oreo Cookies – Finely crushed
about 4 1/2 cups
Chocolate for coating- I used chocolate chips that I melted down in a double boiler
Directions
Mix cream cheese and 3 cups Oreo Cookie Crumbs until well blended
Shape into balls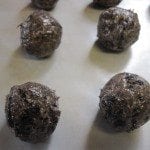 I put them into the fridge for an hour to firm before I dipped them in chocolate
Dip into melted chocolate and place on waxed paper covered baking sheet
For the dipping chocolate I used chocolate chips with a little bit of milk in a double boiler
Sprinkle with remaining cookie crumbs
Refrigerate for 1 hour or until firm.
Serve with a large glass of milk