It is hard to believe that Halloween is only a few weeks away. I feel like this year has just flown by! I thought it would be fun to make a cocktail for Halloween that looks like my favorite Halloween candy…Candy Corn. I hope you all enjoy our Candy Corn Cocktail Recipe. It is a sweet treat perfect for Halloween!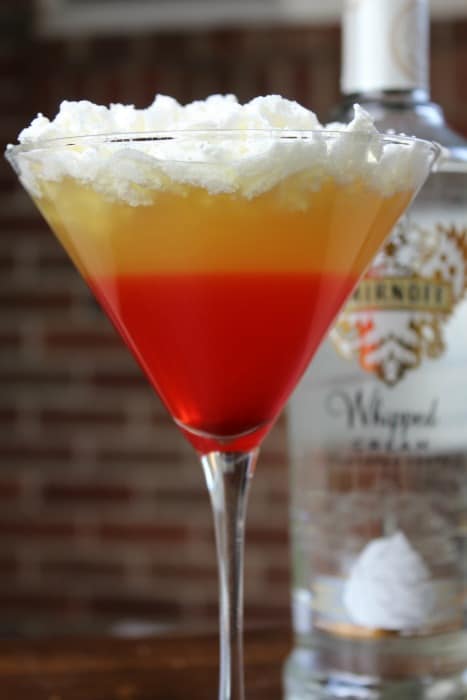 Do you have big plans for Halloween? Will you be dressing up?
Would you believe I have no idea what we are doing for Halloween. It is creeping up on us so quickly I really need to decide. I am not one for scary movies so we will definitely not be watching any scary movies on Halloween. I need to pick up some Halloween candy for trick or treaters but don't want to have it in the house to early because well it might not last until Halloween. Do you have a favorite candy to pass out?
Check out these funny Halloween Jokes to help break the ice during your party. The are filled with Halloween puns you can't help but giggle over.
 Candy Corn Cocktail Recipe
Ingredients to make a Candy Corn Cocktail
1 1/2 oz Smirnoff Whipped Cream Vodka
3 oz Sour Mix
2 oz Pineapple Juice
1/2 oz Grenadine
Whipped cream for topping
How to make a Candy Corn Cocktail
1. Combine Smirnoff Whipped Cream Vodka, Sour Mix and Pineapple Juice in a shaker with ice, shake away
2. Pour mix into a martini glass
3. Slowly pour Grenadine into mix so it settles at the bottom
4. Top with whip cream

Do you love recipes? Check out our copy cat recipes, dessert recipes, and our Crock Pot Recipes.
Candy Corn Cocktail Recipe
Perfect for Halloween Candy Corn Cocktail Recipe
1 1/2 oz Smirnoff Whipped Cream Vodka
3 oz Sour Mix
2 oz Pineapple Juice
1/2 oz Grenadine
Whipped cream for topping
Combine Smirnoff Whipped Cream Vodka, Sour Mix and Pineapple Juice in a shaker with ice, shake away
Pour mix into a martini glass
Slowly pour Grenadine into mix so it settles at the bottom
Top with whip cream