This year for the holidays John and I embarked on a Season of Surprises!
We decided to surprise some of the most important people in our lives with….well let me show you.
In total we visited
-8 states (Washington, Idaho, Montana, Oregon, Georgia, Tennessee, North Carolina and Alabama)
-Drove over 3000+ Miles
-Flew over 10 hours back and forth across the country
–and it was all so worth it!
Our first Surprise of the Season was for John's Mom. John surprised her with a Mom & Son date night to Best Of Broadways Million Dollar Quartet. John's Mom is a huge Elvis fan and we knew that she would love this show. We had no idea she had never been to a Broadway show before. She was dancing in the aisles and had the best smile on her face during the show.
Our next Surprise of the Season was driving to Missoula, Montana to visit our friends Scott. We showed up at his office and told him we were taking him to dinner. He was so surprised to see us. Missoula is a little over 200 miles from our place. It was so much fun to surprise Scott and take him to dinner. I also got dinner at one of my favorite restaurants Cracker Barrell so that was a really fun bonus for me.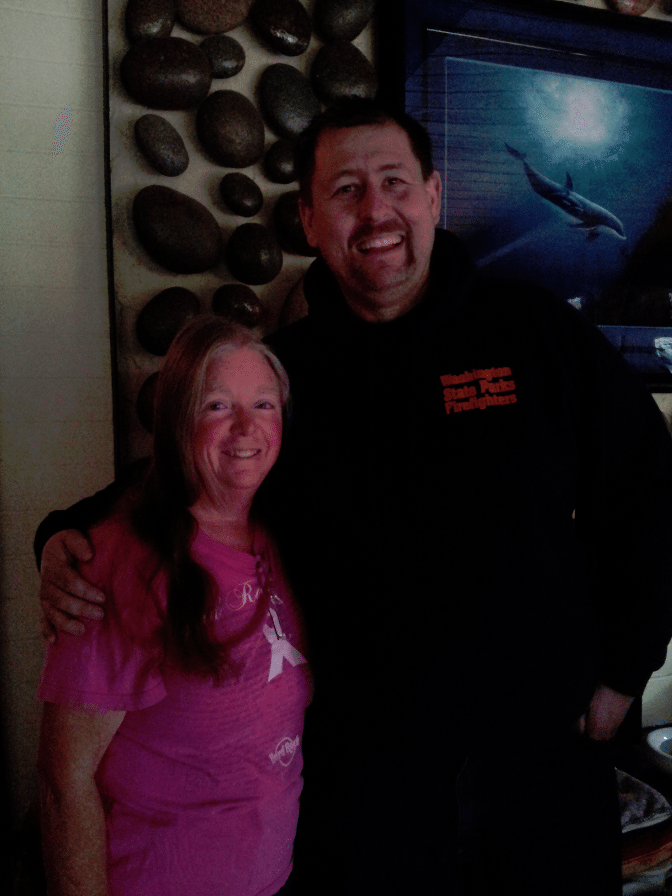 Our third Surprise of the Season was surprising my parents for Christmas. John and I got up super early Christmas Morning and drove to Tacoma to surprise my parents.
I quickly realized when I arrived at my parents house that I had forgotten their security code as I set the alarm off…oops
We had to call them and ask them to let us in the door. They were still asleep and it took them a minute to realize we were on the front porch.
We had an amazing day relaxing, baking and spending time with my parents.
We let them in on the next big surprise and swore them to secrecy. They got the pleasure of driving us to the Sea-Tac airport at 4am the next day. I don't think that was the Christmas gift they were expecting 🙂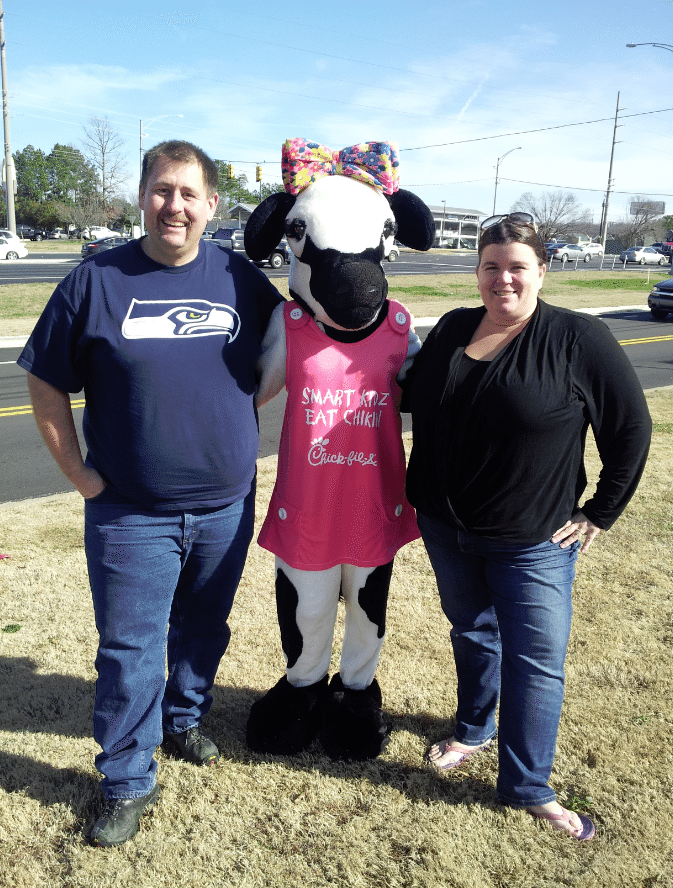 Our fourth Surprise of the Season was the biggest one. We flew to Atlanta and drove to well all over Alabama to surprise John's Sister and family on the 26th of December.
We really learned how hard it can be to surprise someone…..
A couple of days before flying out John called his Sister and was chatting with her about their holiday plans. Prior to this call she had said they would be at home doing nothing for Christmas break so we figured we could head straight to her house.
During this call their plans had changed. All of a sudden they were going to her Mother-In-Laws south of Birmingham for a few days. Uhmmmm panic attack now!
We did not know her MIL name, address or well anything about her…..I had to put on my thinking cap and thankfully came up with asking for her MIL address so I could send John's Nephew his birthday card since his birthday is the 27th.
She went with this story and gave me the address without thinking about it….whooo first panic attack relieved
So now we are in Alabama and have to hunt her down. We stayed in a hotel over night since we flew into Atlanta late and decided to start our search for her in the morning.
We called up John's Sister and John lied saying I was shopping and he was bored sitting in the car. (I am a bit worried about how easily she accepting this premise, but that is a story for another day)
John asked his Sister what her plans were and well she had 12 million plans and wasn't sure which one she was going to do…..
She could drive 30 minutes north to go to Target, she could drive 30 minutes south to go to Bass Pro Shop….She really wasn't sure what her day was going to bring.
UHMMMM….Hello we are trying to surprise you…make up your mind please….This is what we were thinking…
So off we went to the Target she mentioned just in case she happened to be there. We called from the parking lot of Target and found out she was still at her Mother in Law's house and wasn't sure what she was going to do.
At this point we just decided to head to her Mother in Law's house and hope she was there…
So we finally find the house and there are no numbers on the mailbox or house..
We pull into the driveway and a nice gentleman calls out a greeting to us. John tells him we are lost and could use help with directions.
He tells us to pull around back…At this point I should mention I grew up in Tacoma, WA where one simply does not "pull around back"
I looked at John in pure terror and he laughed at me that we were in Alabama not the middle of gang war fair! ugh
So we pull around back me in a slight panic state and tell the nice gentlemen that we are looking for John's Sister. He motions us towards the house and walks in calling out to John's Sister…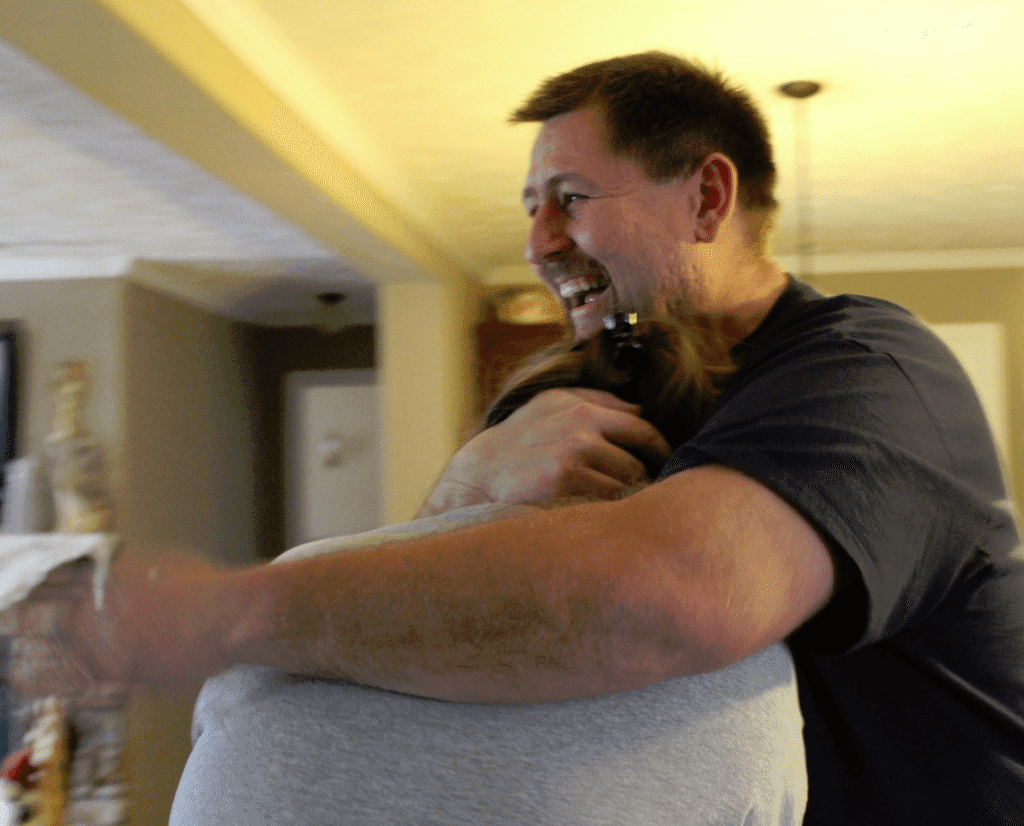 To say that John's Sister was shocked, surprised, sobbing, are not quite strong enough terms. I don't think her feet touched the ground when she saw us. She threw her body across the room and into a hug.
I am tearing up as I type this remembering the amount of surprise and excitement in her face.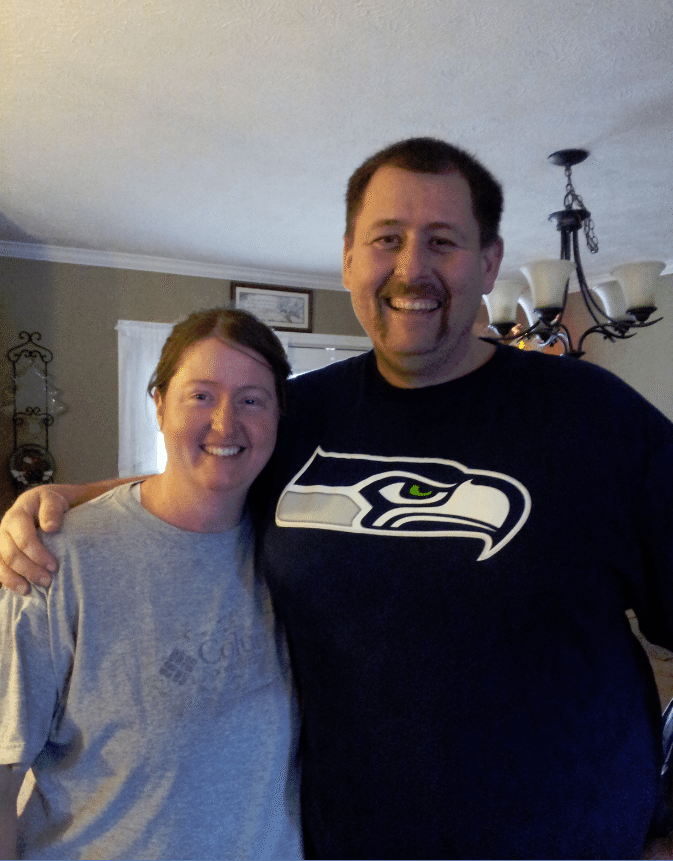 Can you see the sibling love in this picture?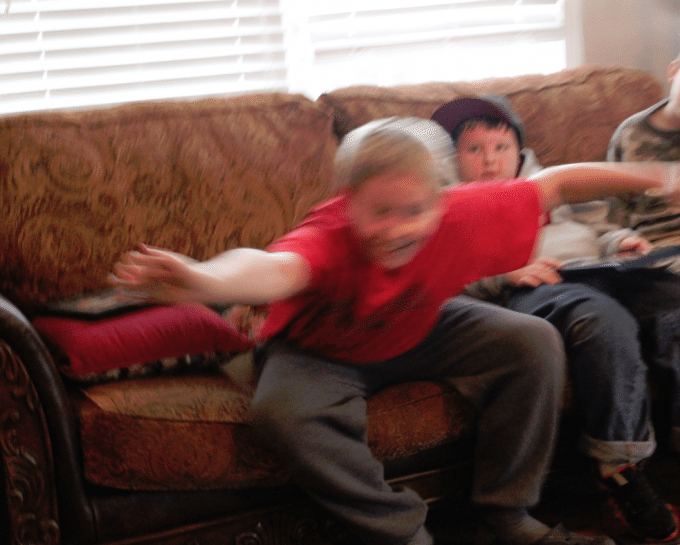 Our next surprise was John's youngest Nephew Nathan. He was so happy he flew off the couch and grabbed me. The only picture I was able to get was this one of him taking flight.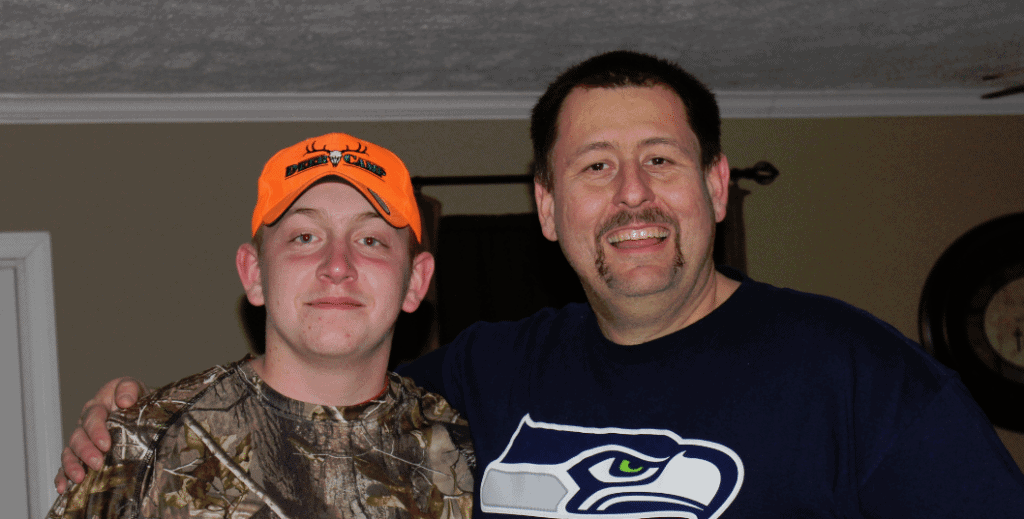 We gave John's Nephew Daniel quite the surprise for his 15th birthday. He was speechless for a while not believing we were there to celebrate his birthday.
At this point we figured the surprises were over for this trip and we would have a few days to relax with the family.
Well the next surprise was on us…..John's Sister and the boys decided that we needed to go on a day trip somewhere.
They weren't sure where to go so we ended up putting 5 options in a hat and picked out …..the Great Smoky Mountain National Park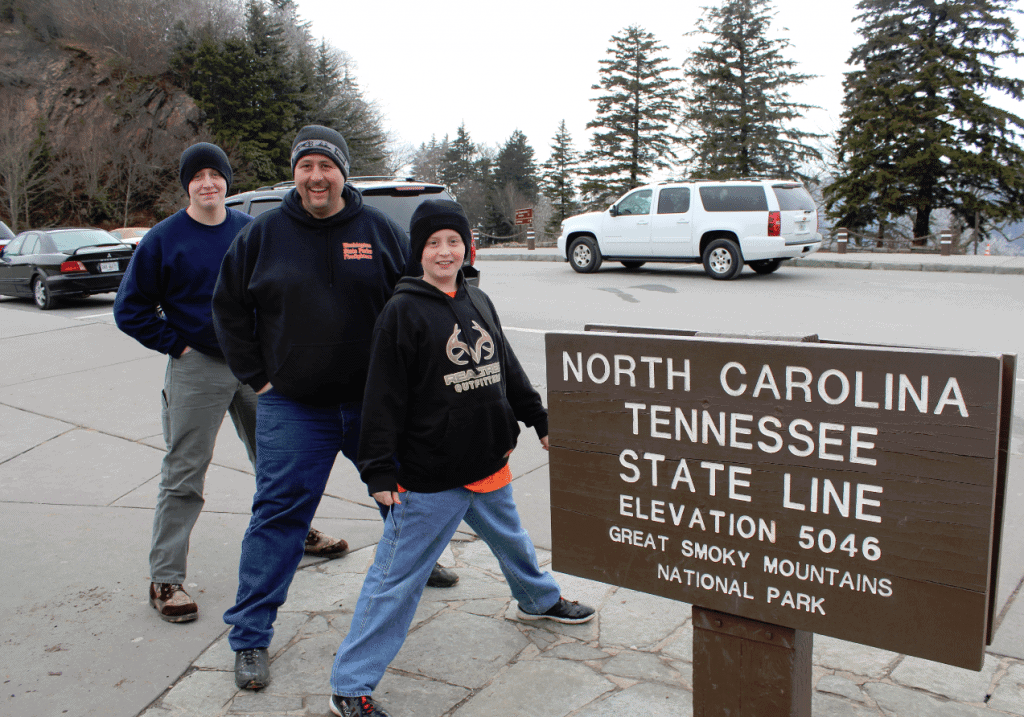 Back in the car we went as we drove to Gatlinburg, Tennessee. We spent a very quick 24 hours exploring the area before driving back to Alabama.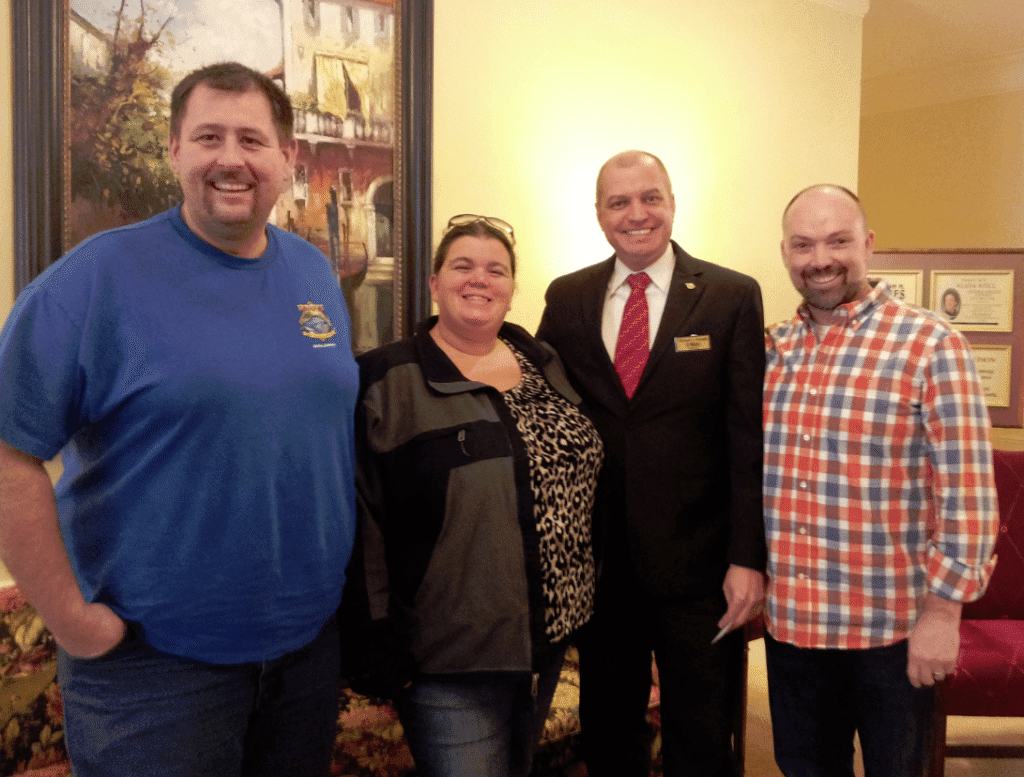 Our final visit during our trip to Alabama was seeing two great friends outside of Atlanta. Michael and I have been friends for longer than I dare imagine at this point. It was so good to spend lunch with them and get a Michael hug. Some days a hug from an old friend is the most amazing feeling in the world.
When we started the Surprise of the Season we did it on a whim. We wanted to show our friends and family how important they are too us. We wanted to share our love of the holidays and each of them in a fun and unique way.
As I look back on the Season of Surprises I can't wait to continue it into the new year……..