Welcome to Top 10 Tuesday!
This is a brand new weekly meme brought to you by Money $aving Michele, Tammilee Tips, Snaps of Our Life, Nap Time is My Time and Just 2 Sisters blogs! We are just a few blogging friends who want to have some fun and bring you some great information all in one spot!
You never know what you will find in the top 10 posts. Frugal tips, mom tricks, funny tales, jokes, photo tips, kids, green living, coupons, recipes and just plain old life! It's bound to be a fun mishmash of interesting posts, you won't want to miss! Stop back each week and see what top 10 things you can get into!
Top 10 Moments of Blogher12 in New York City!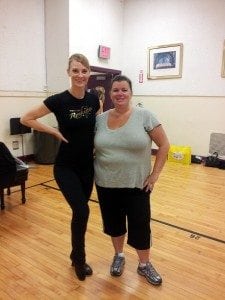 1. Getting to workout with the Rockettes!
Wow what a bucket list moment this was. I can not believe I had the chance to do a kick line and soldier walk with current Rockettes. We were in their private rehearsal hall and it was amazing!
2. Sparklecorn Party with Laura from Another Cent Saved, Michele from Money Saving Michele and Patti from Shore Savings with Patti!
I decided to surprise my blogging friends with sparkly glasses and light up wands. We had so much fun dancing and hanging out together. Plus we looked amazing in our sparkly glasses
3. Finally getting to meet Chrystie from I Love to Gossip and Antoinette from Sister Save A Lot
You may recognize these lovely ladies from also being on Extreme Couponing. I have been talking with them online for over a year since our episodes aired and I finally got to sit down and meet them face to face. They are wonderful!!! Truly wonderful amazing woman who share my passion for coupons and saving money.
4. Meeting Stylist Jeanie Mai
While I was at a Microsoft event I had the opportunity to meet and talk with stylist Jeanie Mai. Who I must say is the sweetest little thing ever! She greeted all of us like we were long lost friends. I had to admit to John that he was right about the dress he picked out. She looked at my dress and told me it was perfect for me.
5. View of Time Square from Toy party
Oh my goodness! I had the opportunity to attend a party that was hosted above Time Square. WOW!!! What a crazy feeling to look out over Time Square from above. I had to stop and pause for a moment just to soak up the feeling of being there.
6. Sparklecorn Unicorn Cake
This cake was amazing! You walked into the room and there was a 3 foot unicorn cake. We did not get to eat any of this cake but we did get to sample amazing peanut butter and jelly cake that I can't wait to recreate for everyone.
7. Bucket list Moments
There were so many bucket list moments this weekend it was truly amazing! I can't believe I attended a party at an exclusive rooftop bar, danced with the Rockettes, Had drinks at the Bryant Park Grill, Hailed a Taxi, Walked all over the city, and met blogging friends.
8. Being in NYC
There is nothing like standing on the street corner and soaking up NYC! This city truly never stops. I looked out our hotel window at 3am and there was a line the length of the block for the food cart down below. I love the people watching and sites of NYC.
9. Embracing me and all that I am
One of the things I really tried to focus on this past weekend was being ME. Not trying to hide behind a mask or be someone else. I was the real me.
10. No More Events for the Day
Seeing this sign in the hotel lobby made me smile. I felt a sense of accomplishment that I had survived the Blogher weekend. I maybe slept 7 hours the entire time I was in New York. I averaged 1 meal and some snacks during the day. I never stopped moving and ran on adreniline the entire time. All in all it was a truly awe inspiring life changing weekend. I had the chance to meet some of my favorite bloggers in person. I learned quite a lot about brands, my relationship with brands and developed some really strong goals for the future.