Wondering what to do with leftover turkey? I polled our Facebook readers and the favorite way they use leftover turkey is making a Turkey Pot Pie. This dish is rich, filling, and oh so good!
I have to say this may be the perfect way to use leftover turkey! What are your favorite ways to use leftover turkey?
This Turkey Pot Pie has almost everything in it except the kitchen sink.
Left over veggies from Thanksgiving…Check
Left over Turkey from Thanksgiving…Check
The combination of turkey, veggies, pie crust makes for an amazing, filling, oh so good meal!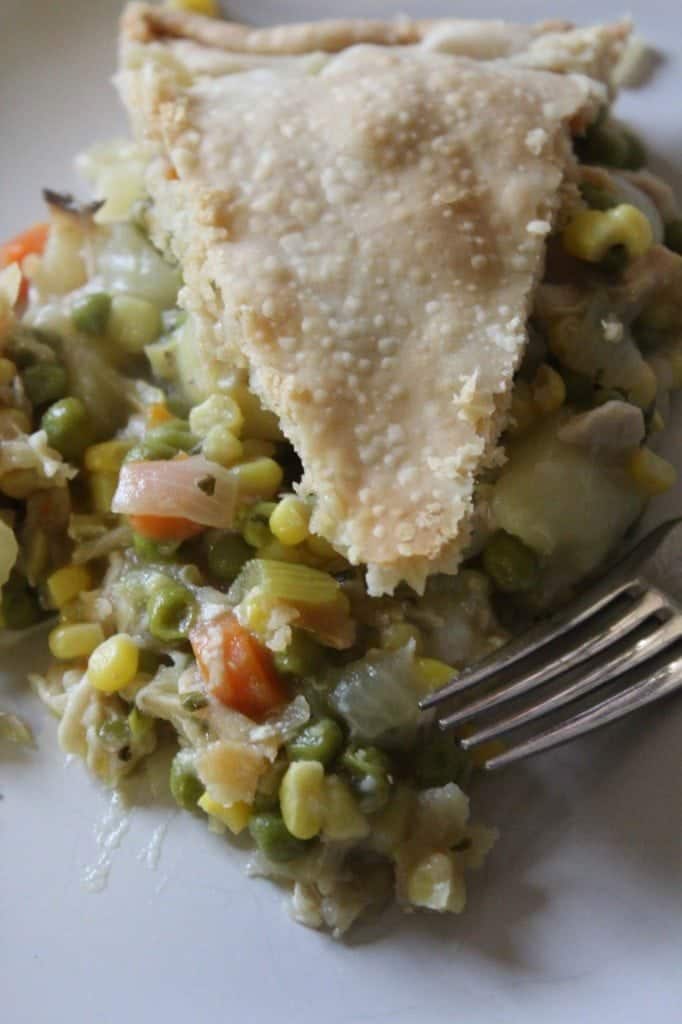 Trust me you are going to love this recipe! I will be making this each time we have left over turkey! Heck I might just roast a turkey just so I can have leftovers to make this Turkey Pot Pie
Turkey Pot Pie
Ingredients
1 pie crust
4 tbsp butter
1 small onion, minced
4 stalks celery, chopped
3 carrots, diced
2 cups corn
2 cups peas
3 tbsp dried parsley
salt and pepper to taste
2 cubes Chicken Bouillon
2 cups water
3 potatoes, peeled and cubed
1 1/2 cups, cubed cooked turkey
3 tbsp all purpose flour
1/2 cup milk
Directions
1. Pre heat oven to 425 degrees
2. Roll out bottom pie crust, press into pie pan and set aside
3. Melt 2 tbsp butter into a large skillet over medium heat. Add in the onions, celery, carrots, parsley, salt and pepper, corn and peas. Cook and stir until vegetables are soft
4. Stir in bouillon and water
5. Bring mixture to a boil, stir in potatoes and cook until tender but still firm
6. In a med saucepan, melt remaining 2 tbsp butter
7. Stir in turkey and flour, add the milk and heat through
8. Add the turkey mixture to the vegetables and cook until thickened
9. Cool slightly, pour into the unbaked pie shell, roll out the top pie shell and place on top
10. Flute the edges and make 4 slits on top to let out steam
11. Bake in pre-heated oven for 15 minutes, Reduce heat to 350 degrees and bake for additional 20 minutes
Remove from oven and prepare your taste buds for a happy moment!
Do you love recipes? Check out our copy cat recipes, dessert recipes, and our Crock Pot Recipes.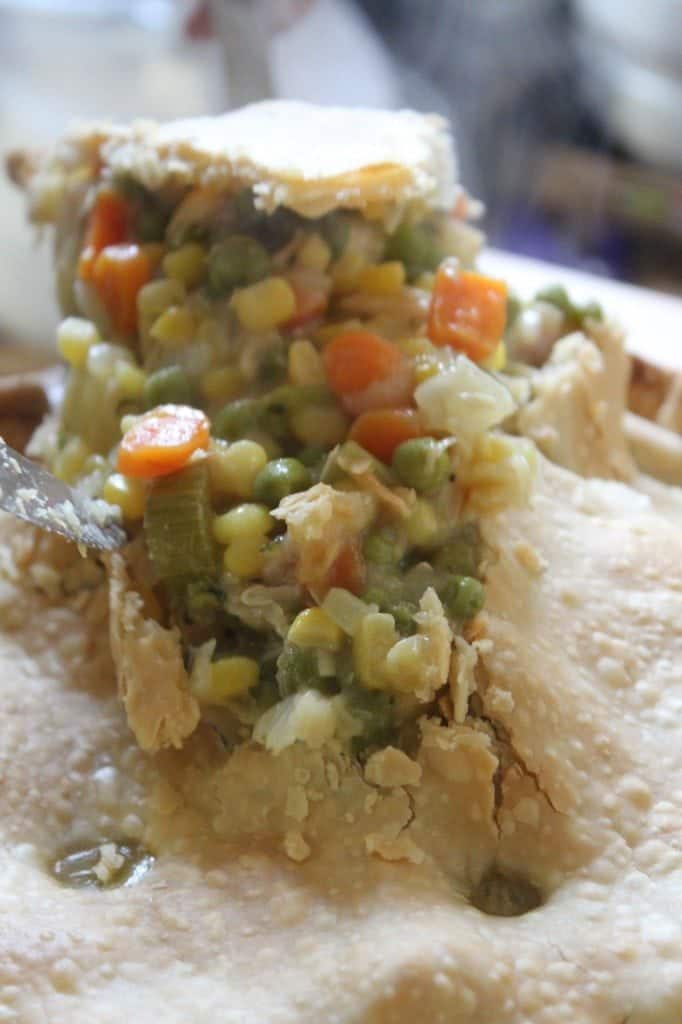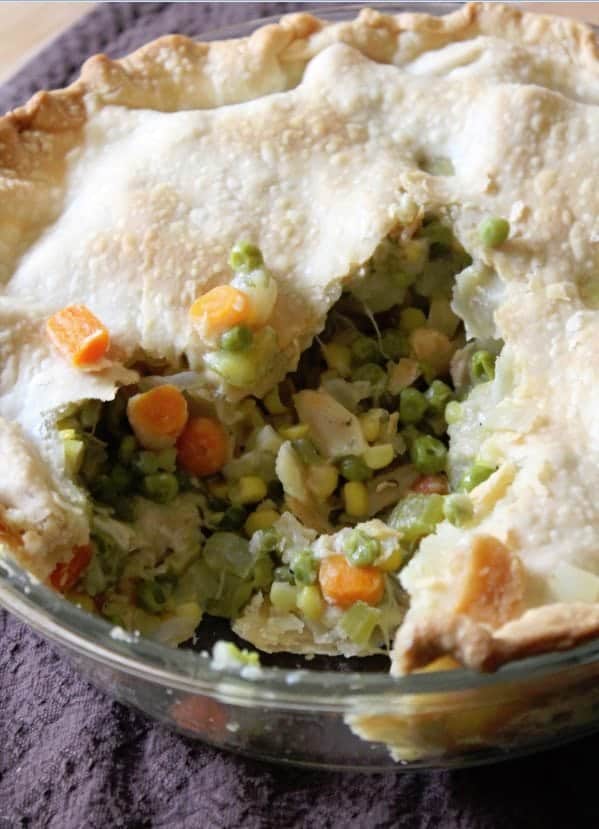 Turkey Pot Pie Recipe
Turkey Pot Pie! Perfect for leftover turkey
Ingredients
1 pie crust
4 tbsp butter
1 small onion, minced
4 stalks celery, chopped
3 carrots, diced
2 cups corn
2 cups peas
3 tbsp dried parsley
salt and pepper to taste
2 cubes Chicken Bouillon
2 cups water
3 potatoes, peeled and cubed
1½ cups, cubed cooked turkey
3 tbsp all purpose flour
½ cup milk
Instructions
Pre heat oven to 425 degrees
Roll out bottom pie crust, press into pie pan and set aside
Melt 2 tbsp butter into a large skillet over medium heat. Add in the onions, celery, carrots, parsley, salt and pepper, corn and peas. Cook and stir until vegetables are soft
Stir in bouillon and water
Bring mixture to a boil, stir in potatoes and cook until tender but still firm
In a med saucepan, melt remaining 2 tbsp butter
Stir in turkey and flour, add the milk and heat through
Add the turkey mixture to the vegetables and cook until thickened
Cool slightly, pour into the unbaked pie shell, roll out the top pie shell and place on top
Flute the edges and make 4 slits on top to let out steam
Bake in pre-heated oven for 15 minutes, Reduce heat to 350 degrees and bake for additional 20 minutes