Oh my goodness I have a new favorite frozen treat that may be the easiest thing in the world to make! All you need is….a banana! That's right 1 single banana and a few hours and you have my new favorite treat. I saw this written up in the August issue of Oprah Magazine and had to give it a shot.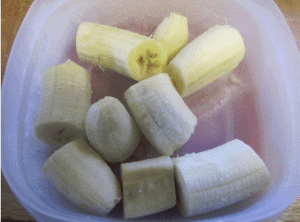 I started with 2 bananas and cut them into about 2 inch pieces and placed them in the freezer for a few hours.
Using a food processor puree the frozen bananas for five minutes. Stopping occasionally to scrape down the sides
The bananas appear chunky and then turn smooth
I added a couple of handfuls of frozen raspberries to add to the flavor.
 Wow is all I can say! This is my new favorite treat. I can not believe it is only 2 ingredients. It is so smooth and tasted great on a hot day. 
I can't wait to try this with other frozen fruit.