I have been having a great time making fun recipes with watermelon. For me watermelon is the quintessential summer food. Perfect for a hot sunny day!  I am really excited to share this Watermelon Aqua Fresca Recipe today. This drink is so refreshing and amazing!
I paired this Watermelon Aqua Fresca Recipe with our Watermelon Margarita so we had a non-alcoholic watermelon beverage and a great cocktail to serve at a summer barbecue.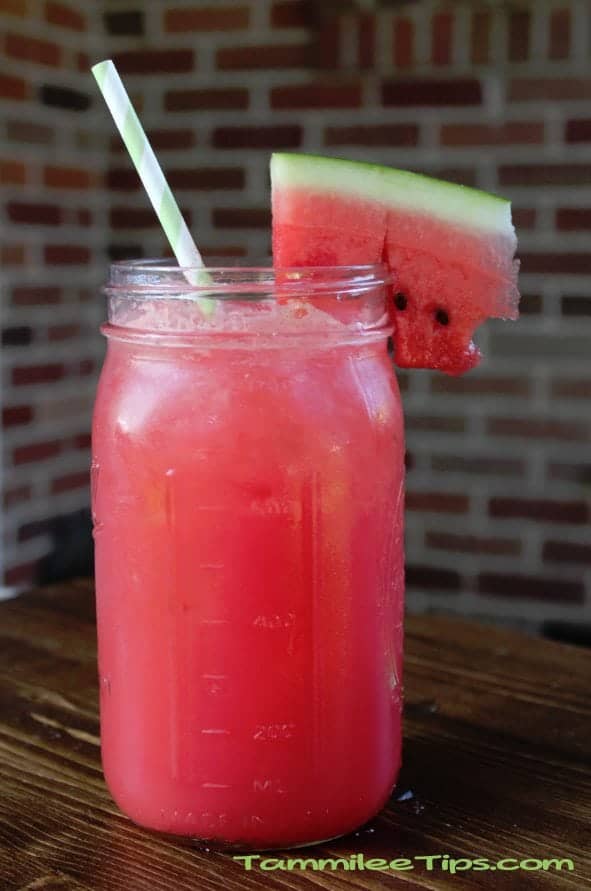 Watermelon Aqua Fresca Recipe
Ingredients
1 seedless watermelon (about 6 to 7 pounds)
3 cups cold water
Juice of 3 limes
1/4 cup liquid honey
ice
Directions
1. Cut watermelon into chunks without the rind
2. Combine 1/3 of the watermelon and 1/3 of the water, blend until smooth
3. Strain into a pitcher or jar
4. Combine with lime juice and honey
5. Refrigerate up to 3 hours to chill
6. Serve over Ice
I have to share a funny story that happened with this recipe. I hunted all over Spokane looking for cheesecloth or the bags that you use when you make jelly to strain the seeds out and did not find any. I ended up having to Macgyver a straining system. I used coffee filters and a pasta strainer to strain the watermelon juices. It was an interesting set up but thankfully it worked.
Do you love recipes? Check out our copy cat recipes, dessert recipes, and our Crock Pot Recipes.
Watermelon Aqua Fresca Recipe
Ingredients
1 seedless watermelon (about 6 to 7 pounds)
3 cups cold water
Juice of 3 limes
1/4 cup liquid honey
ice
Instructions
Cut watermelon into chunks without the rind
Combine 1/3 of the watermelon and 1/3 of the water, blend until smooth
Strain into a pitcher or jar
Combine with lime juice and honey
Refrigerate up to 3 hours to chill
Serve over Ice
https://www.tammileetips.com/watermelon-aqua-fresca-recipe/