I love watermelons! They are the perfect summer fruit. They can be served sliced, blended, juiced and so many other ways! I decided to make this Watermelon Margarita Recipe on a hot summer night. We had tasted Watermelon Margaritas while we were out to dinner at Chili's and loved them. I wanted to recreate the Watermelon Margaritas at home.
This Watermelon Margarita Recipe is super easy to make! I have to say it also tastes pretty dang amazing!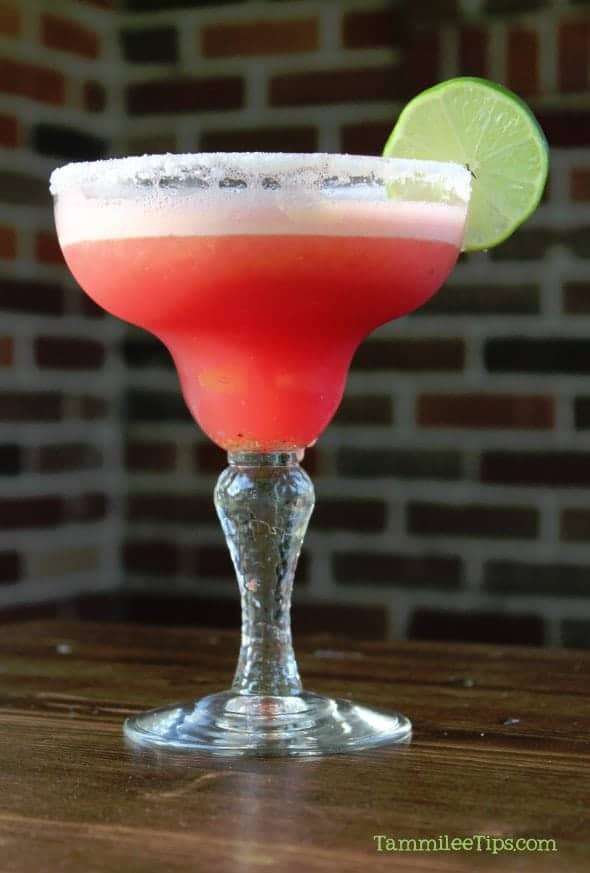 The watermelon flavor is so refreshing on a hot summer night. We enjoyed these sitting on the back deck and the pitcher was gone before we knew it. They are so smooth and easy to drink.  If you are having a party you can easily double, triple or more this recipe so everyone can enjoy this refreshing watermelon margarita recipe.
If you are in the mood to blend up some fantastic margaritas check out these other great recipes! Copy Cat Chevy's Sunburn Margarita (yum!),  Blue Agave Margarita, and the seriously yummy Cactus Colada!
Watermelon Margarita Recipe
Ingredients
2 cup watermelon
1-ounce silver tequila
1/2 ounce Triple Sec
ice cubes
Directions
1. Blend watermelon chunks until smooth and liquid
2. Add in silver tequila, triple sec and ice
3. Blend until smooth
4. Rim glass with lime and dust with sugar
5. Garnish with a lime wedge


Do you love recipes? Check out our copy cat recipes, dessert recipes, and our Crock Pot Recipes.

Follow Tammilee Tips's board Tammilee Tips Recipes on Pinterest.


Watermelon Margarita Recipe
Ingredients
2 cup watermelon
1 ounce silver tequila
½ ounce Triple Sec
ice cubes
Instructions
Blend watermelon chunks until smooth and liquid
Add in silver tequila, triple sec and ice
Blend until smooth
Rim glass with lime and dust with sugar
Garnish with a lime wedge