I was given a free one month subscription to Weight Watchers to try their new Simple Start plan and write about my experience.Though I was compensated for my time and commitment, all views, positive and negative, are my own
I can't believe I am already starting week 2 of the Weight Watchers Simple Start Plan! This past week has absolutely flown by. I am so EXCITED about this plan!
Here's the deal…I run around like a chicken with my head cut off some days. I know that is really not a pretty picture but that is how I feel at times. Over the past few years I have put my health and nutrition on the back burner. I have been so focused on reaching other goals that my focus on my health just wasn't there.
The Weight Watchers Simple Start plan has recharged my focus and given me a tool to succeed in reaching these goals. Can I tell you the best part of the plan….It is crazy easy.
I mean seriously they give you recipes and menu plans to follow. You don't have to think or worry about what to make, figure out the point totals, or wonder if you are eating the right thing. They do it all for you!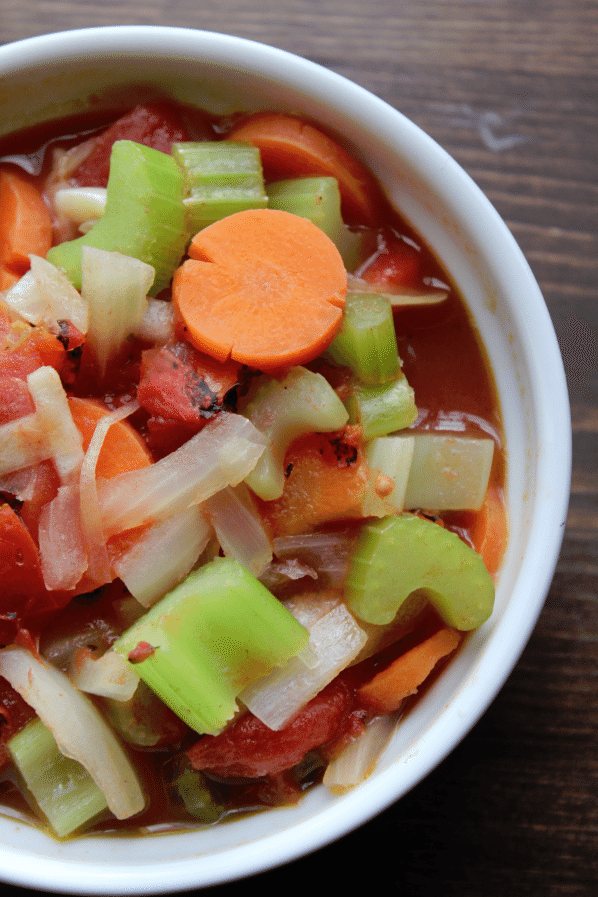 This is Weight Watchers Simple Vegetable Soup is my new favorite soup! It is so easy to make!
It has a ton of veggies in it, some vegetable stock and garlic. Less than 10 minutes on the stove top and lunch is ready to go.
Weight Watchers Simple Vegetable Soup
Ingredients
1 tsp olive oil
1/8 tsp minced garlic or to taste
1/4 cup(s) uncooked onion(s) chopped
1/4 cup(s) uncooked celery chopped
1/4 cup(s) uncooked carrot(s) chopped
1 cup(s) reduced-sodium chicken broth or reduced-sodium vegetable broth
1/2 cup(s) canned diced tomatoes with seasonings
Instructions
Heat oil in a small saucepan over medium-high heat.Add garlic and cook, stirring, until lightly browned. Add vegetables and sauté until tender. Add chicken broth (or reduced-sodium vegetable broth) and tomatoes, season to taste and simmer until heated through.
I even made a video so you can see the soup. To bad the blog doesn't have smell-o-vision….yes I went there.
In case you missed it you can check out our Week 1 post to see what motivated me to start Weight Watchers Simple Start.
Over the past week I have felt so much more energized. I have been getting a ton done and don't feel like as wiped out as I did. I have so much energy I deep cleaned my kitchen, office and bedroom this week along with getting work done.
I can't wait to see how I feel over the next week.
I am also finding that I am looking for more ways to get out and get moving. I walked extra laps around the grocery store, took the stairs, walked up and down our stairs and parked farther away in the parking lot.
I am loving this extra energy and excitement and can't wait to see what the next week of Weight Watchers Simple Start brings!