When I read the recipe for this White Wine Margarita recipe in the 200 Easy Mexican Recipes Cookbook
 I was intrigued and also a bit nervous. I had never made a margarita with wine in it prior to this and I was worried that it would not turn out great and I would have ruined perfectly great wine.
Thankfully my fears and worry were for nothing. This White Wine Margarita Recipe is fantastic!!! Oh my this drink is so nice and refreshing! John tried this margarita and told me he would be happy if I made it again and again.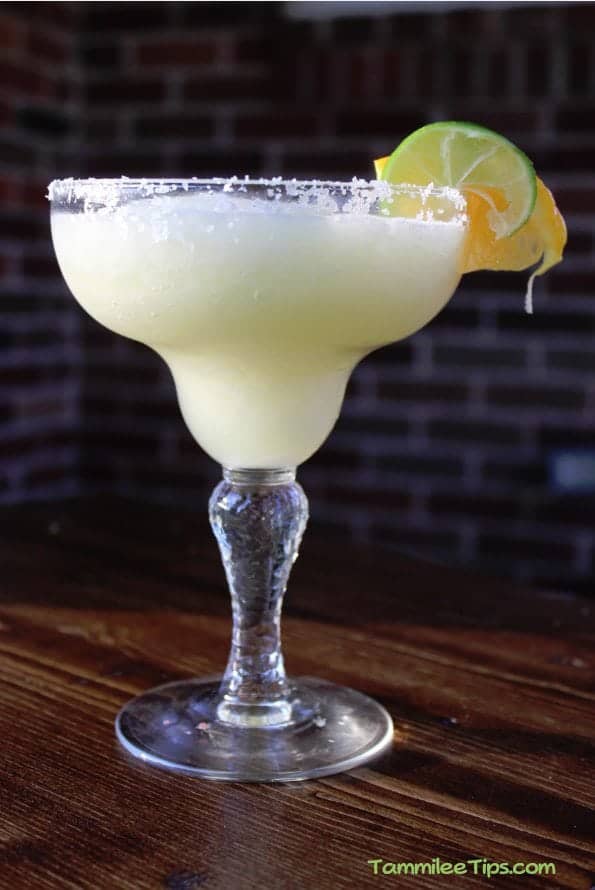 This recipe would be perfect if you have a bit of Chardonnay that you need to use, or you are looking for a cool, refreshing summer drink. The combination of limeade and orange juice gives this drink a fantastic sweet taste. The salted rim balances out the sweetness to give you the perfect margarita flavor.
White Wine Margarita Recipe
Ingredients
1/2 cup Chardonnay
6oz Frozen Limeade Concentrate
1/2 cup Orange Juice
3 cups ice
limes wedges
orange slices
Directions
1. Blend wine, limeade and orange juice until well combined
2. Slowly add in ice and blend to a slushy consistency
3. Rub margarita glass with lime and dust with salt
4. Fill each glass and garnish with orange and lime slices

White Wine Margarita Recipe
Ingredients
1/2 cup Chardonnay
6oz Frozen Limeade Concentrate
1/2 cup Orange Juice
3 cups ice
limes wedges
orange slices
Instructions
Blend wine, limeade and orange juice until well combined
Slowly add in ice and blend to a slushy consistency
Rub margarita glass with lime and dust with salt
Fill each glass and garnish with orange and lime slices
https://www.tammileetips.com/white-wine-margarita-recipe/