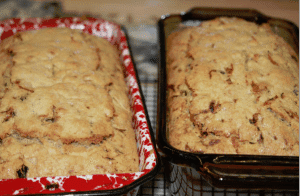 Zucchini Bread
Ingredients
3 cups flour
1 T baking powder
1 1/2t cinnamon
1 t salt
2 eggs lightly beaten
2 ½ c shredded unpeeled zucchini
2 cups sugar
1 cup oil
2 t vanilla
2/3 cups raisins
Directions
Preheat oven 350 degrees
 Mix in large bowl flour, baking powder, cinnamon, salt set aside.
Combine eggs, zucchini, sugar, oil and vanilla.  Add this all at one time to dry ingredients.  Stir until everything moistened (will be lumpy).  Add raisins or nuts or both.
Spoon batter into loaf pans and spread evenly.  Bake for 55 minutes or until toothpick (knife) comes out clean.  Cool in pan on wire rack for 10 minutes.
Mom notes:  Note to self ~ read the entire new recipe next time.  I missed the line that said the above recipe makes 2 loaves and I used all the batter in one pan.  So it took longer to cook which after figuring out what I did wrong was no surprise.  One load fell apart when I took it out of pan and one came out fine.
Both taste great and I will make again.
Recipe taken from:  Fall Baking Better Homes and Garden Special Interest Publications page 119