It has been a few months since we first shared the amazing GE Refrigerator with a Keurig built in from Best Buy. Today I am excited to share our favorite 5 things about this fridge. I had a hard time picking just 5 things!
As we move closer to holiday cooking and prep I am so excited to have the GE Refrigerator! I can easily access all of the ingredients I need for holiday cooking without having to crawl on the floor to get to the back of the fridge.
I know you always hear people joke about not giving appliances or vacuums for the holidays but this GE Refrigerator is pretty darn amazing. I might not give it as a gift to John but I would buy it as a gift together.
Keurig built into the front and hot water when I need it!
One of the cool benefits of having the Keurig built into the front is not only the quick and easy chai tea but the ability to schedule hot water to be ready. I can use the GE Kitchen app and schedule when I want the fridge to have hot water ready. This is great for making recipes, soup, and chai tea.
Size
This GE Fridge was such an amazing upgrade from our old fridge. I feel like we gained so much usable fridge space with this fridge. We can find what we need so much easier. In the old fridge, I felt like we were losing things and didn't find them until they were spoiled. With the GE Fridge, I can easily find everything we buy at the store and arrange it by recipe or when I need it.
Fast cool for fridge and freezer
Do you ever worry when you bring groceries home that they are too warm and you need to cool them down fast? With the Turbo Cool setting drops interior temperature to maintain freshness after frequent openings.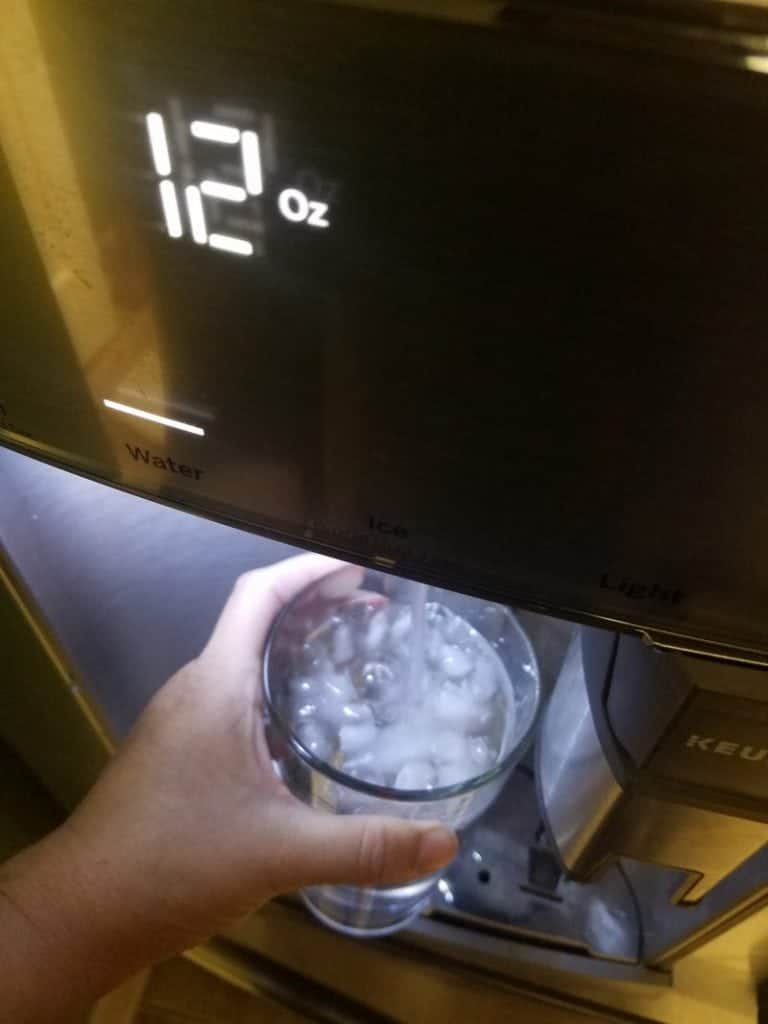 Easy ice and water dispenser
Advanced water filtration reduces trace pharmaceuticals, cysts, lead, mercury, asbestos and other contaminants to provide safe drinking water.  Plus it is just so nice to be able to walk up to the fridge and see just how many ounces of water I am drinking. It starts to become a game to see just how many I can drink in a day. We are thinking about getting a wipe board so we can track during the day to see who ends up drinking the most.

Shelf set up and size of door holders
5 shelves, 4 adjustable and 1 full width, with 3 of them being spill-proof, tempered-glass shelves contain small spills to simplify cleanup and provide ample space for storing groceries.
Can you tell that I love this fridge! The GE Refrigerator was such a huge upgrade from our old fridge. I love that I don't have to crawl on the floor to try and clean behind the produce bins anymore. Everything is easy to reach and I can wipe it down easily.
Plus we use the fridge so much more than the freezer that it just makes sense having it on top and easily accessible. I feel like we are enjoying more fresh produce and making more salads because all of the ingredients are easy to get to. We don't have to reach to the bottom of the fridge in the back to find what we need.
Head on over to Best Buy to see all of the amazing Prep for the Holiday products!