This Banana Cupcake with Chocolate Frosting Recipe is the perfect way to use up bananas that are a bit over ripe.
The flavor of the banana is perfect for the cupcakes. Plus how can you go wrong with Banana and chocolate together.
Hello yum!!!
I may or may not have let some bananas sit out for a few days longer than normal just so I could make these cupcakes.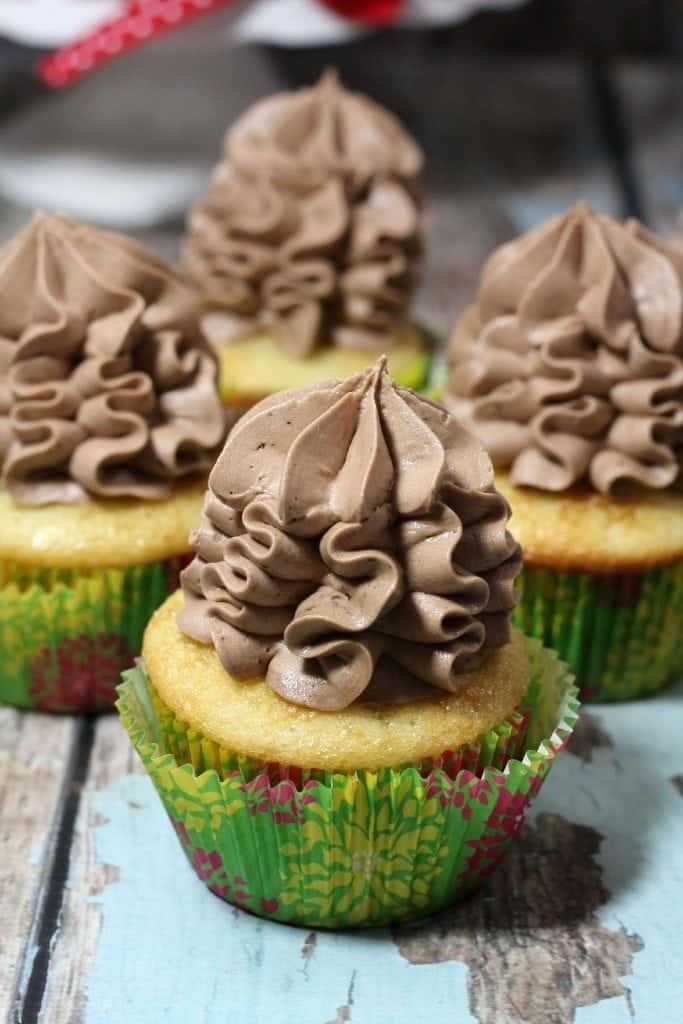 Banana Cupcake w/ Chocolate Frosting
Banana Cupcake
Cupcake Ingredients: 
1 1/2 Cups overripe & mashed bananas
2 tsp fresh squeezed lemon juice
3 C flour
1 1/2 tsp baking soda
1/4 tsp salt
12 TBSP of unsalted butter, room temp
2 C sugar
3 eggs, large, room temp
2 tsp vanilla
1 1/2 C buttermilk
Cupcake Directions: 
-Preheat oven to 350 degrees. Line cupcake tin with paper liners.
-Stir the mashed banana with the fresh lemon juice in a bowl.
-Whisk together the flour, baking soda and salt. Set aside
-With an electric mixing cream the butter and sugar until light and fluffy.
-Add eggs one at a time, beating after each one.
-Add in the vanilla extract.
-Beat  in the flour mixture then the buttermilk, repeat process making the last addition flour.
-Add the banana mixture.  Fold it into the other mixture.
-Bake at 350 degrees for 20-25 minutes or until an inserted toothpick comes out clean.
-Allow the cupcakes to cool in the tin for 10 minutes. Remove them from the cupcake pan placing them on a wire rack to cool completely.
Chocolate Frosting
Frosting
Frosting Ingredients:
1 C unsalted butter, softened
3/4 C  cocoa powder
3 C powder sugar
3/4 C heavy cream
Frosting Directions:
-Beat butter in a medium mixing bowl on medium speed or until fluffy.
-Add  cocoa powder and powdered sugar 1/2 cup at a time until blended.
-Test to see if frosting can make and hold a stiff peak by taking a spoonful of frosting and turn the spoon upside down.  If the frosting holds to the spoon then it is ready, if not fold in more powdered sugar.
-Scoop the frosting into a pastry bag with a large star frosting tip. Twist the open end of the pastry bag to push the frosting to the tip.
- Begin frosting on the outside edge of the cupcake working inward to the center of the cupcake.
Great Cupcake Recipes