Yum! It's time for another Cupcake Saturday! Can you believe its already been a week since our last cupcake recipe! Crazy! Time is flying by way to quickly.
Today we are sharing this delicious Butterscotch Sundae Cupcake Recipe! Hello Yum! Ooeey, Gooey yummy caramel goodness!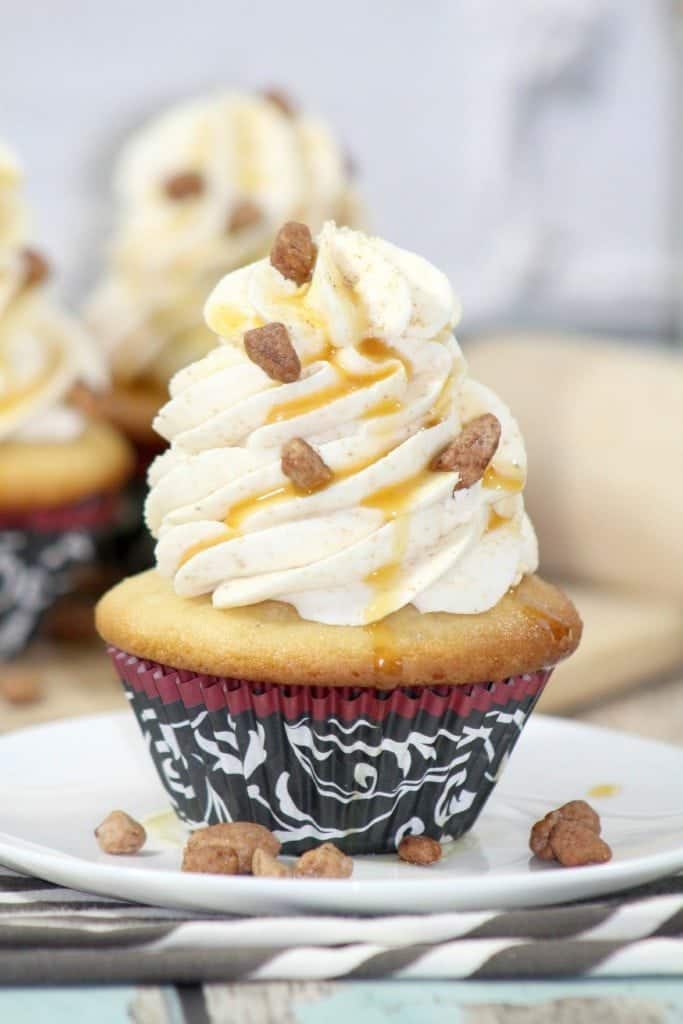 Butterscotch Sundae Cupcake 
Butterscotch:
Over medium heat, using a medium pot melt the butter.
Add in the brown sugar and whisk
Add in the cream then whisk again
Bring the mixture to a bubble and allow to thicken for 5 minutes maximum NO stirring.
Now remove it from the heat and add in the vanilla and salt make sure to whisk again
Allow to cool.
Preheat oven to 350F degrees.
Place cupcake liners in the pan
Cupcakes:
Whisk the flour, baking powder, baking soda, and salt together in a medium bowl.
Melt butter in the microwave in a small bowl.
Whisk in the brown sugar until it is smooth
Whisk in egg, yogurt, milk, and vanilla extract. Whisk until it is well combined
Slowly begin to mix in dry ingredients until it is smooth
Fill cupcakes liners with the mix ¾ of the way full
Bake for 20 minutes or until a toothpick inserted in the center comes out clean.
Cool completely before frosting
Frosting:
Beat softened butter on medium speed with an electric or stand mixer for 4 minutes.
Add powdered sugar, cream, and vanilla extract continue to mix
Increase the speed to high for 3 minutes.
Drizzle butterscotch over the cupcake for extra gooey-ness
Do you love recipes? Check out our copy cat recipes, dessert recipes, and our Crock Pot Recipes.