Sponsored by Drinkworks® Home Bar by Keurig®.
Content for 21+. Please enjoy responsibly.
Do you love cocktails but don't want to keep all the ingredients on hand all the time? We love a great craft cocktail but always seem to be missing one or two key ingredients on the nights we want to relax with a drink. Enter in the Drinkworks® Home Bar by Keurig® and our cocktail dreams have come true!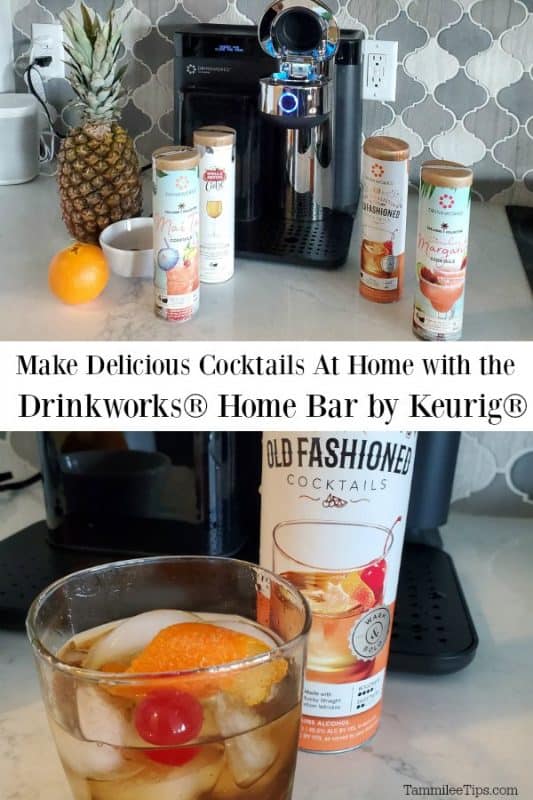 John and I have been enjoying being home together and working on some really big goals the past few months. This is the longest that we have been home and not traveling in years. The first few weeks we had to really learn how to get back into the swing of not living out of a suitcase and making sure we had groceries in the house.
Now that we are over two months into being home, we have created our own schedule that we love. We spend our days working on recipes and updating blog posts and spend our nights catching up on TV shows we have missed and enjoying a delicious cocktail.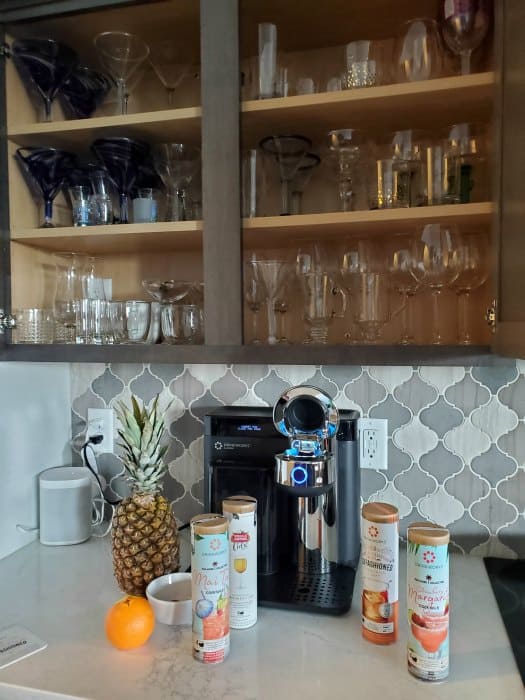 One thing that has made our nightly relaxing easier is the Drinkworks Home Bar. I set it up right under all of our cocktail glasses, so it is quick and easy to grab a glass and make a drink.
Setting up the Drinkworks Home Bar was super easy! There was an easy to follow guide in the box and then once the machine is plugged in it truly guides you through the steps of set up. It took less than 20 minutes to go from in the box to fully set up.
Once it is set up and filled with water there is a short period of time waiting for the water to chill to the best temperature and you are ready to create your first cocktail.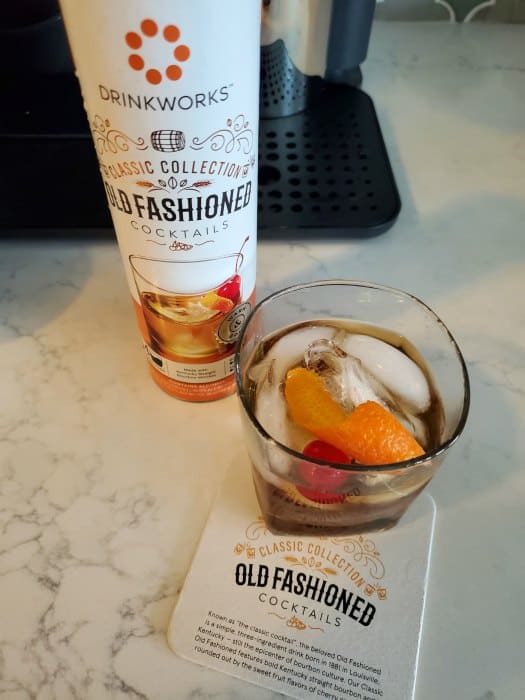 For our first cocktail, I made a Classic Old Fashioned for John. You guys it was so easy to make! I literally pulled the pod out of the container, lined up the bar code so the Drinkworks Home Bar can read the bar code and know what drink it is making, and then placed a glass under the machine. That is all it took!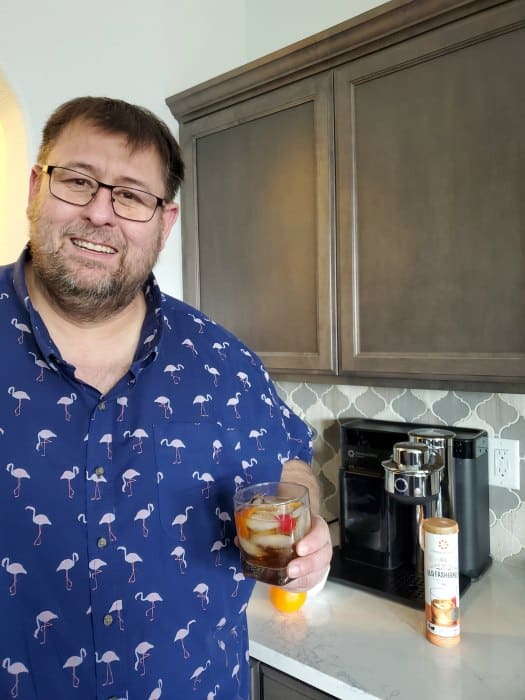 Each of the Drinkworks pods is pre-filled with real ingredients and natural flavors including the premium alcohol needed for each cocktail.
I did learn one really important tip while making our first cocktail...don't put ice in the glass until after the machine dispenses the drink. I didn't think about the liquid hitting the ice and bouncing off of it. LOL!
That was a bit of a surprise, but we adjusted for our second cocktail easily.
The Classic Old Fashioned is amazing! It comes out of the machine ice cold and tastes delicious.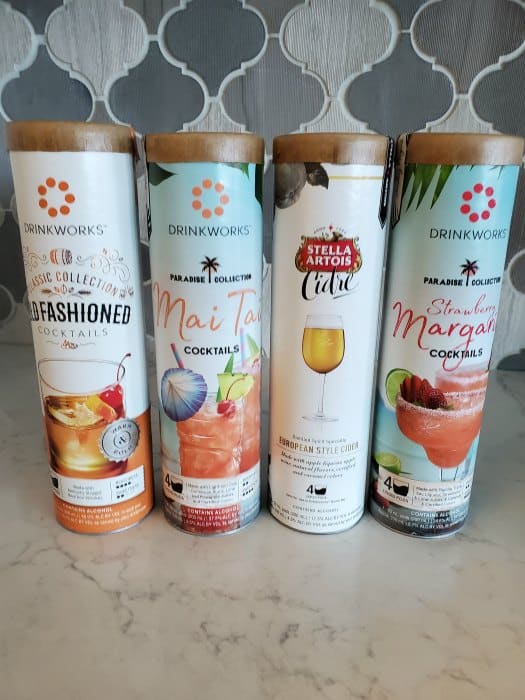 There are more than 20 drinks available for the Drinkworks Home Bar! Check out all of the varieties here!
Our favorites so far have been the Classic Old Fashioned and Mai Tai. You can even make Stella Artois Cidre! The Drinkworks Home Bar has a CO2 container you attach to it, so you get the perfect bubble for your cocktails and cider.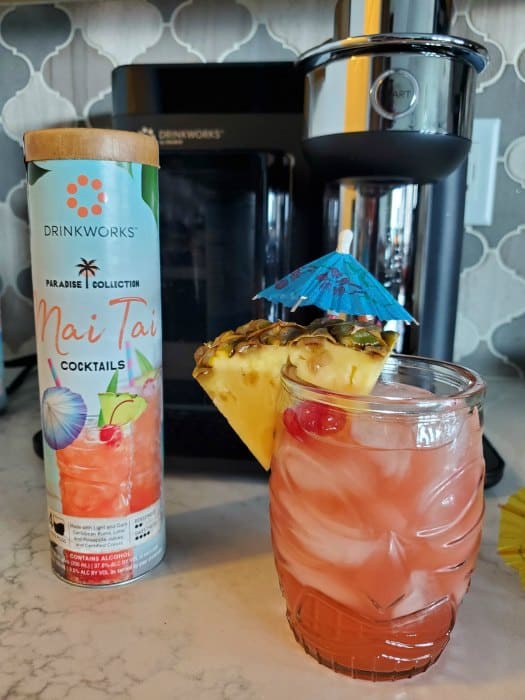 Right now they are only making pods with alcohol in them but this great info page says new products are coming soon! woohoo!
The Drinkworks Home Bar is an already killer deal but there is a bonus right now! You can save $50 off the Drinkworks Home Bar's retail price of $299 and buy one for $249 with my affiliate link 
Plus, when you buy today you get free shipping!  When you purchase through my link the discount is automatically added to your cart!
Drinkworks Home Bar recently became available in Washington which makes me so dang happy!  Make sure to check the website to see if the Drinkworks Home Bar is available in your state.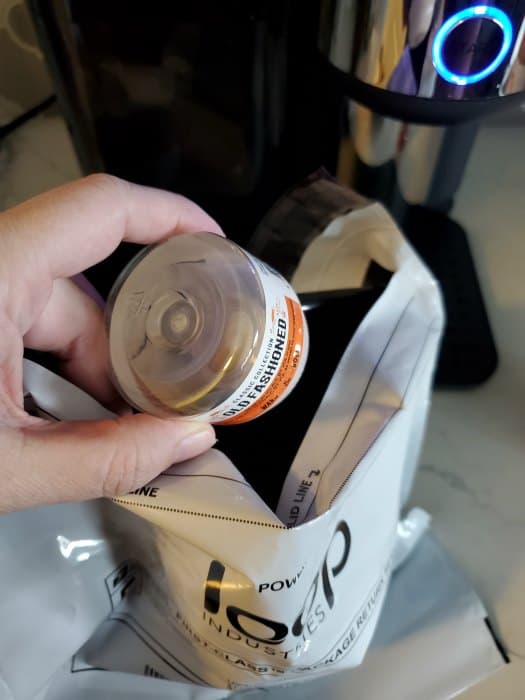 One thing that I really like is you get a mailer bag that allows you to send in the Drinkworks pods to be upcycled by Loop Industries through a free-to-consumer mail-back program.
This is a sponsored post written by me on behalf of Drinkworks Home Bar by Keurig.