A huge thank you to Contadina for sponsoring today's appetizer recipe! I am so excited to share this Crostini with Brie and Roasted Garlic Appetizer Recipe.
There are so many things I love about this recipe…It is crazy delicious, so frugal to make, super easy, and did I mention really inexpensive to make! As the holidays creep/barrel towards us we are all short on time, energy and I don't know about you but I like saving money any chance I get. This recipe is perfect for a holiday party or event. There are only 3 simple ingredients and it tastes like you spent hours on them! OK Maybe not hours on them but they taste delicious and that is all that really matters!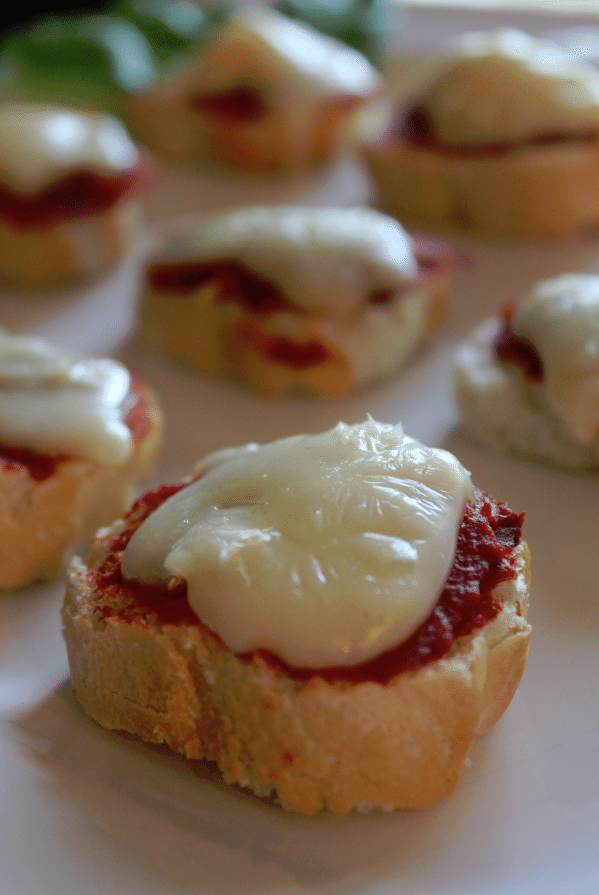 These Crostini with Brie and Roasted Garlic can be whipped up right before your event in no time flat!
Crostini with Brie and Roasted Garlic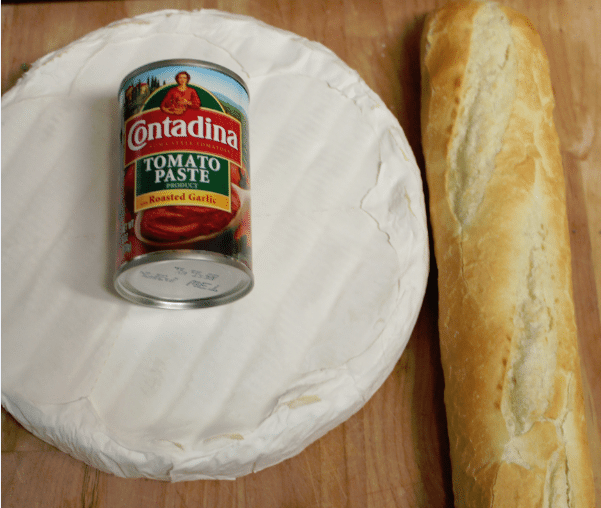 Ingredients
Contadina Tomato Paste with Roasted Garlic
Brie Cheese
Baguette
I would like to pause for a moment and point out the giant wheel o' Brie cheese my Husband picked up for me so I could whip up this recipe. Can I just say John knows the way to my heart. He had the cutest giggle when he handed me the brie. He told me he knows how much I love it so he figured why get a little wedge when he could get a giant wheel of it and make me smile. Oh how I love this man.
Ok back to our Crostini with Brie and Roasted Garlic…..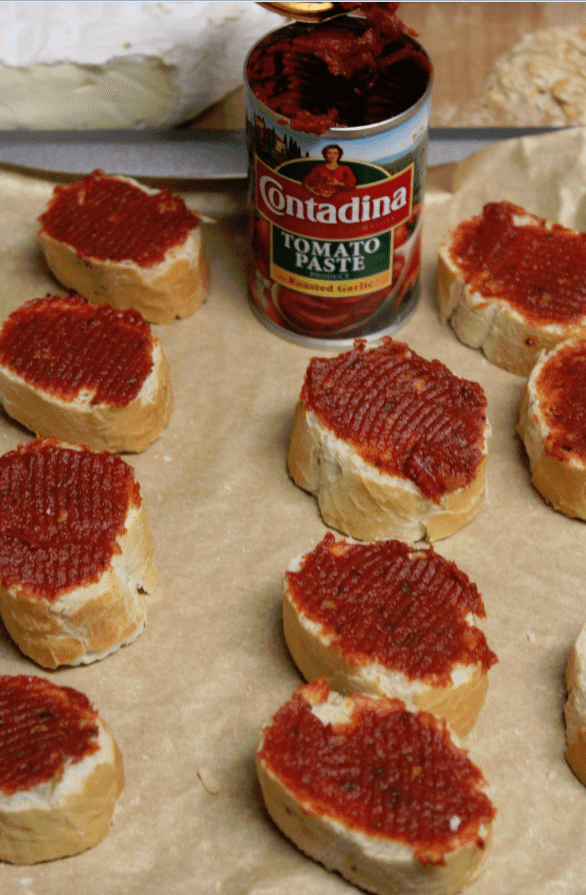 Did I mention this is crazy easy to make!
Step 1 – Cut your baguette into 1/2 inch slices.
Hint day old baguette's slice better
Step 2- Spread yummy Contadina Tomato paste with garlic across the baguette slices
Step 3- Add a chunk of brie
Step 4 – Place in a 350 degree oven for 3-4 minutes until the brie melts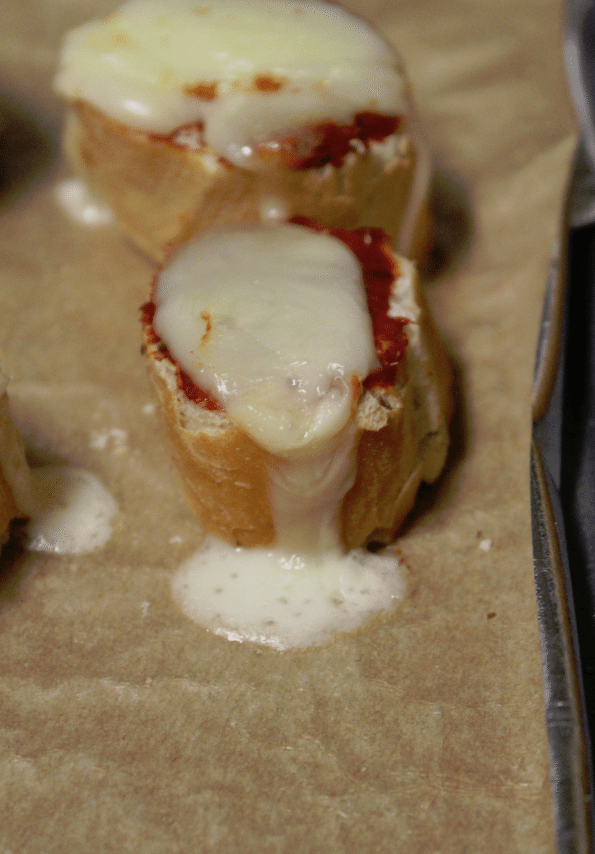 I place parchment paper down on the cookie sheet so the crostini is easily removed.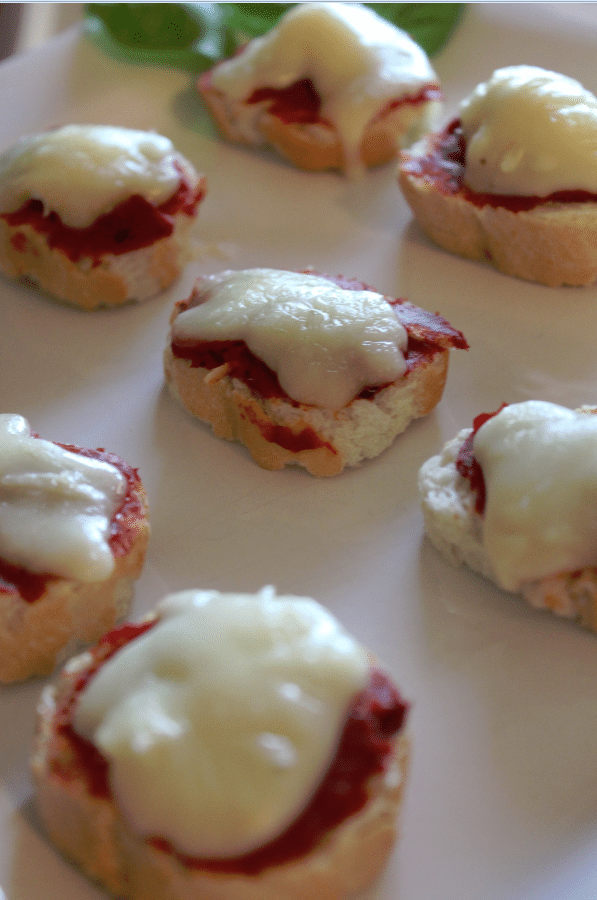 Now all you have to do is plate your gorgeous crostini with brie and roasted garlic and you are good to go! I added a bit of basil to the plate to give it a finished look.
Now that your appetizer is ready to go for your event and you have a few minutes to relax and giggle check out the hilarious videos Contadina put together. Contadina's 'Somewhat Famous' comedic video series. The series is a funny spin off celebrity reality shows, and takes viewers into the kitchens of real moms, who happen to share the same names as A-list celebrities
You can also check out these great Contadina Recipes for more great holiday ideas!

Every mealtime masterpiece starts with Contadina and ends with a clean plate. Our mission is to gather families together around the dinner table with our delicious, Italian-style recipes and carefully-sorted Roma-style tomatoes.
Compensation was provided by Contadina via Glam Media. The opinions expressed herein are those of the author and are not indicative of the opinions or positions of Contadina
Recipe adapted from the Contadina website.